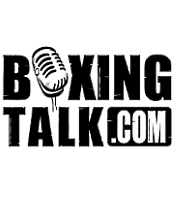 Stepping out of the ring at Chicago's JABB Boxing Gym, Fast Fres Oquendo, 24-3 (15KO's), proclaimed himself a free agent and "more than ready" to get back into action against all the top heavies. "Don King and I parted ways recently and I'm just looking to get back at it. I haven't fought in a year and not much has changed. They're still talking about the Klitschko's, Ruiz, Byrd, I want to fight all of them. Everyone knows I beat Byrd (in September of 2003, Oquendo lost a very controversial decision), Ruiz and me were having a close battle before it got stopped too early, I was hurt but it was a world heavyweight title fight that should have had a much more clear cut ending."
"David Tua's back and I'd love to fight him again. I was ahead on points and screwed up and he caught me. I'm glad he's back and I hope he gives me another shot." Fres was stopped with a flash left hook by The Samoan Warrior in
April of 2002.
One additional heavyweight that has caught the always in shape Oquendo is The Nigerian Nightmare, Samuel Peter. Said Fres, "the hype sounds familiar, almost the same way it was with Etienne. I dominated Etienne when he was supposed to be the future "baddest man on the planet."' Etienne was down seven times before referee Jay Nady halted the bout in round eight four years ago.
Finally, the youthful 30 year old Oquendo said, "I'm in great shape, weighed in at 228 this morning. I've had the year off to relax and hang out with the family but now I'm ready to get back at it. I'm not fighting next month in Chicago which is a shame as this is my home. But that's my first order of business, I want to fight in Chicago my first fight back. Earlierin my career I fought in Cicero and Northlake and a couple of times in Elgin but I want to fight in the city I love and the city that has always been good to me."
On a final note the classy Oquendo wanted to thank all of his loyal fans worldwide, especially Chicago and Puerto Rico who have been so faithful to him over the years.