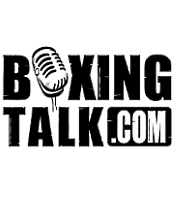 Whats up Fire, I know its not recent news or anything, but is/was Tito for real with the mentions of moving to 168 or 175? I re-visited Tito-Hopkins last night, and even as a middleweight Tito has a very small frame when next to B-Hops. Kind of like a Spinks type frame. Not underestimating his power, but do you think a frame like his could bring any more power to hurt a bigger opponent at 168 or 175? What is Tito's build like in person cause on TV he looks very small..............On a different issue, when is this heavyweight tournament going to become more than a vision? Boxing needs a heavyweight champ!!! When Mike Tyson was tearing the division up he turned the casual fan (aka Tyson fan) into boxing fans, with an appreciation for all fighters. We need another Mike for the future of boxing!!!  
Brad, AustraliaOnFire's response: What's good Brad? If Felix Trinidad had any thoughts of moving anywhere above middleweight in the past it must be a memory right now. In his last fight I beleive Tito weighed in at 157 3/4 for the Ricardo Mayorga fight. Doesn't look like a guy contemplating a move up. At least not yet. But based on Papa Trinidad's exclusive interview with G.Leon  it's a possibilty. On record Tito is 5'11 and doesn't seem to have that menacing size to him. I don't know that Tito can move up and hurt the top fighters in his division. Clean, solid shots didn't drop Ricardo Mayorga when he dropped his hands. The heavyweight tourney has begun. If you recall G.Leon's work on a heavyweight tournament, the fights he mentioned are coming to fruition. Golota-Brewster, Klitschko-Rahman and even Toney-Byrd which will hopefully pop off this year. When Mike Tyson was putting them away in the first the way my boy Tim Dogg puts away his drinks, even none boxing fans were tuning in. The next coming of Tyson is on the way. Believe that. I think I may have seen him. We'll soon see if I'm correct.
jose,  Paulie will never, ever fight SPEEDY its all smoke and mirrors and he'll be exposed just like camacho jr. was the first time he was in tough SPEEDY should beat Oscar Diaz, but it won't matter, Team Paulie will always find an excuse--which young 140 prospect has he fought bojado, hopkins, holt, arnaoutis, feliciano, speedy, elder, burton, abdulaev, oscar diaz,? anyone? keep this email and send it back to me in 12 months...he'll have fought none of the above in 12 months, paulie's the joke of boxing and its a painfully obvious thing to see     
bernie OnFire's response: I believe Paul Malignaggi will do whatever it takes to reach any goals he has set for himself in the business of boxing. Just as well as any other boxer would. It's obvious Paul is the fighter people love to hate but I guess we should wait and see if things turn out the way you say. Maybe you see/know something. There is alot of pressure for Malignaggi to fight many of the names mentioned above and I figure he will work his way through.
JOSE, SOMEWHERE DOWN THE ROAD, (I KNOW IT WILL NOT HAPPEN... BUT I SURE WISH IT COULD) LET THE TWO "ITALIAN STALLIONS" GET IT ON! MALI & SPADDY. DON'T YOU THINK, IF YOU LET THESE GUYS "REALLY" GO AT IT, THAT WOULD BE ONE HECK OF A FIGHT? AN AVID FIGHT FAN, 
SAMUEL LOUIS MCKIBBENOnFire's response: Paul Spadafora has more to think about than any fight in the ring. Scheduled to be sentenced in the shooting of his girlfriend Spadafora will likely be stepping into an 8x10 foot cell as opposed to a 20x20 foot ring.
I just read the article. You just made my day. That was great. I still think he is a punk with sore hands and a big mouth. It was cool that you brought it up in the interview.. I was glad you brought up myEdgar  Santana comment as well. I sparred with Santana at Gleason's and had purple marks all over my body for days. That kid has some sick nogules on his knuckles. KEEP up the good work...
Dumb Kid from Pittsburgh OnFire's response: Glad you enjoyed it. You have been acknowledged and responded too. I hope that you're not just another hater. Santana and Malignaggi are good friends from the amateurs and they frequent the Broadway Boxing shows all the time. Always having a laugh. I'm sure Paul would bruise that body too.
I just wanted to give praise to Manny Pacquaio for agreeing to fight Erik Morales. He was true to his word when he said that he would take on Mexico's "best". He just does not seem to care about who he fights. I was amazed at how quickly this fight was announced after the Marquez fight failed to materialize. Does he even care about how much of a risk he is taking for the amount of money he is getting paid? Isn't that the modern-day boxer - to think about money first and his legacy a close second? I guess Manny Pacquaio just belongs to that select few (Corrales, Barrera, and Morales) who take on ALL comers. Those rare fighters who seem to "just want to fight" for the love of the sport. This is one of those matchups that have helped turn me from a casual fight fan to a die-hard follower of the sweet science. Thank you to both Morales and Pacquaio for making this fight and giving the fight fans a great fight to look forward to. Props to the modern "throwback" fighter. All other fighters take note!  Michael Battung - P.I.
OnFire's response: That was Manny's plan anyway, to take on the best fighters from Mexico. He started with Barrera and JMM and now he's going to dance with Morales. This should be a great fight as neither of these guys knows how to back up. When the negotiations fell through for the rematch between Pacquiao and Marquez it seemed as if Morales was waiting on the sidelines ready to step in. These two warriors have been known to face the best fighters that the sweet science has to offer and they continue that route with this fight. Pacquiao moving to 130lbs where Morales has already had a few fights shows what kind of fighter he is. This fight, as do most fights that Morales and Pacquiao are involved in has fight, round or knockout of the year written all over it.
I do not get PPV or HBO or Showtime at home on my cable. So I do not know first hand about what all is written about HBO boxing. But I do read all about it. I must agree with you fully. HBO boxing does need help very badly. By reading and not seeing it they have amde bad choices. I enjoyed reading Boxingtalk articles.   Take care 
Michael KorffOnFire's response: How can you live without your premium boxing channels like HBO and Showtime? How do you put up with not being able to see such great fights as they happen? How do you get your dose of boxing when there is a major fight on? Either way I'm glad you enjoy the read here at Boxingtalk.
whats up? well, i have a few things to get off of my chest. first off, i will give you half my support on the hbo thing. but they do put on great fights and until this year recently, showtime hasn't exactly been great competition to hbo. im glad it's changed. but hbo does need to get some of it's shit together and make better fights on fights that are bad. but i still think there will be more superfights this year than last year on both networks. on the commentators, i know they talk alot of shit, but i like them. im glad geroge got out, cuz i thought he talked more nonsense then fact or truth.i like the showtime commentators now too, but whether on hbo or showtime, u are not going to like some things. castillo-corrales, this fight is a not miss fight!! u better watch it!! fireworks. tszyu-hatton is going to be exciting while it lasts....but tszyu will stop him in front of his home crowd. hopefully after that hbo and showtime can make a deal and make a tszyu vs gatti or tszyu vs dlh fight. if not, then only one more showtime fight and on to hbo. morales-pacquiao, great fight. all i have been hearing pacquiao is going to knock out morales. i think that is crazy. i dont' think anyone will get ko'd. i think it will go the distance. who am i going for, i dont' know. i hate morales, like pacquiao but that mexican pride is coming into effect. so i dont' know. any word on who is next for barrera? could barrera and marquez fight in another superfight? and how about trinidad? winky should take the money and superfight and that's it. he wont' make more with anyone else except delahoya, but that is not happening. who do you see as possible opponents for trinidad this year? i see winky, taylor and hopkins this year for him. if not taylor then quartey. and cotto is fighting chop chop? that is shit. he is still being protected and he should not be. i think tszyu if they were to fight this year beats cotto and might even stop him late by tko. i hope cotto next fights harris or even the winner of corrales-castillo. and mayweather? what is that. he shoul have fought ndou. i still think gatti will beat mayweather. in a close fight. and who do u think wins between margarito and cintron. can't wait for that one. so much to talk about so little time!!
Sergio HerreraOnFire's response: In the past HBO and Showtime have went head to head when it came to boxing. I always went with the HBO fights and would tape the Showtime fights and watch them at a later time. In my opinion HBO has more color to their telecast. Though the HBO commentators get alot of slack I don't mind them, even when George Foreman was on. Good to see how our opinions are similiar or different from their's. Showtime has been putting on some good triple headers lately and have some fights coming that start the year off good. Castillo-Corrales, in my opinion is going to be a fight with no back stepping. These two great champions will come to put their hearts on the line. Nothing else. The young lion against the old veteren. That's what Tszyu-Hatton represents. We've asked that Hatton and his people step up, well they stepped up big time. Morales-Pacquiao is going to be a good fight for the fans. Pacman is moving up to 130 and taking on the one of the toughest challenges out there. Can he be the new Mexican killer? Will Morales do worst than his last performance? Looks like Winky is out for now and must fight for less money. He says he's ok with that. Now to see where the Trinidad's go from here. Expect big things from Cotto this year, maybe a fight with Vivian Harris even. Margarito-Cintron will be a good scrap while it last. I will have to lean towards Cintron for I believe he has the bigger punch.
Bottom line Winky dropped the ball on the Tito fight now he's trying to make it seem like he would've took the 4 million. I just don't get it who the hell was advising this man, 4mil was double of what he ever made to fight anyone. Winky don't blame this on the trinadads because your the one who messed up this fight and you should be ashamed of yourself because you let a ppv event pass you by. what an idiot.
OnFire's response: Winky Wright lost the Trinidad fight and now has to fight for less money against the WBC mandatory challenger Javier Castillejo. Winky should have gone out on his shield to the end about his belief of what he deserved but instead he comes back for the offer after it's too late.  Now he's saying that Trinidad is running from him because he's willing to take the offer.
its OnFire baby!!!id like to say to anybody that is willing to listen.winky Wright is a fool. winky played games right out of a opportunity of a lifetime.winky will be fighting his madoratory for peanuts.did winky not know that Trinidad does not need winky?Trinidad is a houshold name already and going into the hall of fame.Trinidad can get ten mill a fight because he puts the asses in the seats to get it. when Bhops was offered short money to fight Trinidad and Dela Hoya he hopped all over it.winky shoulda took the 4 mill plain and simple,its a hell of alot better then a few hundred grand on an unsold out boxing after dark telecast.  
ike from DelawareOnFire's response: Winky bluffed and when he showed his cards it was to late to collect, King had moved on. Now Wright has to fight the mandatory for much less as you have mentioned. Trinidad will get top dollar no matter who he faces. Would have been good to see Winky move up and challenge Tito and see how his southpaw style would have faired against Trinidad. Now to se where both fighters go.
CLICK HERE TO SEE WHAT BOXINGTALK READERS ARE SAYING
Send questions and comments to: onfireboxing@verizon.net