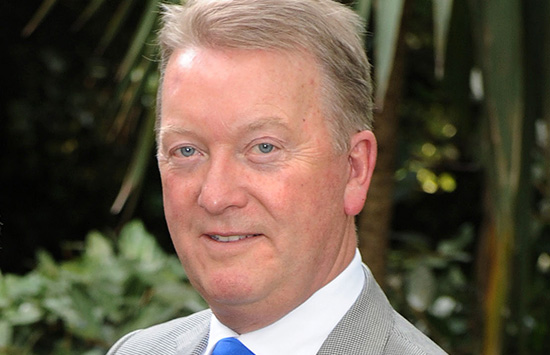 The Tottenham Hotspur stadium [in north London] was turned into our very own version of winter wonderland on Saturday. Despite all the negativity, the naysayers and predictions of a half-full stadium, the pulling power of [WBC heavyweight champion] Tyson Fury was there for all to see on a nippy night in North London. There were 60,000 amazing fans there to see Tyson overcome his old rival Derek Chisora and, no, we were not dishing out freebies or – unlike some others – making use of a seat-filling agency that offers tickets at a tiny fraction of their face value. What you saw was what we sold, which was a remarkable number given the current financial climate and it being probably the first event of this nature staged outdoors in December. The atmosphere was simply sizzling and Tyson said he was overwhelmed by the reception he received during his entrance. It just goes to show what a huge draw Tyson has become and I believe he is now a true sporting icon, who the public so easily relate to because he is such an open book.
So, while the event was an unqualified success, the occasion also counted as a big nod towards 2023 and what comes next. There really was a lot on the line.
First and foremost, having shelved retirement plans, Tyson wanted and needed to fight and get some rounds in. Our job was to provide the showcase, no matter that the timing wasn't ideal. As [IBF/WBO/WBA heavyweight champion] Oleksandr Usyk's team publicly confirmed on this visit, we did plan on staging the undisputed fight this side of Christmas, but the unified champion asked for more time due to his second Anthony Joshua fight being delayed.
Then, as everyone will be aware, we spent many weeks doing our utmost to get Joshua in the ring with Tyson but, ultimately, two sides have to want the fight and we didn't have wriggle room with the date because plans were and are already in place for the Usyk fight in February-March.
So we were left with finding Tyson a top 15 and active opponent with good name recognition to create public interest. Derek was the obvious and right candidate for the job.
In his last six fights he had close [losses] or wins against the likes of Joseph Parker (twice), Artur Szpilka, David Price, Kubrat Pulev and Usyk. Before that there were his two close encounters with Dillian Whyte and a win over Carlos Takam.
Even though Tyson was a convincing winner, I strongly believe it would have been a similar outcome had Joshua stepped up to the plate. Derek did better in there than Dillian Whyte did in April and clearly takes a better shot than Deontay Wilder.
The main thing is that Tyson got through without any mishaps and now a massive 2023 is in store for the heavyweight division. We now need to tie up the loose ends of the Usyk fight and then, all things being well, [WBO interim title holder] Joe Joyce will come into play. I strongly believe next year will be one where the sport of boxing puts its best foot forward and returns to the forefront, with the biggest and best fights being made.
After an early scare, [WBA regular title holder] Daniel Dubois kept himself right in the mix with a successful first defence of his WBA world championship against a good fighter in Kevin Lerena.
I think we all probably feared the worst when he got caught on top of the head in the first round and then struggled to keep his balance until the bell rang. Big credit to Daniel for hanging in there when the cards were stacked against him. There was an issue with his knee, but he got to grips with it all in the third round and finished off Lerena with some brutal shots.
Daniel is in the game now and there is no turning back. When he is fit and firing again we will get him back in against top 10 opposition. This is the company he needs to keep to get ready for a shot at the big guns of the division.