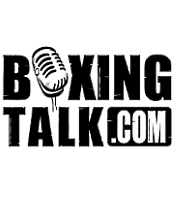 Philadelphia and boxing in general showed its class with a solid turn out, large donations and a successful silent auction to help referee, Frank Cappuccino.  The show was put together to raise money for the medical expenses of Frank Cappuccino, Jr., the famous refereeýs son, who suffers from Parkinsonýs disease.  Round the clock care is required for Frank Jr. and the bills are devouring Frank, Sr.'s bank account.
The events included five amateur bouts and celebrity bouts pitting trainer/cutman and Goodfellowýs Boxing Gym owner, Joey Eye vs. Tex Cobb, former IBF Jr. Middleweight champ and current trainer, Buster Drayton vs. Dan Snyder and one of his charges, Brian Cohen, and the Pennsylvania State Athletic Executive Director, Greg Sirb vs. Vinnie Callio, a young pro from the Philadelphia area.
The celebrity turnout proves that Frank Sr. is very well respected by the boxing community.  Bernard Hopkins attended, signed autographs, posed for pictures and donated autographed trunks that were later auctioned for $500+. Hopkins took the microphone at one point to promise heýd defend his middleweight title for the 20th time (Oscar was victim #19).  Hopkins said after #20, heýll likely move up in weight but now he no longer has to look down Roy Jonesý alley, alluding to the KO loss Jones suffered on Saturday. Also in attendance to meet, greet, pose and sign were Michael Spinks, Joey Giardello, Emile Griffth, Joe Frazier, Marvis Frazier and Rockiný Rodney Moore (fought more than anyone at the Blue Horizon). Arthur Mercante, Sr. and Paul Venti represented the referee fraternity, while plenty of fans and promoters gathered together and enjoyed a day of boxing while helping Frank Sr. in raising money for the care and medical expenses of Frank Jr.
Final tallies arenýt in yet but Frank Sr. had a look of relief and satisfied accomplishment, while Frank, Jr. had a smile throughout the day from his ringside seat.  Mr. Cappuccino needed something like this to help him with this financial struggle and boxing and Philadelphia came through like champs and he personally thanked everyone he could.
If you were unable to attend and would like to offer monetary donations, they are being accepted at:
Cappuccino Fund
2106 Waterford Road
Yardley, PA  19067
CLICK HERE FOR FULL REPORT AND PHOTOS
Send questions and comments to: planetlarry@hotmail.com