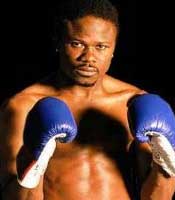 By Ramon Rodriguez
On July 16, former welterweight world champion Vernon "The Viper" Forrest makes his return to the ring on the Bernard Hopkins-Jermaine Taylor "NeXt in Line" pay-per-view card. Forrest will be in against a relative novice, Sergio Rios after being idled for two years due to several shoulder injuries and surgeries.
Despite his two-year absence, Forrest (35-2, 26 KOs) persevered through many unfortunate injuries that plagued him. "Don't call it a comeback! I've been here! You know, it's a pleasure to be back—it's been a long time coming," said Forrest. "There's been a lot of ups and downs, a lot of disappointments in trying to get back. I haven't been fighting not because I didn't want to fight, it's because I couldn't fight."
For many years, Forrest fought in pain, simply trying to ignore the sharp pains in his left shoulder. However, at some point, his shoulder could no longer continue on cortisone shots as a method of easing the gripping aches. He says he continued fighting through the pain in order to stay at the elite level. "Since I couldn't get marquee fights [for so long], I couldn't afford to take a break. Once I got in the position to get the kind of recognition I wanted and start making the money I wanted to make, I told myself I couldn't stop then," revealed Forrest. "I had to ride till the wheels fell off. But so many cortisone shots deteriorated my joints and it just got worse."
Eventually Forrest underwent surgeries on his shoulder and elbow. From there, he would undergo the knife two more times to fix shoulder problems that were not corrected the first time around. Though he thinks his shoulder will never completely heal, Forrest believes that he is well enough to still be boxing. "My shoulder's not 100% and I don't think it'll ever be but I'll take 70, 80 %," he said on a conference call yesterday.
Through all the injuries, Forrest remains respectful and relaxed. It is hard to imagine the former champ being any other way, though Forrest states that all the misfortunes were tough to deal with at times. "I was pretty frustrated because it seemed like my arm was never going to heal. Before I had surgery, I went through seven months of physical therapy. They told me all I needed was physical therapy and then my arm completely went out and then I had to have surgery," said Forrest. "Then they sent me back another four or five months and I found out my arm wasn't right."
Forrest says his technique was affected as a result of the injuries. "When you fight and you alter your basics, you really have a problem because that's the core of your boxing abilities. It affected my jab and my left hook so I had to often throw straight shots to not fight in pain."
Nevertheless, Forrest's resiliency has seen him survive the darkest times of his career. For such a brave warrior, retirement was never even an option. "I never wanted to go out like that, something that I couldn't control. I always wanted to go out saying I'm done fighting—I want it to be my choice not because of physical ailments, so it never crossed my mind to close down shop," said Forrest.
It seems like forever since the world saw the classy Forrest shooting sharp jabs at unlucky opponents. Now that he is less than two weeks away from his first fight in two years, Forrest intends to keep a busy schedule, but by first rebuilding his confidence in the ring against Rios, who is an inexperienced 6-1 as a pro. "Right now I see myself taking a step down from the big name fights. I'm looking to fight two more times after this fight this year but at the same time I'm going into the minor leagues. I'm not going to come out and say I want to fight the best guys; I want to build my physical confidence and with that comes my mental confidence. Then I'll be more prepared to fight all these big guys," said Forrest. "So I'll fight this guy (Rios) next Saturday and then come back six weeks later and fight whoever they have for me. After that I'm going to fight a top ten guy and in '06 I look forward to fight whoever's out there that has the green belts, the blue belts, the red belts, the black belts or whatever belt that's out there."
Forrest's losses in 2003 against Nicaraguan slugger Ricardo Mayorga still weigh heavily on his mind. After all, up until then, Forrest sported a perfect record (a 2000 no contest against Raul Frank wont be held against him), the 2002 Fighter of the Year award and the recognition of handing Shane Mosley his first two professional losses. While he was away from the boxing scene, Forrest's determination to avenge his only two losses grew. "He (Mayorga) is the only fighter I truly want to fight," said Forrest adamantly. "That fight will definitely happen—that's a fight I have to get off my chest, I just have to get a couple of fights in."
Though he'll be fighting as a junior middleweight against Rios on July 16, Forrest is still not sure about what division he ultimately will land in. "I'm fighting at junior middleweight for this fight but for my career I don't know. I have some unfinished business in the welterweight division. I was a unified champion and I would like to get back down there and get the opportunity to be the undisputed champion. But at the same time there's a lot of competition at junior middleweight, so right now I'll just let my body take its course," said Forrest. One thing is for sure though, we are glad to have you back, Vernon... welcome back!