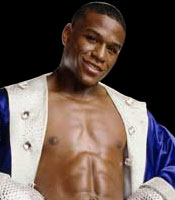 Before the opening bell ever sounded in his decision loss to Floyd Mayweather Jr., Zab Judah was already down and nearly out on the credibility and accountability cards. Holder of a bogus title, which the IBF gave back to him after his loss to Carlos Baldomir, Judah, was worked over by the media in the same type of brutal fashion that nearly everybody expected Mayweather to do to the Brooklyn native.
After losing a close decision to the unheralded Baldomir in early January, Judah had nobody to blame but himself for the cold shoulder he received prior to the bout.  Judah's inability to focus on the task at hand was clearly his greatest flaw, and it didn't exactly take a grad school student to recognize that a fighter of Mayweather's caliber would capitalize on an opponent who was unable to sustain or maintain complete concentration for an entire bout.
HBO, which broadcast the pay-per-view event this past weekend, apparently jumped on the media's bandwagon, and despite HBO's interest in marketing the bout, its analyst Larry Merchant was more than happy spew some venom about Zab Judah's chin, character, and boxing ability before the former three time world title holder had even left his dressing room.
However, by the time the fight was over, Judah wasn't as bad as Merchant made him out to be, and  there truly wasn't anything learned about either fighter that hadn't already been analyzed or discussed prior to the fight.  So why all the hate for Zab? 
He is what he is, an incredibly talented athlete who has wandered around the top of whatever weight division he has made his home, almost on sheer athletic ability.  Many can argue that Judah proclaiming to be the world's best fighter, and subsequently using his abundance of talent to market and mask his lack of consistency was an unforgivable mistake.  However, relative to most other boxers in today's fight game, who are filled with the typical 'I had a lot of distractions coming into this bout' type of excuses, Judah is really not much different, a choke hold or two aside (you have to wonder if referee Jay Nady, a former choke victim of Judah was cheering on Roger Mayweather when he jumped in the ring to confront Judah during the tenth round melee Saturday night).
I had Judah clearly winning three of the first four rounds, and being robbed of what was clearly a knockdown of Mayweather in the second (not that it would have changed the outcome).  Judah even showed his hands were just as quick, if not quicker than the Pretty Boy's, and that those same hands also carried a lot more pop in them.  Unfortunately, what Mayweather showed from rounds five through eleven, was ultimately what makes him the world's best fighter.
Mayweather showed an ability to adapt in the ring, and consistently land leather from bell to bell regardless of packing less heat then Judah.  Make no mistake, Mayweather is clearly no puncher at welterweight, and his speed may be a touch slower than it was when he was smoking opponents at junior lightweight and lightweight.  These limitations only demonstrate just what a great fighter Mayweather truly is. 
Mayweather's superior athleticism was certainly a major factor in his career-long dominance and his unblemished record, but he showed Saturday night, that when matched against an athlete whose physical attributes were almost a perfect reflection of himself, that he is still the superior boxer, with superior fundamentals, and ring intelligence.
Don King, who promotes Judah has argued that Mayweather should have been disqualified in the tenth round when his idiot uncle, Roger Mayweather, jeopardized what was turning into a one sided beating by rushing into the ring, but it does nothing to change the fact that Mayweather proved he's a better fighter than Judah.  Last Saturday featured both men at their best; and truth be told, Judah's lack of consistency, combined with Mayweather's better skills, is what turned the tide of a fight that initially had the markings of a major upset.
Mayweather is doing boxing a favor by competing in a division where his athletic abilities are not as pronounced as they were at lighter weights. Like Pernell Whitaker in the 90s, he continues to challenge himself against bigger stronger, men, the closest thing we have to a modern-day Henry Armstrong. 
Judah accepted defeat graciously, and for once, allowed the blame for his loss to rest solely on his own shoulders.  Whether his low blow in the tenth round was intentional or not, I don't see any reason to continue to vilify him, especially when other media darlings, such as Felix Trinidad have blatantly done the same thing when they were in trouble (against Fernando Vargas).
In the end, Mayweather did what he was supposed to do, as did Judah.  The better man won, the crème rose to the top, and boxing actually got to see Don King and Bob Arum put their arms around each other in the build up to the main event; not bad at all really.
Send questions and comments to: michaeltyoussef@msn.com