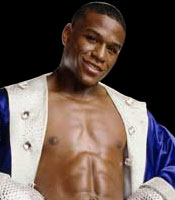 "The fans already know what'll happen if Ricky Hatton ever decides to face me!
GL: Tell us what's good Floyd. We're just weeks ago from your PPV fight, a battle for the WBC junior welterweight championship against Arturo Gatti.
"Right  now I'm ready mentally and physically and I'm going in there to put on a great show and I'm looking forward to a big victory. This is going to my night and it's going to be easy work."
GL: What did you think about the Ricky Hatton-Kostya Tszyu fight?
Floyd Mayweather Jr.: "I actually didn't even see the fight.  From what I heard it was a wrestling match. I couldn't believe that so the other night I saw a round or two of the fight, and from what I saw there was a whole lot of wrestling going on. You know I tried to get the Ricky Hatton before I fought DeMarcus "Chop Chop" Corley, but the guy turned me down. They turned down the fight and Frank Warren sent us a letter saying they weren't ready to fight."
GL: Prior to last weekend you really seemed to want to make a fight with Kostya Tszyu. Do you have that same desire to face Ricky Hatton?
FM: "I think there's always going to be bigger money when you got two young undefeated fighters instead of one guy having a loss. On both ends, both fighters are looking to upset one another and the fans would be on the edge of their seats because they would want to see who's going to get the loss. But the fans should already know what'll happen if Ricky Hatton ever decides to face me. He's a real, real, dirty fighter, he rabbit punches all night and he loves to go low, but he's nothing that I can't deal with. 
"I think Ricky Hatton has been promoted extremely well. Everyone he's beaten had a rough career and was pretty much over the hill.  When a guy is over the hill and worn down that's what happens. I truly believe they caught Kostya Tszyu at the right time. He was off for so long and all he fought was Sharmba. And we saw he had Sharmba beat before the fight even started. Sharmba was still intimidated by him from the first fight."
"Zab could've beaten Tszyu if he would have got inside and tied him up. Tszyu doesn't have the best chin and he doesn't like fighting. He likes chess games. One thing Tszyu does got is a good equalizer, he could punch. But from what I saw all they were doing was wrestling with each other."
GL: What do you think about Tszyu quitting on his stool?
FM: "It's easy for a commentator or a writer to say he quit. But you don't know what was going through that man's mind in a big fight like that. Most writers and commenatators can talk about a fighter but they ain't never been in there, so the people who should really be writing the stories are the fighters.
"And the people who should really be commentating are the fighters because they're the ones who know what it's really like. Guys talk like they're experts but how can you be an expert if you never boxed?"
GL: Do you have to be a criminal to cover crime?
FM: "That's two different things. We're not talking about crime, we're talking about boxing. We're here talking about boxing. I didn't say boxers should be the only one's but people need to think about what they're saying before they label this guy a quitter. Think about all the people he's beat.
"They still say Julio Cesar Chavez is legendary and he quit before. I take my hat off to Kostya Tszyu, you don't know what was going on in his mind. You know what? If he wanted to quit, he deserved to quit after all the guys he done beat. And I'm not guys can't write about boxing if they're not fighters, and I like talking to you, but there's certain things that go on in that ring that people on the outside don't really know what it's like.
"Boxing is like being a cop. One shot can end your whole career. I done bumped heads with a guy and been dizzy for two rounds. That's happened to me and I didn't really know where I was for a round or two, but I hide it from my opponent and everyone watching really, really well."
GL: That's why when your career is over we're going to see the Flamboyant one in Hollywood.
FM: "I'm trying to be what I can be. Like I always tell everyone, it doesn't matter what you write about me, as long as you write about me. No matter what happens, I'm comfortable and I'm truly blessed that God has put me in this position. I got my mansion and I got my Rolls Royce's, and I know there's other things I'm going to be doing outside of boxing that are going to make me millions as well. I know I'm capable of being involved with music, I know I'm capable of being an actor, I know I'm capable of writing a movie or a book. There's a lot of things I know I could do and I haven't taken any abuse in this sport so I'm going to be able to do all of them.
"I will never show my weakness. Arturo Gatti has shown his weaknesses. He's shown that he could go down from a body shot. He's shown that he could bust up easy. He's shown that he's flatfooted and throws wide punches and I know I can go to his body and put him. They put Gatti against Micky Ward and Micky Ward never won a world title. I'll tell you what they did, they took two club fighters and threw em on HBO and acted like it was a mega-fight or something.
"Micky Ward never won a world title, so what has he done. He's not going history for anything he's done."
GL: Most guys don't like to look past the opponent in front of them, but you love to look ahead. After your fight with Gatti, if you can't make a big money fight at 140, would you look to move to welterweight quickly?
FM: "The fights are going to be there. These guys need me, boxing needs me. Oscar De La Hoya has been ducking and dodging me forever and he's going to retire soon anyway. Bernard Hopkins is old and he's a boring fighter and he's fitting to retire. These guys got to fight me. If Ricky Hatton really wants a big, big payday, he's got to look my way. I'm willing to go a guy's turf and I'm dying to meet the guy who wants to fight on my turf. He thinks he's the best at 140 so let's make the fight happen. And if he really believes let's do it over here where they won't let him get away with all the rabbit punches and low blows that he wants to."
GL: You're going to have to go there if you want to fight Hatton, he's not leaving England.
FM: "Believe me when I tell you he'll come over here. That fight has the ability for both of us to make $10M and up so he'll come over here for that."
GL: Since you tuck your chin behind your shoulder so well, Buddy McGirt's been saying that he's training Arturo to hit you on the sides of you head..
FM: (cutting in) "So. Who cares what Buddy McGirt says? I seen him get knocked out and Pernell Whitaker gave him two boxing lessons, so what's he going to do for Gatti? He can't fight for him and Arturo can't do nothing with me. If Buddy McGirt was boxing around the same time as me, I would've beaten him and Gatti on the same night, and Buddy could've came in at welterweight."
GL: After June 25, what plans do you plan on taking to make sure you become a true PPV star?
FM: "Listen to me, I'm HBO's pride and joy, they have to pay me. They have to pay me, there's nobody else out there. Arturo Gatti is supposed to be so tough and rugged, but Team Mayweather flew all the way to the East Coast for a press conference that he was too sick to attend. But then he goes and has one the next day. Now we're not even weighing in together or having our press conference when we get there so you tell me who's scared."
GL: Really why?
FM: "That's a question you're going to have to ask the Gatti people."
GL: You've always said Gatti's a B level fighter..
FM: (cutting in) "Wait a minute. I never said he was B level fighter, I said he was a C+ fighter and he's fighting an A+ fighters.
GL Based on that should we be disappointed with anything other than thorough Mayweather domination come June 25?
FM: "His chances of winning this fight are like a guy down to his last two dollars putting his money in a mega-millions machine trying to hit. His only chance is to hope and wish that he could get lucky."
GL: Many people including myself thought Tszyu would destroy Hatton, does Hatton's win serve as a wake-up call not to take Gatti too lightly?
FM: "Listen, I'm not no Kostya Tszyu, I got the urge to win. I was born to win."
GL: Earlier you said you have to be in the ring and understand the kinds of things that were going through Tszyu's head before calling him a quitter. Can you see yourself going through anything in the ring that would cause you to retire on your stool?
FM: "Shiiiiiiiiiiit. I'm a little different."
GL: I'm trying to get educated since guys like me don't know what he was going through to make him quit.
FM: "I don't know what he was going through, but as far as me, that ain't my style. He could've had a broken rib, a broken jaw or anything. You never know, but as far me doing that, shiiiiiiit, I'm a little bit different. I done proved myself. I done beat everyone they put in front of me. I could name six or seven guys easy that were world champions or became world champions."
GL: Is this fight with Gatti going the distance?
FM: "You know it ain't. Hell naw! I can't tell you when it's going to end, but I want to beat him for eleven and then finish him in the twelfth."
GL: Will the fact that the crowd is going to be behind him cause you to engage more than you should?
FM: "I'm just so surprised that I'm HBO"s pride and joy and they're taking me to this man's home turf after I've been with them for so long. I don't understand it, but I'm willing to fight through anything. I ain't never let HBO down like the Klitshcko brothers or like Shitty Shane Mosley and De La Hoya. De La Hoya is the only guy I know that could get dropped from a punch on his right side and then beat the canvas with his right hand. So he could beat the ground but he can't hop up? Oh man that's funny!"
GL: Is there anything you'd like to say to your fans in closing?
FM: "I love all of y'all!"
CLICK HERE FOR MORE...NOW IT'S FREE
Send questions and comments to: gleon@boxingtalk.net