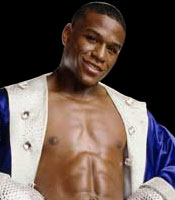 "I should have stopped him last time when his daddy pulled me off of him!"
Yesterday afternoon undefeated pound for pound king Floyd Mayweather Jr told Boxingtalk.com, "These guys are trying to talk about the money, but Zab knows. How can you talk about getting 50-50 with a millionaire when you're a thousandaire? How can a thousandaire talk millions with a millionaire? Deals like this are negotiated between top dogs, Bob Arum, Don King, Floyd Mayweather Jr and HBO. Zab has no say so. Zab is the undisputed undercard champion."
GL: Before we continue with the Judah discussion, can you tell us why you decided to go right at Mitchell, much like you went at DeMarcus Corley?
Floyd Mayweather Jr: "I walked straight through him. If I didn't walk straight through him like that people might not have felt I belonged at this weight. I wasn't the taller fighter but I fought like the bigger man. Sharmba is a veteran fighter but I'm young and hungry so I did what I did."
GL: Would you fight Zab Judah the same way you fought Sharmba Mitchell?
Floyd Mayweather: "I never tell my plans to the public."
GL: Let me rephrase the question, can you beat Zab Judah fighting that way?
Floyd Mayweather: "Yezzur" (Yes sir)
GL: When do you expect to be back in action and is Zab Judah your top choice of opponent?
Floyd Mayweather: "As soon as possible. My contract is already signed. I'm ready and we're calling the shots. We're ready, but is Zab ready? I'm not finished with him and I should have stopped last time when his daddy pulled me off of him."
GL: I'm not trying to be redundant, but can you tell us why an Antonio Margarito fight doesn't interest you?
Floyd Mayweather: "Because he just lost his last fight on HBO and his biggest win is against Kermit Cintron. Who has Kermit Cintron beat? He was an ESPN2 knockout artist. If I'm going to fight at welterweight, I only want to fight the best and one guy has all the hardware, that's Super Glass Jaw Judah. When the time is right that fight could happen, but right now I'm focused on Zab."
GL: If you had your way who would you fight in 2006?
Floyd Mayweather: "Zab Judah, Oscar De La Hoya and Winky Wright. None of those guys really want to fight me, but Zab is going to have fight even though he don't want to. He's going to have no choice but to fight me. Zab needs what I already got. My uncle Roger makes more money training me than Zab does with those belts. My strength coach makes more money than him."
GL: You're doing Zab dirty. Comments like those have him seeing he's going to set it off on you when he sees you at a press conference or something.
Floyd Mayweather: "He seen me in Miami. I'm a gentleman. If he's a real bad boy, bad boys move in silence. They don't go on the record and tell people what they're going to do. You know me, I'm a gentleman. I'm not going to waste time hitting anyone for free, if I'm going to crack somebody, I'm going to get paid for it."
GL: Zab says all you have to do is sign the contract because he already signed. You're saying you've already signed. I mean, what's the real deal with that Floyd?
Floyd Mayweather Jr: "I've never been the one to lie. Zab's record doesn't even compare to mine. He's never been in there with an opponent like me and when he was in there with his biggest test he couldn't pass it. If he couldn't pass exam B, how's he's going to pass exam A? We call him exam B because he had a loss. Exam A is flawless.
"But I have a few things I want to say. How can a guy that's an undisputed champion fight on the undercard of some cruiserweight nobody even knows? What does that tell you about him? And then the same guy who's talking about he wants 50-50 out of a multi-million dollar pot, but he's never seen one million before. Zab needs to be in the room with my employees negotiating. He knows he's not even supposed to talk business in the same room as the bosses. Zab knows he shouldn't even talk to me. When we sit at the podiums Zab's going to be underneath me."
GL: But as the champion, the promotion would be called Judah-Mayweather.
Floyd Mayweather: "I don't know about that one because he might be afraid to put them belts up. But remember when he first fought Cory Spinks and I had to save him by stealing the show at the press conference. This can't be the same guy who got dropped by Cory Spinks talking about he wants to tussle with an alligator. An alligator who punished him. And you know when I whooped him in the gym I was talking to him like a straight dog. 'Easy work!' I was slapping him all around, easy work.
"I wish you was there. I back smacked him, front smacked him, beat him down for real. Black eyes, bloody nose, he knows it. Is Zab mad that the world doesn't know he's a video groupie? Tell him I liked his Vanilla Ice move in the last Lil Kim video. And he's broke. For the record, Zab Judah is broke. That's for the record so let the world know. The reason he wasn't at my fight is because he couldn't afford a plane ticket. I would have gotten him one if he wanted one. Make sure you put it in bold print, Zab Judah is broke so he ain't going to have no choice. Yezzur, you heard it from Pretty Boy Floyd. So while he's running around fronting in Brooklyn, he's just fronting."
"He comes out talking about my pass to NY has been revoked. Whatever. I come to New York whenever I want to. Matter fact I'll be in New York in a couple of days at the Jacob store, spending another $300,000 on my fifth watch, and that's not even fighting money. It's nothing to me."
Send questions and comments to: gleon@Boxingtalk.com