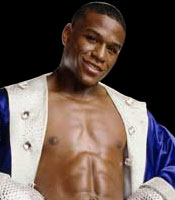 His crime, the systematic dismemberment of all human beings that he comes in contact with in the ring. Floyd Mayweather Jr. is without question, one of the best in the game. He seems to have mastered the sweet science and at 27 years young he's got plenty of time to make an even deeper impression on the world of boxing. Of the top fighters on everyone's pound for pound list he is the only one still undefeated. He's only been down once and many of the fighters that he's beaten have gone on to win world championships. Mayweather is truly a force to be reckoned with, but many question whether he is actually the top pound for pound fighter in the world, whether he truly is pay per view material, and whether he will be a people's champion.The answers to these questions remain blank. Most are still searching for that career defining fight, the type of fights that endeared mexican legends like Julio Ceasar Chavez to his people. For Floyd Mayweather, fights like the ones we're about to outline could put his name on everyones all time top ten pound for pound list.
First for Floyd is a fight that he definitely wants: Arturo Gatti. Floyd is in position to capture the WBC title at 140 by fighting the most entertaining fighter of our era, the Ultimate Blood and Guts Warrior we call Thunder. At 38-6 (29) and standing 5'8 Gatti is a big junior welterweight and any fight that he's in will be exciting. He possesses one punch knockout ability and has the heart of a lion, this fight could one of those career defining fights for Floyd because even though he has superior boxing ability you can never underestimate heart.
Next on the path is a fight with the winner of Tzuyu-Mitchell. Assuming Floyd beats Gatti for the WBC title this would be a great unification bout. If his opponent is Kostya Tzuyu 30-1(24) this bout could be history in the making. Tzuyu is a legendary warrior in the ring with bone shattering power and the accuracy of a sniper. For Floyd this is truly a career defining fight. The ongoing battle of speed vs. power. if his opponent were Sharmba Mitchell then you have an equally entertaining bout pitting pure boxing and speed against pure boxing and speed. This fight could come down to whoever executes thier game plan to the fullest.
The next bout for Floyd would be at 147 against the undisputed champ Cory Spinks. This fight has history and the future all tied in one event. This is a highly technical matchup that would feature two of the slickest boxers in the boxing world going head to head. Spinks is best known for his disarming of Mayorga and his out boxing of Zab Judah. We got a preview of the press conferences at the Judah-Spinks post fight presser. If both Mayweather and Spinks want this fight and came in highly motivated this fight would be one for the ages, and the winner would clearly be technically the most sound fighter of our era. Spinks would present a big challenge for Mayweather as he would be one of the taller and slicker fighters that Mayweather has faced.
If Mayweather were to get by the fights that have already been listed, then fights against two Latin legends would easily propel him into yet another boxing stratosphere. A fight with Puerto Rican legend Felix Trinidad would be an instant classic. Trinidad 41-1(34) is known for his devestating power and pressure. Mayweather would have to have his defense and ring generalship in tip top shape because one punch from Tito can end a fight quickly. The other legend is Oscar de la Hoya 37-3(29). If Mayweather could somehow lure De la Hoya in the ring this fight could easily do as many or more PPV buys than any in history. The storyline behind this fight is one that would be discussed in the news and shows like 20/20, 48 hours, and dateline would eat this up. The father-son rivalry, to fighters that moved up thru the same weight classes, and though some would argue that this would make boxing seem like somekind of circus this is the type of fight that could help put boxing back in the mainstream. Thses fights would be the ultimate emotional victories for Mayweather and would set him up for the biggest stage of his career....
For over eleven years now Bernard Hopkins 44-2-1(31) hasn't lost a fight. His record 18 defenses and his solid ranking as the number one pound for pound fighter on most list are a testament to the fact that he's ruled the middleweight division with an iron fist. He systematically beats down all who challenge his position and herein lies the biggest challenge and greatest display of championship heart that Mayweather can display. Hopkins would be the biggest foe he would have ever faced at almost 6' 1. Each of the fighters he would have fought previously would have built him up to this point. In short a perfect fight would be what Mayweather would need against the veteran Hopkins who would be physically and skill wise the toughest challenge Floyd could face. A win or a good showing would put Floyd in a class all by himself.This fight would easily be for the undisputed pound for pound fighter of our era. This fight makes him immortal.
If this fight plan were followed in a two to three year period, Floyd would quickly go from the brink of greatness to the top of the mountain. Five to six fights away from immortality and a solid place as one of the greatest fighters ever is a position that most people would kill to be in and Mayweather is there. If he accomplishes this he can add another alias to his growing list, Immortal.
Questions/Comments will be forwarded to Robert By emailing G. Leon
Send questions and comments to: gleon@boxingtalk.net