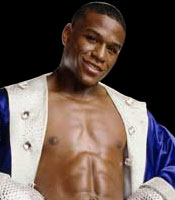 I was one of many boxers who considered Floyd Mayweather an arrogant, selfish and conceited jerk.  But on December 20, 2005, he changed my views of him as a man inside and outside the ring.  First I will begin by saying that I have known Floyd since 1995, and he has never been at a loss for words!  Second, we both competed together in the 1996 Olympic Trials, and I remember Floyd telling me one thing after he lost to Augie Sanchez in the winner's bracket, "Tell Augie I will beat him twice [at the box-offs], and I will be going to Olympics representing this country."  Now I am not going to lie, at the time, I didn't think that Floyd could beat Augie twice, let alone once, Augie had all the confidence in the world coming from the trials, and all he needed was one more victory against Floyd in the box-offs and he would have represented the United States at the 1996 Olympics.  Of course, that never happened for Augie Sanchez.
I remember speaking to Roger Mayweather at the time, after his nephew lost in the Olympic Trials, and I remember him saying, "Floyd was beating him so easily from the outside, I told him to stand and trade with him in the last round."   At first, I was puzzled by this statement, but then began to realize, it was true!  Floyd was beating Augie very easily from the outside, and we all wondered why he decided to trade in that last round.  Nevertheless, I still thought Augie won and the Mayweathers were just making up excuses.  Little did I know, that would be the day that young Floyd Mayweather would become Pretty Boy Floyd.  Not only did he go on to beat Augie twice, but two weeks later in the Olympic Box Offs, he did it, easily, very easily, and I mean in two fights that were not even close!  I couldn't believe it, how could a man lose two fights in a row to the same person, especially, when something as great as going to the Olympics is on the line. 
One could say that, is when Floyd Mayweather decided to become something great, he really made up his mind that he was going to be something special in the sport of boxing, and right now he is just that.  Almost ten years later, he has even surpassed not only my expectations, but probably some of his fellow teammates as well.  To date, he has compiled a record of 35-0 with 24 KO's, and he is regarded as pound-for-pound one of the best fighters boxing today, if not the best. 
This is a feat that, if told this day would come, I would have laughed at back in 1996.  I don't know what it is about that 1996 amateur class, but something was special about that group, and I still feel connected to all of them.  I definitely think we had one of the most talented groups of guys in that 1996 Olympics, but it was the guys that didn't make it that impress me the most.  Names like Diego Corrales, Chop Chop Corley, Zab Judah, Joe Mesi, Lance Whitaker, Charles Shufford, Lamon Brewster, and then you also have guys on the team like Fernando Vargas, David Reid, Antonio Tarver, Zahir Raheem, Nate Jones, Terrance Cauthen, David Diaz, and of course myself, and that is just off the top of my head.  I would also be negligent not to mention the fact that the team took home six medals that year, five bronze and one gold.  The fighters who medaled that year were David Reid (gold), Floyd Mayweather, Rhoshii Wells, Nate Jones, Antonio Tarver, and Terrance Cauthen.  With all that being said, I still do not believe that anyone would have guessed that Floyd would be where he is today. I think that we all knew Tarver would be the man sooner or later, but I would have never imagined Floyd would be at or near the top of the pound-for-pound ratings. 
Over the years I had begun to think that Floyd was so into himself, and that he didn't                                                                       care about fans or the sport. Boy did he change my mind on the night of December 20th, 2005; my boy Mike was leaving for the Christmas vacation, and I wanted him to have a good time before he left, so we decided to meet up at Pure,  a club at Caesars' Palace.  Mike is like my road dog, we don't go out much but when we do we have a great time.  Now I am not a big partier, I am pretty lightweight when it comes to hanging out a lot, but when I do decide to get out of the house I make sure I have a good time.  After being there for about an hour, I was ready to go home and I had actually just told my friend that I was about to leave.  About ten minutes later I look up and who is in the super VIP section, no other than Floyd himself, so I went over to say what's up.  Before I could even speak, Floyd invited me up to his section to hang out.  We went up to his section and right away we immediately began to talk about boxing.
I asked him, "What's next?" 
He replied with, "Zab is very close, Oscar, and then Winky!" 
"Really?"  I replied!
"Yea I am almost done man, there is nothing left in the sport for me to accomplish after them, and I will probably hang them up after Winky."
I guess I was intrigued at how he seemed dead serious about fighting Winky and Oscar!  I mean, before I thought he was just talking, but that night I could see that he was very serious, I could see it in his eyes.  I told him that if he fights Oscar it would be the biggest fight in boxing, it would break all kind of records.  Maybe it was the way Floyd and his friends welcomed me and my boys up there, or maybe it was his generosity, the way he took care of my friends and told them not to worry about anything.  What he said next was beyond what I would have even imagined coming out his mouth. Floyd began, "when are you fighting next Ishe?" 
I replied, "I don't know. I had a lot of problems with that show [The Contender] man!"
"Yeah I heard, but deep down I know you're better than all of those fighters, and they only used you for their television show, they didn't use you for your abilities," he earnestly replied.  Then he said, "I know you got one loss, but it's not how you lose that determines a champion, it is how you come back after a defeat that determines a true champion." 
This was coming from a guy that has never lost as a professional, but the truth in those words rang in my head like a bell until it hit me, he is right!  I began to come to some much needed self realization, I needed to get back to doing what I do best, forget about all that had happened in the past!  Forget the split decision loss that no one really got to see [it was shown on NBC in edited form and never released in its entirety], forget all the haters that told you can't do it, forget the promoters who passed on you, forget all the people who talk bad about you, and finally look ahead and not backwards. 
That is the 1996 connection I mentioned earlier. I hadn't spoken to Floyd in years, but he knew the right things to say at the right time, and from that day on I will look at him differently.  From the 1996 Olympic trials, I virtually came from nowhere, and to my surprise I am still one of the lucky ones still going strong. I surprised a lot of people by even making the trials, and I think it will surprise many when I become a world champion.  To the man they call Pretty Boy Floyd, thanks.  In my much-needed time of discouragement, you lifted me up and made me realize why I have been doing this for so long, and I promise not to forget that ever again.  True, I had my opinions of you, but that night you showed me class, companionship, and generosity; and for that, I say thank you. As for the three names Floyd mentioned, I don't know what to say, other than that I doubted him in 1996, I don't know if I could doubt him again.  If Floyd gets past the three names he mentioned, he would be one of the all-time greats!
Now, as for the 154-pound division, be on the look out, because I intend to be the new sheriff in town, and I will be causing a lot of problems in 2006.  I have heard this cliché spoken a million times, but I will say it again, especially to the fans, and that is don't judge a book by the cover.  It took me a while, but I realized what kind of a guy Mayweather is, and he is nothing like my earlier, preconceived concepts.  I leave all of you with this advice: try to get to know someone before you draw any conclusions, and don't draw those conclusions from what other people have to say, or from what has been shown on television…always try to find out for yourself!
Send questions and comments to: sugarshay@sugarshay.com