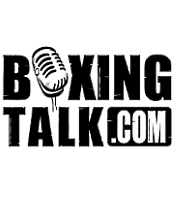 Russell Peltz Boxing/Joe Hand Promotions found a Classic Philadelphia match-up to end 2005 boxing.  Jose Medina (149 lbs), a bull in the ring, challenged slick boxer Miguel Figueroa in the main event and current Philly heavyweight knockout king John Poore looked for another notch on his belt against Chris Riley. Figueroa, who has been known for inactivity and a sometimes lax defense, returned to the ring after almost 14 months away.  Medina had problems in and out of the ring in 2005, but salivated while training for this fight.
As expected, Figueroa got the upper hand early thanks to his quicker feet.  It was a big opening for Figueroa (24-5-1) as he flurried against Medina from the opening bell.  Medina (12-4) was able to use his strength to get himself out of trouble and fared a little better in the second round until he strayed really low with a left hook.  Figueroa wound up in a fetal position as Steve Smoger allowed him to take the five-minute rest as a result of the foul.  As they restarted boxing the round came to an end.  As the crowd wondered what would happen in Round three, Figueroa fought off the ropes using his counterpunching skills.   "I was trying to knock him out in the first and second rounds," Figueroa said later, "but the game plan wasn't there so I moved to my second game plan, boxing." 
In the fourth, Figueroa stunned Medina by answering heavy-handed punches with his own combinations, "I had to sit down on my punches more," Figueroa claimed. Medina lost his mouthpiece and the round was no doubt Figueroa's.  Round five was another give-and-take, all-action round. A left hook tilted Medina onto the bottom rope in the sixth, for what could have been ruled a knockdown but wasn't. The seventh round is a club fight Round-of-the-Year candidate, as both boxers gave it their all with Medina winging and Figueroa flurrying.  Medina admitted later to "being stunned a little". 
In the ninth, Figueroa dislodged Medina's mouthpiece again.  The ten-round decision went to Figueroa by scores of 97-93, 98-92 and 98-91. Boxingtalk's scorecard was 98-91 for Figueroa.
Figueroa says the long layoff  "won't happen again" so we'll watch for him on several upcoming Russell Peltz Promotions in the next three months. Figueroa has been very close to breaking the welterweight top ten, so now it's his opportunity to stay busy, continue to sharpen his skills and get into the elite of boxing's 147-pound division.
Meanwhile, Medina is being guided by a new, possibly more caring, manager in Nedal Abuhumoud.  Medina feels stronger at 154 pounds; "at 154 I was rocking guys at 175 in sparring.  I was (thinking) 'no way he (Figueroa) was going to stand there and take my punch.  He took it.  He was the best fighter in there tonight." Medina will continue to provide excitement in Philadelphia boxing rings.
John Poore seems to have shaken off his only loss and longest layoff. Chris Riley didn't provide much offense as Poore looked for his 17th KO from the get-go in the scheduled for eight-round heavyweight bout.  Poore (217 lbs) pounded away in the first two rounds but took some time off in the third.  Riley (230 lbs) didn't use the opportunity and Poore rallied near the end.  In the fourth, Poore decided it was time for the finish and he struck Riley, backing him to the ropes, coming on strong until Steve Smoger saved the inactive Riley at 1:31 of the 4th.  Poore is now 17-1 with 17 KOs.  Riley is 4-3-1 after the stoppage.
Lenny DeVictoria and Melvin Cumba provided eight rounds of activity in a lightweight bout.  Both fighters have now had 10 pro fights and in a majority decision, Cumba remains undefeated at 10-0.  Lenny is now 7-3. Cumba earned plenty of early round points as DeVictoria fought off the ropes.  Cumba was landing effectively but was the first to show a puffy left eye.  By the fifth round, Lenny was bruised near the left and battled a swollen right eye.  DeVictoria got back in the fight during the mid-rounds by landing the harder punches and even got off a few nice flurries in the final stanza, but it was Cumba getting the nod by scores of 78-74, 79-73 and 76-76.  Boxingtalk's scorecard tallied 77-76 for Cumba.
Undercard results: 
Light Heavyweights: Charles Cavallo U Dec 6 William Gill 
Light Heavyweights: Terrance Johnson TKO 2 Jim Scully 
Welterweights:  Kaseem Wilson U Dec 4 Jayson Champion 
Welterweights: Mike Jones KO 2 Jason Thompson.