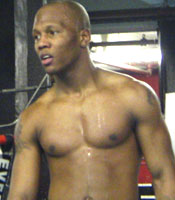 Undisputed World Welterweight Champion & Three-Time World Champion
Born on Oct. 27, 1977, in Brooklyn, New York
Height: 5'7"   Weight:  (Welterweight) 147
Record: 34-2-1 NC (25 KOs)
Even though Zab Judah is one of the fastest-punching fighters ever, it doesn't mean the undisputed world welterweight champion hasn't had to face and bounce back from adversity.  He has been a boxer since age 6, and has never held another job.
He compiled an extraordinary 110-5 amateur record, was a two-time U.S. national champion, three-time New York Golden Gloves champion and won the 1996 PAL Nationals.
In a major surprise, however, Judah failed to earn a berth on the '96 U.S. Olympic boxing team. After defeating Hector Camacho Jr. and Ishe Smith, Judah was upset in the finals of the Olympic Trials by David Diaz, despite having defeated him in the PAL Nationals. 
"Failing to earn a berth on the U.S. Olympic team was tough to deal with at the time because I always had dreamed of winning a gold medal," Judah said. "But once it was over, I decided to put my entire focus on my pro career and winning a world title rather than pout."
One of nine brothers and two sisters—five of the brothers box—Zab is the son of Yoel Judah, a six-time kickboxing world champion who is also his trainer. When asked, "Who is the best fighter in the family?"  Zab does not hesitate to reply.
"My father is the best fighter in the family, no question," Judah said. "We had a rough time growing up in Brooklyn. It was an experience that made me what and who I am today.
"Being in the game, being around Pernell Whitaker and those guys, that is what motivated me. Boxing was in my blood. As a kid, I came home fighting all the time. Everyone thought I was a natural. But my father has always been my idol. He raised seven boys and two girls, so I thought that took a lot. Nobody was on drugs. We were all straight. He ran us, too, along with his career. I remember going to the gym, watching my father train. I thought that one day I could be as good as him. He used to knock guys out.  I still watch his boxing tapes. The guy is awesome."
Despite the obvious bloodlines, not every one in Judah's family was in favor of young Zab following in his father and brothers' footsteps. 
"My mother was totally against it," Judah said. "But, after she saw me fight a couple of times, she gained more confidence in me. She said, 'wow, this boy is good.' ''
Judah turned pro at age 18 on Sept. 20, 1996, and scored a second-round TKO over Michael Johnson. His next five fights also ended early, including three in the opening round. 
After capturing lopsided decisions over George Crain and Omar Vasquez in May and June of 1997, Judah closed the year with first-round knockouts over Cesar Castro (Aug. 24), James Salava (Oct. 3) and Ricardo Vasquez (Nov. 7).     
Judah began 1998 in style by flattening Steve Valdez in the first round on Jan. 17. Valdez, who never had been stopped and had won seven out of eight starts, went down four times. Judah swarmed his opponent from the opening bell and battered him with blinding combinations.
In a bout the following March 10 in Pikesville, Md., Judah and his opponent, Esteban Flores, accidentally clashed heads in the second round, causing a gash to open above Flores' eye. The cut widened in round three, and the bout was stopped as Flores could not continue. Rules in Maryland stipulate that following an accidental head butt, the uncut fighter cannot be declared the winner.  Since Flores was behind on the scorecards at the time of the stoppage, the bout went into the books as a technical draw. 
Following a hearing on May 21, 1998, in Washington, D.C., the Maryland Commission changed the Judah-Flores result to a no-contest because of an error committed by the referee, Ken Chevalier. Maryland rules state that immediately following a cut, the referee is required to alert both corners as to what caused the cut. Chevalier failed to inform Judah's corner that the gash was caused by an accidental head butt.
In one of his finest performances to date, Judah battered two-time Dominican Republic champion Angel Beltre on April 14, 1998. Judah fired crippling body punches from the opening bell and landed a flurry of punches before the fight was stopped in the second round. The victory earned Judah a bout against Mickey Ward for the vacant United States Boxing Association junior welterweight crown on June 7, 1998. 
It was Judah's first step up in class, and he passed with flying colors. At one point, Ward pounded his chest in frustration and cursed at himself in anger.  The tough veteran quickly realized that he was no match for the young lion. Judah banged bruising combinations to Ward's midsection and followed with overhead lefts to Ward's nose. Unable to fight off Judah's blinding attack, Ward gamely attempted to counterpunch.  Ward's desperate left hooks flailed aimlessly, striking nothing but air. Finally, after executing a brilliant 12-round boxing exhibition, the Brooklyn sensation was declared the USBA junior welterweight champion.
"Ward was my toughest fight at that point," Judah said. "In the early rounds, I was kind of anxious, but it taught me that I need to stay calm and box my way into it. Once I slowed down, I was fine. I learned a long time ago that you could not knock everyone out. It has to come naturally." 
In his next outing, Judah registered a second-round TKO over Otilio Villarreal on July 12, 1998. Judah retained his USBA title by stopping former USBA and North American Boxing Federation champion Darryl Tyson in the 11th round on Oct. 15, 1998. Judah decked his opponent three times before the bout was stopped.
The Brooklyn native overcame the disappointment of failing to make the 1996 United States Olympic team by capturing a world title after just 22 professional fights to become one of the top pound-for-pound boxers in the world.
Judah captured the interim International Boxing Federation junior welterweight title with a fourth-round KO over Wilfredo Negron Jan. 16, 1999, in Las Vegas. Judah settled down after a wild start and won every round.  He knocked Negron down three times in the fourth (all with right hands), before the referee stopped the contest at 1:44 of the round.   
On April 16 and July 9, 1999, Judah scored first-round knockouts over Juan Torres and David Sample, respectively. Sample went down four times, three of them from left hands.
Judah received his first shot at a world title when he fought Jan Bergman of South Africa for the vacant IBF light welterweight title on Feb. 12, 2000, at the Mohegan Sun Casino in Uncasville, Conn.  Judah came out throwing blistering shots and knocked Bergman down twice in the opening round. The first knockdown came on a right hand that staggered Bergman, which was followed by a grazing left that put Bergman on the canvas again.
The second knockdown was a lightning left hand that dropped Bergman in the corner. In the second round, Judah got careless on defense and Bergman sent him to the canvas for a flash knockdown on a left uppercut.
Judah finished Bergman off in the fourth round with a flurry of punches that left Bergman sitting sprawled in the neutral corner.
"Bergman caught me with a little left hand and I laughed at him," said Judah, who got up and quickly regained control. In the fourth, Judah exploded with the barrage that dropped Bergman before referee Steve Smoger counted to eight and then waved off the action.
Judah retained his title for the first time with a unanimous 12-round decision over Junior Witter on June 24, 2000, in Glasgow, Scotland. Judah defeated the reluctant challenger by the scores 118-110, 118-111 and 116-112.  "I thought Zab did really well," said his father/trainer, Yoel. "You cannot do much with an awkward fighter like Witter. The guy ran for 12 rounds and never would take a stand and fight. We did what we had to do."
Judah received an early scare from Terron Millett, who floored Zab with a crushing left hook on the jaw in the first round when they met at Mohegan Sun on Aug. 5, 2000. Mirroring his performance against Bergman, Judah rallied to knock Millett down once in the second and twice in the fourth. Millett was unsteady when he got up from the last knockdown, causing the referee to stop the bout at 2:47 of the round. 
Hardly working up a sweat in his third title defense, Judah toyed with Hector Quiroz prior to stopping him with an eighth-round TKO Oct. 20, 2000, in The Palace at Auburn Hills, Mich.  Judah battered and bloodied Quiroz until the referee followed the advice of the ringside doctor and stopped the one-sided bout at 1:56 of round eight.
In his next start, Judah opened the 2001 campaign by knocking out former North American Boxing Federation titleholder Reggie "Showtime" Green at 1:29 of the 10th round at Mohegan Sun on Jan. 13.
Always in control and ahead on each of the scorecards, Judah appeared uninspired in the middle rounds; however, the IBF titleholder suddenly turned devastating when he numbed Green with a hard left to the jaw.  Judah then rushed in with another left that dropped Green along the ropes. Green got up wobbly and blurry-eyed but was allowed to continue until Judah connected with a right hook to the jaw for another knockdown. The referee stopped the bout without a count.
"I had to stay patient, not get wild, nor leave myself open to get knocked down or knocked out," Judah said.  "I just relaxed, took my time and did what I had to do. I felt good. I did my best."
In his first start in five months, Judah successfully defended his title for a fifth time by knocking out Allan Vester in the third round on June 23, 2001. Firing on all cylinders, the champion decked the previously unbeaten, top-ranked challenger twice in the second before a right hook knocked him down and out at 2:58 of the third.
"Whenever I hurt a guy, I expect to finish him,' Judah said. "Vester escaped in the second round, but I got him in the third. There is no one in this weight division (140 pounds) that will give me a fight. I know that when I am at my best, no one, including Tszyu and Shane Mosley, can beat me. I am here to stay.  I will be a world champion for as long as I decide to stay in boxing.  I am dedicated, but I want to get in and out of the game when I am 27 or 28 years old."
The long-awaited match-up between the quick-hitting, undefeated phenom Judah and the reigning WBC and WBA 140-pound kingpin Kostya Tszyu, from Australia by way of Russia, took place on Nov. 3, 2001 at the MGM Grand Garden in Las Vegas. Judah was so well thought of at that time, he was favored by all oddsmakers to win—some by as high as over two-to-one odds.
Judah clearly won the first round over Tszyu by utilizing his superior quickness and stinging Tszyu with two combinations.  The first occurred midway through the opening stanza and appeared to hurt Tszyu, while the second snapped Tszyu's head back with 40 seconds left on the clock.
Tszyu was controlling the second, though the action was sparse for much of the round. With just under 10 seconds left, however, Tszyu ripped Judah with a straight right. Judah seemed to take it well and was moving toward the ropes when Tszyu fired a shot that landed flush on the chin with just one second to go in the round.  Judah went down, but got up quickly. His eyes were crossed, his balance was poor, and he stumbled across the ring toward Tszyu's corner while attempting to regain his balance and fell down again, face first.  Referee Jay Nady chose to end the fight while Judah insisted he should have been allowed to continue, particularly given the significance of the bout.
"I'm in a world title fight and I got hit with a good shot," Judah said. "I went down, but for sure, I was up. I just feel I was never given a chance for a count." 
"He just stopped it," Judah exclaimed. "What happens, you fall and that's it? It was an early stoppage. You can see how quickly I got my head back together and I was ready to go back again. He walked up to me and said, `It's over.' You can't do that. I've seen fighters roll around on the floor. He never gave me a chance. As big as this fight was, it should never have been stopped like that."
Nady said he had no second thoughts and that he stopped it because he was concerned Judah might have been momentarily knocked unconscious.
"I think everybody knows I was not happy with the way the fight was stopped," Judah said. "I was in a world title fight, and I got hit with a good shot. I just feel I was never given a chance for a count, and that was wrong. The referee just stopped it.  It was a big fight. Over time Judah accepted the defeat to Tszyu and returned his focus to the ring. 
"I was mad and disappointed for a long time. But I have put the fight behind me and re-channeled my energy toward regaining my title. I have come back before. I will come back again. I would love a rematch with Tszyu.'' 
It didn't take long for Judah to serve notice that he was still a force to be reckoned with in the 140-pound division.  On July 12, 2003, he won the World Boxing Organization junior welterweight crown with a 12-round split decision over defending champion DeMarcus "Chop Chop" Corley in Las Vegas. It was Judah's first start in a year and just his second start since losing his first fight and IBF light welterweight title to Tszyu.
"I felt a little rusty with a year off, but I think I had a great fight," said Judah, who dropped Corley with a looping left near the end of the third en route to winning (115-112, 115-112 and 112-115). Judah, who has openly campaigned for a rematch against Tszyu, broke his left hand after the knockdown.
"Chop Chop fought a good fight, but I feel great because I came back after a year off and beat the guy with a broken hand," Judah said. "I had to jab the rest of the fight because of my left. I didn't throw the left the way I normally do. I could just touch with it. I normally throw with a lot more power.''
Judah, who taunted Corley throughout, controlled most of the fight by jabbing and moving and making Corley miss with his best punches.  "He kept his composure the whole fight, so I was just taking my time and picking off his shots," Judah said. "I pretty much could see everything he was throwing.''
The victory over Corley helped erase some of the sting from losing to Tszyu.
In his first fight after Tszyu, Judah recorded a unanimous 10- round decision over Omar Weis on July 13, 2002, in Tunica, Miss. Judah turned back a determined bid by Weis to triumph by the scores of 97-92, 97-93 and 96-93.  The lefty scored the bout's lone knockdown in the second when he dropped Weis with a left hook flush on the chin.
Before his Dec. 13, 2003, questions swirled around WBO junior welterweight champion Zab Judah: Is his left hand 100 percent? Will he take Jaime Rangel lightly? Will he remain poised and relaxed, or will he enter the ring too pumped? Before the end of the first-round, Judah left no doubt as to the answers.  With a punishing blow to Rangel's temple followed by a right hook, Judah won a dramatic knockout victory just 72 seconds into the fight and made good on his promise to "steal the show" on a night that featured eight championship fights. 
"I did it, just like I promised.  When I hit him with my left hand, I knew he was hurt.  I put him out with my right," explained Judah.
Following this dramatic victory, Zab moved up to welterweight to challenge undisputed champion Cory Spinks in an important fight for both men in Las Vegas on April 10, 2004.  Judah was stepping up in weight for the first time in his career, and Spinks was out to prove his victory over Ricardo Mayorga to unify the welterweight crown was no fluke.  In the 12-round battle that ensued, momentum swung between the two combatants, with both fighters getting knocked down.  Some ringside observers felt if the bout lasted another minute, Judah would have prevailed, but the "Spinks Jinx" held.  Zab won the respect of the boxing world, but lost the decision to Spinks.
But Judah was to rebound again.  On May 15, 2004, Judah battled Rafael Pineda at Mandalay Bay in Las Vegas for the vacant WBO intercontinental welterweight title.  Judah looked lackluster at times and was actually grabbing his lower leg during the fight.  It turned out Judah was suffering from severe cramps in both legs, but still was able to win a close split decision victory (115-112, 114-113, 112-115).
Judah successfully defend his WBO intercontinental welterweight title in his hometown of New York City at the famed Madison Square Garden with a with a first-round technical knockout of Wayne "Wawatae" Martell on Oct. 2.
"I begged and prayed for a second chance after the first fight with Spinks," Judah said.  "I took a big risk moving up in weight from 140 pounds, and it was my first fight at 147 pounds.  I didn't feel like I was fully saturated at welterweight when I first moved up."
Judah's prayer's were answered when Spinks agreed to the rematch in his hometown of St. Louis at Savvis Center on Feb. 5.  What Spinks didn't know when he signed the contract was that the pressure to win on his home turf would become even stronger when St. Louisans snatched up all 22,370 tickets to set an all-time attendance record for a boxing match at an indoor arena.
To say Judah was in hostile territory when he entered the ring would be an understatement.  What he had on his side was his experience and the type of maturity, at age 27, that only comes with time.
While Spinks attempted to control Judah in the early rounds with his quick stick-and-move style, Judah stalked him relentlessly, forcing a fight on Spinks he didn't want to participate in.
Near the end of round seven, Judah rocked Spinks right at the bell, but referee Armando Garcia ruled it a push.  Spinks reeled from Judah's attack in the eighth, but held his ground. 
Spinks appeared to be recovering further in the ninth round until Judah scored with a long left cross that rattled Spinks, and Judah immediately dropped a right hook that dropped the champion.  On unsteady legs, Spinks marched on with Judah stalking his wounded prey.  In an amazing act of sportsmanship reflecting the tremendous respect these two fighters have for each other, Judah dropped his hands to his waist, imploring Garcia to stop him from further injuring his friend.
Judah said after the fight, "I remember hitting him and I saw his eyes rolling.  He kept moving, going with the flow, then I knocked him down, and I looked at the ref for some help.  He's got a wife and family."  Garcia finally halted the beating at 2:49 of the ninth. 
"Hunger and determination was the difference in this fight," Judah said.  "He did exactly what I thought he'd do.  He was running from my left hand, which made him pull back and let me take him to the body."
When asked where Spinks made his biggest mistake, Judah retorted, "When he signed the contracts for the rematch."
In his last appearance, Judah faced No. 1 IBF contender and mandatory challenger Cosme Rivera in Las Vegas on May 14.  Judah's superior speed and power were evident from the opening bell as he sent the challenger to the mat with a straight left in round one.  Moments later, a right hook sent Rivera down again.  Judah landed a similar right hook in the third round that sent Rivera to the floor and caused referee Joe Cortez to wave off the action and declare Judah the winner by technical knockout.
BEFORE THE BELL - A QUICK GLIMPSE OF ZAB "SUPER" JUDAH
STYLE: 
Has exceptional speed and good punching power...The fast-handed youngster uses a lot of movement...However, unlike a lot of slick boxers, he can be aggressive and fun to watch.
STRENGTHS:
Boxing ability...Speed...Super-quick reflexes...Throws lightning-quick combinations...Punching power in both hands...Confidence...Conditioning: maintains peak condition...Stamina...Bloodlines…. Crowd-pleasing style.