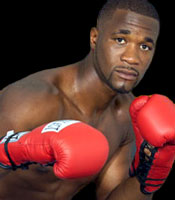 International Boxing Federation Cruiserweight Champion
Born in Montego Bay, Jamaica, on Dec. 29, 1974, now living in Atlanta
Height:  6' ½"  Weight: Cruiserweight (200) 
Record: 25-1-1, (23 KOs)
O'Neil Bell was born in Montego Bay, Jamaica, and moved with his parents, Charles and Norma, and younger brothers Omar and Anthony, to Dover, Del., at the age of 7.  He moved to Atlanta at 21, where he remains to this day.
"I had always wanted to box, but in the time I grew up, they didn't have a program in Delaware," Bell said.
Athletically gifted, Bell was a four-year varsity, all-state football star playing both ways at Polytech High School in Dover—fullback on offense and linebacker on defense.  He also won a state championship in wrestling competing at 189 pounds in 1994.
Fate intervened in 1996 when, at age 21, Bell moved to Atlanta to join his girlfriend, even though he had earned a scholarship to wrestle at Delaware State University.  The turning point came when he went to see a box-off featuring the Cuban boxing team at the Omni in Atlanta.
"I had always wanted to be a boxer—since age 4," Bell said.  "It was always a dream of mine.  I remember my father talking about boxing when I was a child.  I studied them all:  Jack Johnson, Ezzard Charles, 'Sugar' Ray Robinson, Ken Norton, Muhammad Ali, Felix 'Tito' Trinidad and Bernard Hopkins just to name a few."
While working as a United Parcel Service driver in Atlanta, Bell struck up a conversation about boxing with a co-worker that knew the phone number to the Doraville Boxing Gym (now the Paul Murphy boxing Gym).  Bell phoned and made a visit.  He immediately fell in love with participating in the sport he had admired from a distance.
"I went to the gym every single day including Sundays," Bell said.  "I still remember their hours.  They were open 5 a.m. to 8 p.m. every day."
"When I first started boxing, I wanted to learn so much, so I began watching old fights. I have a lot of tape of Jack Johnson, Ezzard Charles and Ray Robinson. I didn't have that many amateur fights, so I had to improve my game quickly."
Lacking citizenship, Bell was not allowed to enter some of the amateur competitions and could only find 12 amateur matches.  He won all of them by knockout. 
Regardless of his lack of ring experience, he nonetheless turned pro, fighting a man named Holyfield in his first match.  It wasn't Evander Holyfield, but it was his nephew, William, and Evander was in his corner on Feb. 19,1998, in Atlanta.
"Most boxers making there professional debut would have been intimidated to see Evander Holyfield in the opposing corner—not to mention Mills Lane being the referee—but I was actually inspired to show these ring legends my artistry," Bell said. 
He scored a fourth-round technical knockout over Holyfield.
Against the advice of his trainer, he took his next bout against Mohamed Benguesmia, a fighter who had participated in 142 amateur bouts.
"I've never been one to duck a challenge and that goes back to the beginning," Bell said.  "I had Benguesmia out on his feet but was too inexperienced to know how to finish him. 
"He beat me that night but refused to ever give me a rematch.  I haven't lost since."
Twelve wins in a row earned Bell a shot at the vacant North American Boxing Federation title on Jan. 18, 2001, in Biloxi, Miss. where he scored a 10th-round technical knockout over the previously undefeated James Walton.  Bell was cut over the left eye in the fourth round after an accidental clash of heads, but he wore down Walton with a steady body attack that let to a stoppage.
The new champion made his first title defense against Jose Rivera in East St. Louis, Ill., on May 10, 2001.  Bell knocked down Rivera in the fourth round and continued the pounding until Rivera could not answer the bell for the eleventh round.
Bell took on one of the toughest challenges of his career in his next title defense against former International Boxing Federation cruiserweight champion Arthur Williams in Hankinson, S.D. on Sept. 7, 2001.  Bell was impressive, rocking Williams several times before flooring him with a left hook in the eleventh round.  Williams regained his feet only to suffer another barrage that caused the referee to halt the match with 30 seconds left in the round.
In his third NABF defense, which was also for the vacant United States Boxing Association title, Bell squared off in a rematch with Williams on Nov. 8, 2002, in Las Vegas.  Williams decked Bell in the first round and was dominating the fight until Bell rallied to knock down Williams in the ninth round.  The referee halted the bout and declared Bell the winner by technical knockout at 2:06 into the round.
Bell put his NABF and USBA crowns on the line in a fight that was also an IBF elimination bout against future world champion Kelvin "Konkrete" Davis at the Lucky Star Casino  in Concho, Okla., on May 23, 2003.
The fight was highly competitive with both fighters scoring throughout the match.  Bell hit Davis with 11 unanswered power shots in round six, but Davis was able to survive—in part by spitting out his mouthpiece to slow down the assault. Davis continued to fade in the closing rounds, and Bell culminated his punishment with three brutal right hands in a row—all landing on Davis' left ear—which caused the referee to halt the contenst in round 11.
After scoring an eighth-round technical knockout over Derrick Harmon on Dec. 19, 2003, it appeared Bell would challenge WBC cruiserweight champion Wayne Braithwaite in 2004, but Braithwaite decided to make an optional defense.
Bell then met top contender Ezra Sellers at Mandalay Bay in Las Vegas on Sept. 4, 2004.  Bell stunned the Labor Day crowd with a one-punch knockout in the second round that earned him the No. 1 ranking in the IBF as well as becoming the mandatory challenger to IBF cruiserweight champion Kelvin Davis.
In one of most bizarre episodes in the history of a sport filled with unusual occurrences, Davis inexplicably refused to fight Bell, pulling out of the match at the weigh in at the Savvis Center in St. Louis on Feb. 4, 2005, subsequently causing him to be stripped of his title.
Bell was then paired with IBF No. 2-ranked Dale Brown at the Hard Rock Casino in Hollywood, Fla., on May 20 to determine the new IBF cruiserweight king.  Bell won a unanimous decision by scores of 117-111, 116-112 and 115-112.
In his last outing, Bell successfully defended his crown on Aug. 26—again at the Hard Rock in Florida—when he knocked out Sebastian Rothmann in round 11 in a fight that had been even up to that point.
Bell can best be described as a New Age boxer.  He is unorthodox in every way.  He keeps no daily training schedule, preferring to do what he feels is best each day including jogging, swimming, meditation and "intense sparring and intense body work.
"After I sign to fight, I begin purifying my system by ridding myself of all toxins, including negative influences," Bell says.  "Everything I do is predicated on maximizing my intensity.  If I am too intense, I might get caught with a shot from my opponent because I'm too tight.  If I lack intensity, I'm also putting myself at risk of making a mistake that could cost me.
"My style is ever changing, never the same.  My goal is to continuously evolve."
His favorite fight was against Kelvin Davis, "because he made me want to fight.  I love it when a real fighter comes to fight and throws lots of punches.  I like it bloody."
Those tough words don't apply to his recent decision to change his nickname from "Give 'Em Hell" to "Supernova" Bell. 
"I just decided nothing good comes from hell, so I'd rather be a supernova."
His longtime trainer is James Plenty.  Away from the ring, he loves to fish for bass.  His favorite types of food are Jamaican and Thai.
STRENGTHS:
An aggressive style and good punching power, especially in his body shots.  He is durable, determined and can be an awkward opponent.  Bell works hard in the gym and is physically very strong.
WEAKNESSES:
Hopefully his late start to his boxing career does not leave him vulnerable when fighting more experienced boxers.