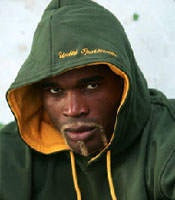 World Boxing Association & World Boxing Council Cruiserweight Champion
Born on June 3, 1972, in Point-a-Pitre, Guadalupe, France
Now residing in Rosny-sous-Bois, France
Height: 5'11"   Weight:  Cruiserweight (200)
Record:  31-2 (21 KOs)
Jean-Marc Mormeck was born the only child to Fulbert Mormeck and Sonia Harris on June 3, 1972, in Point-a-Pitre, Guadalupe, France.  The family moved to Bobigny, France when he was 6 years old.
Jean-Marc was always a good athlete and played futbol (soccer) as an amateur and also participated in Thai-style boxing but only on the amateur level. He first became interested in boxing by watching the fights on television.
"I love watching boxing," he remembers.  "Especially Muhammad Ali, Marvin Hagler, Mike Tyson and tapes of Joe Louis.  I always dreamed of fighting in America and Don King being my promoter as I had watched him and his fights on television since I was a youngster.  This has been a dream come true for me.
Mormeck added:  "It made me more famous by simply signing with Don King than winning fights.  That says a lot about what Don King means not just in America but in France and around the world."
Mormeck has some favorite fights that he's seen over the years.  "I liked Muhammad Ali with George Foreman because although Foreman had all his natural strength, Ali used his experience and his head to overcome the strength.  I also liked Hagler and Hearns because even when Hagler was having difficulty, he was determined to win.  Then there was Felix Trinidad with Vargas, because Tito had such a tremendous punch and desire.  Then there was Mike Tyson with Bruno because he was ferocious.  Then Roy Jones, who beat James Toney by being so smart.
Still a bachelor, Jean-Marc enjoys living the single life.  In his spare time he enjoys going to movies and listening to music.  His favorite movies were The Godfather I, II & III, Raging Bull and Philadelphia.  Although he likes listening to "Public Enemy" and "Tracy Chapman," he enjoys a lot of different kinds of music.  He speaks French and is learning English and Spanish.
He likes all kinds of food and doesn't have much trouble maintaining his championship weight of just under the cruiserweight limit on 200 pounds.  Despite his imposing presence when facing opponents, he often displays a wonderfully playful, clever and distinctly French sense of humor outside the ring.  He is also highly articulate.
"I enjoy eating," says the champion, "but I also enjoy training and being the unified WBA and WBC cruiserweight champion, so I don't see weight as any problem.  They always said that titles are harder to keep than to get, so I keep that in mind."
After a brief 17-bout amateur career—Jean-Marc won all but two of his matches, eight by knockout—he moved to the professional ranks in 1995.  By 1997, he had four wins and two losses that came in back-to-back appearances in May and June of that year.  He hasn't lost a match since. 
"I knew at that time of those losses that I had to work harder to achieve my dreams," he recalls.  "If I got discouraged, I would never be anything in boxing and I always wanted to be a world champion.  That was the time for me to re-dedicate myself to the sport."
Today, he sees himself as a warrior who comes to destroy, and he's shown the punching power to prove his point.
Mormeck is currently riding a 28-fight winning streak with 19 of those victories coming by way of knockout.  Among those victories was the French light heavyweight championship, which he won on Nov. 10, 1998, winning a decision over Alain Simon. 
He made one defense of that crown before winning the WBA International light heavyweight championship in Venezuela by stopping Livin Castillo in the 3rd round on Dec. 16, 2000.  He successfully defended that belt the following year. 
He participated in and won his first world championship fight on Feb. 23, 2002, when he stopped longtime and then world champion Virgil Hill in nine rounds to win the WBA cruiserweight championship.  On Aug. 10, 2002, he took the title home to France and successfully defended against Dale Brown (TKO 8).
On March 1, 2003 in Las Vegas, Mormeck stopped Alexandre Gurov (TKO8) to successfully defend his title for the second time.
Mormeck continued his "world tour" when he fought in a rematch with Virgil Hill on May 22, 2004 in South Africa.  While Hill made it through the full 12 rounds this time, he still lost in a unanimous decision (115-114, 115-113, 115-113).
Mormeck's next quest was to unify two world titles by facing then undefeated WBC cruiserweight champion Wayne "Big Truck" Braithwaite on April 2, 2005, in Worcester, Mass.  This bout was telecast on SHOWTIME and marked Mormeck's first appearance on American television.
Mormeck arrived in Worcester with a chiseled physique reminiscent of Evander "The Real Deal" Holyfield that quickly served notice on America that this Frenchman was not expecting to return to France without bringing a new belt with him.
Mormeck vs. Braithwaite was considered an even match on paper prior the fight; however, Mormeck dominated the WBC champion throughout the contest.  Mormeck visually wobbled Braithwaite on numerous occasions and was never in trouble himself.  He scored a unanimous 12-round decision with scores of 116-110, 115-111 and 114-112.
"I always dreamed of being a world champion," Mormeck said after the fight, "but I never even fathomed that I could win multiple world titles.  I am achieving more in boxing than I had been able to dream of, which is a delight for me.
Now Mormeck has set his sights on becoming the first undisputed cruiserweight world champion since Holyfield held that distinction in 1988.