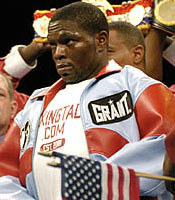 How many youngsters can boast that their father and uncle each held world heavyweight titles?  The answer is one: Cory Calvin Spinks, the son of former Muhammad Ali nemesis Leon Spinks, and Ziade Calvin. 
Just five days after Leon Spinks pulled off one of the biggest upsets in boxing history by defeating Ali on Feb. 15, 1978, Cory was brought into the world.  Seven years later his uncle, Michael Spinks, pulled off another big upset by defeating the great Larry Holmes to win the International Boxing Federation heavyweight championship.
That is an awful lot to live up to, especially because all of the Spinks were raised in St. Louis.   Nearly born in the gym, it was a natural transition for Cory to take up the sweet science.
The youngest of the Spinks fighters did as his father and uncle had done after Don King delivered him the opportunity to become the undisputed world welterweight crown against Ricardo "El Matador"Mayorga on Dec. 13, 2003, in Atlantic City, N.J.
Mayorga was one of the hottest fighters in the sport after having destroyed The Ring magazine and Boxing Writers Association of America 2002 Fighter of the Year Vernon "The Viper" Forrest in back-to-back matches in January and July 2003.
Spinks frustrated the World Boxing Association and World Boxing Council champion as evidenced by two one-point foul deductions against Mayorga: in round five for hitting after the bell and in round 11 for holding.   He also gave the Nicaraguan bomber a boxing lesson that yielded a majority decision that made Spinks the undisputed world welterweight champion.  The judges' scorecards gave Spinks the title by the scores 114-112, 117-110 and 114-114.
He immediately put his titles on the line during his first defense on April 10, 2004, against the lightining-quick and dangerous former world champion Zab "Super" Judah.  Spinks controlled the action over the first four rounds with his astute boxing skills.  In the later rounds, however, Judah's quick left hands began to find their target.  Both men hit the deck late, but all three scorecards favored Spinks as the champion won 116-111 and 114-112 (twice).
"I give Judah credit," Spinks said after the fight.  "He is a great fighter.  I was just a better man in the fight.  I got a little relaxed in there.  I got a little careless and he threw a good shot."
Less than five months later on SHOWTIME, Spinks successfully retained his undisputed world welterweight championship by recording a lopsided 12-round unanimous decision over former WBC champion and No. 1 contender Miguel Angel Gonzalez on Sept. 4, 2004, in Las Vegas.
Spinks won by the identical scores of 118-109 and captured 10 of the 12 rounds on all three judges' scorecards.  Unable to solve the champion's foot speed and quickness, Gonzalez managed to win only the first and ninth rounds.  Referee Joe Cortez deducted a point from the challenger for an eighth-round low blow and warned him for additional infractions.
"I am very satisfied," Spinks said.  I dominated the fight.  What more could I ask for?"
What his manager and trainer Kevin Cunningham had been asking for was a hometown fight in St. Louis and bid payday.  The enormous Savvis Center was available and the big payday came by agreeing to a rematch with The Superman, Zab Judah.
Spinks could not have known when he signed the contract was that the pressure to win on his home turf would become even stronger when St. Louisans snatched up all 22,370 tickets a full two days prior to the event.  This fight would be among the top three matches in history in terms of total attendance at an indoor arena.
Spinks controlled Judah in the early rounds much as he had done in their first contest with his quick stick-and-move style.  Judah stalked him relentlessly, forcing a fight on Spinks.
Near the end of round seven, Judah rocked Spinks right at the bell, but referee Armando Garcia ruled it a push.  Spinks reeled from Judah's attack in the eighth but held his ground. 
Spinks appeared to be fully recovered in the ninth round when Judah scored again with a long left cross that rattled Spinks before Judah immediately dropped a right hook that dropped the undisputed champion.  On unsteady legs, Spinks marched on with Judah stalking his wounded prey.  In an amazing act of sportsmanship reflecting the tremendous respect these two fighters had for each other, Judah dropped his hands to his waist, imploring referee Garcia to stop him from further injuring his friend.
Judah said after the fight, "I remember hitting him and I saw his eyes rolling.  He kept moving, going with the flow, then I knocked him down, and I looked at the ref for some help.  He's got a wife and family."  Garcia finally halted the beating at 2:49 of the ninth. 
Like his world-famous relatives, Spinks became one of the nation's best amateur boxers, winning a National Golden Gloves championship, two National PAL championships and a National Silver Gloves title.  In all, he compiled a 112-8 record before turning pro.
Prior to punching for pay, Spinks played basketball at Beaumont High School but boxing proved to be his calling.  Even though his other brothers Leon, Darryl and Steve had boxed, they did not stick with it the way Cory did.  Not joining the foursome in the ring was their sister, Vickie.
Under the guidance of Cunningham, Spinks turned pro in 1997, and ran off a string of 13 consecutive victories before suffering a 12-round split decision loss to Antonio Diaz for the International Boxing Association light welterweight title on Dec. 12, 1998. 
Undeterred by the loss, Spinks chalked up 16 successive wins and won both the North American Boxing Organization and United States Boxing Association welterweight titles to set up his first world title shot on April 13, 2002.
Following 12 rounds of action, Spinks dropped a controversial decision to Michele Piccirillo in Italy and missed his opportunity to capture the vacant IBF welterweight crown even though many at ringside felt he had won the match.  The judges scored the bout 115-112 twice and 116-111.
"It was a terrible loss," Spinks said.  "I know I won that fight.  I just thought that they would not give me another chance."
After the loss, Spinks and Cunningham decided that they would hook up with Don King Productions and see if he could help guide them to another title opportunity.
In his first fight after the loss, Spinks took on former world champion and veteran contender Rafael Pineda in an IBF elimination bout for the No.1 contender position on Aug. 23, 2002, in Miami.
Although the fight ended with Spinks being cut on an unintentional clash of heads, the pride of St. Louis was declared the winner when the scorecards were tallied after the seventh round. 
After ascending to the top of the organization's rankings, Spinks got another shot at the IBF crown and the opportunity to gain a measure of revenge when he fought a rematch against Piccirillo in Campione D'Italia, Italy, on March 22, 2003.
"I was not going to be denied this time," Spinks recalled.  "My trainer Kenny Adams and Kevin [Cunningham] had me ready to go.  It was the same site and the same fighter that I had to face.  This time it would be different."
Spinks controlled much of the hard-fought battle by utilizing his impressive boxing skills.  At the conclusion of 12 rounds, Al Bennett scored it 117-111, George Stewart had it 117-112, and Judge Luciano Taliamonte tallied it 115-113 for the winner and new IBF welterweight champion, Spinks.     
Unmarried, Spinks enjoys spending time with his young daughter, Breanna, and playing basketball and video games at home.  He relishes feasting on chicken and crab legs while watching his favorite movie, "Scarface."  When he tears himself away from the tube, Spinks rolls to the sweet sounds of the late rapper Tupac Shakur.
BEFORE THE BELL - A QUICK GLIMPSE OF CORY SPINKSFormer Undisputed World Welterweight Champion
Born on Feb. 20, 1978, in St. Louis, Missouri
Height: 5' 9½" Weight: Super Welterweight (154)
Record: 34-3, 11 KOsSTYLE:
The quick southpaw likes to stay on the outside and utilize his impressive boxing skills…While he prefers to box, he is not afraid to mix it up…Normally displays excellent poise and patience…
STRENGTHS:
Confidence …Boxing ability …. Chin:  he takes a good punch ….. Blood lines with his father, Leon, and his uncle, Michael …. Speed, endurance, dedication and conditioning...Crowd pleasing…
QUESTION MARKS:
  He disappeared after the loss to Judah.  Can he come back?