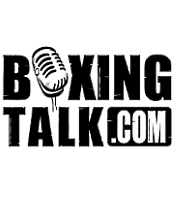 Oscar De La Hoya Vs. Miguel Cotto or Kostya Tszyu in September 2005: 
Boxingtalk.com's been hearing rumblings from the proper parties that De La Hoya's move down to welterweight will set up a mega-fight with Kostya Tszyu or a PPV showdown with Bob Arum's undefeated future star, Miguel Cotto in September 2005. If Arum believes in Cotto's chances he makes the fight in an attempt to stick a golden fork in Oscar "Dee La Hoya" for calling him a "dinosaur". Plus Arum has to do something big before Cotto becomes completely engulfed by Trinidad's shadow. On the flipside, Golden Boy Promotions would probably like nothing more than Oscar spanking Arum's upstart, while reestablishing himself as a force to be reckoned with a welterweight.
CLICK HERE FOR MORE.....IT'S GREAT TO BE A MEMBER!
Send questions and comments to: gleon@Boxingtalk.net