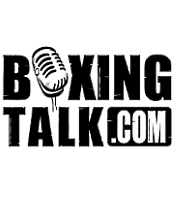 Last week on Boxingtalk.com, we gave our readers a special treat when we had both participants for this weekends IBF Jr. Middleweight title match up. African rivals Kassim "The Dream" Ouma of Kampala, Uganda and "Sir" Kofi Jantuah of Accra, Ghana spoke to our members during our January 18th 2005 T.N.T. chat session. As always, at the conclusion of our chat session, we gave one lucky fan, which in this case was Ruben Subia of Casa Grande, Arizona a chance to speak to this weekend's challenger Kofi Jantuah. Boxingtalk.com printed this transcript for all to read what they had to talk about.
Boxingtalk.com (Ray O.): Ruben, what's going on I have Kofi Jantuah on the line with us.
(Silence on the phone, (I think Ruben at this point is a little nervous) so Kofi speaks up)
Kofi Jantuah: Hey what's up man?
Fan (Ruben Subia): (A little shocked) ooh hey man wassup
KJ: I am doing good, how about you?
Fan: I am feeling alright man. Hey man it is truly an honor to be talking to you man, a huge honor.
KJ: It's cool, thank you.
Fan: I got a few questions I wan to ask you is that cool?
KJ: Yeah that is cool.
Fan: After you lost to Gomez did you ever try to get a rematch with him to avenge that loss?
KJ: Yes we tried to do a rematch and he didn't want it.
Fan: He knew what was going to happen huh?
KJ: Oh yeah he knew it.
Fan: Who is you favorite fighter of all times?
KJ:  Actually I like Hagler. Marvin Hagler, I like watching Hagler and I like watching Chavez in is heyday, Chavez was a bad guy, and also Azumah Nelson the Professor, those are the guys I looked up to and I watched them fight. I like the way they fight and I try to learn stuff from them.
Fan: That's cool, what has been your toughest fight so far in your career?
KJ: My toughest fight was in the beginning of my career, because you know I have no amateur background. I got into boxing just like that, so I was relying on my strength and my ability. It was tough when you don't know exactly what you are doing, it makes it tougher. So as time went on I started catching up with the technique and the skill level while improving and it makes it easy right now for me.
Names are just names, but when you get in the ring that is where the real fight is. When they talk about big names, big names, and big names I look at what the fighter brings in the ring, because that is what I have to deal with. The name doesn't really mean anything to me.
Fan: Does Rubio punch as hard as everybody says he does?
RC: (Jokingly cut in) He doesn't know because he didn't give Rubio a chance to hit him
KJ: He didn't get a chance to land a shot, so I can't really tell. But if you look at his record, he was getting people out. He knocked people out silly with one punch, so that tells you that he is a puncher and he don't give them a chance to get there confidence.
Fan: So when you fought Santos, did he want a rematch?
KJ: No no no, (Daniel) Santos (WBO Jr. Middleweight champion) even up until now he doesn't want anything to do with me. We were trying to fight him before the Ouma fight, but let me tell you something, Santos has a clause in his contract that he won't fight me. His promoters told me that he will fight anybody except me, and it is in his contract. So I probably won't be fighting Santos unless maybe I am his mandatory or something like that where he would have no choice. Santos doesn't want to see me again, no way.
RC: (Laughing) Do you blame him?
KJ: I don't blame him, he has been there, nobody wants to taste this and come back. I have never had anybody ask me for a rematch.
Fan: I guess he got a taste and don't want anymore?
KJ: Yeah, it is the same thing Ouma is going to taste.
Fan: Who is the hardest puncher you ever faced?
KJ: I don't know, there is something over me that when I'm fighting, I don't really feel what is going on, so I don't know who the hardest I have ever fought. But I sparred with Antwun Echols, when he was training for Bernard Hopkins in the first fight, and I was getting ready for a fight and we use to box all of the time. He was a middleweight and I was a 147lb fighter at that time, and hit hard. He hit me and I hit him, and he couldn't understand how I hit so hard for a Welterweight. I have sparred with him so many times, and he is a big puncher. He tells me all the time he couldn't believe that as a little guy I hit him so hard.
Fan: So when that (Manuel) Gomez punch landed, did it catch you totally off guard?
KJ: Ooh God yeah, I didn't see the punch, that is one thing about Boxing, the punch that you don't see is the punch that hurts you. That was the first time I had ever been down in my life, I could have taken a knee and took the count and I would have been fine, but out of pride I just jumped up and the referee counted to seven or something like that and he stopped it and waived the fight off with about :40 or something like that to go, but it is all a learning process, I learned from that.
RC: Ruben (Fan), it's been fun we appreciate you checking out the chat tonight with Jantuah, is there anything else you would like to say in closing to him?
Fan: Yeah, Kofi just make sure you knock out Ouma man.
KJ: I will, ooh yeah I am going to do it.
CLICK HERE FOR MORE OF THIS EXCLUSIVE
Send questions and comments to: rayocampbelljr@hotmail.com