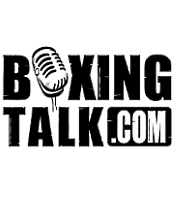 Once again, Boxingtalk.com gave one of our members a once in a life time opportunity when we put him on the phone with IBF Jr. Middleweight Champion, Kassim "The Dream" Ouma. Read on to see the actual transcript of the conversation.
Fan (Trevor Johnston): (A bit nervous) Umm, well thanks for calling me and everything, it's an honor to talk to you; you are one of my favorite fighters.
KO: Thank you man, I appreciate it man, there is no me without you, you need to understand that. You know what I am saying?
Fan: Yeah I know what you are saying, and I surely appreciate it. One thing I would like to ask you if you don't mind. Who are some of your favorite fighters of all time that you liked to watch?
KO: Well one thing is...let me tell you something don't get me wrong or nothing. I kind of jumped in this boxing thing. I am sure if you read about my life, because when I was in Uganda I wasn't looking through the T.V. guide and watching T.V. because I was always in the war place, war zones and stuff. I didn't get a chance to start watching T.V. until I came to America. So to tell you the truth when I was in Uganda, I never used any phones, I never called nobody, I never had nobody that I can call up and talk to. When I spoke to other people it was in code like "Over" "Bravo" "Are you there". That is how is it was for me, but as I came here, and just listening to the names and people talking about fighters, I liked Sugar Ray Leonard.
Fan: Who do you think the best pound for pound is right now in boxing?
KO: I don't really know. I am ranked number 18, but I think I should be in the top ten. Pretty much I can't pick nobody right now because right now the top pound for pound is coming and going, coming and going. So there is nobody really holding it down, but if I had to pick I would say Bernard Hopkins.
Fan: I agree, I think so too.
RC: Is there anything else you'd like to ask?
Fan: Ahh yeah, I'm just kind of nervous right now...
RC: Believe me, Kassim is the last person you have to feel nervous around.
KO: Don't get nervous, I am the people's champion. Look I will tell you, like some fighters like to say that they are Ali, I won't say that I am Ali but I am Ali's student. You can catch me anywhere and come up to me to talk if you want.  No entourage, no nothing, you people… my fans, are my entourage.  So if I see you, or you see me anywhere just know that I will always be the same person, I don't carry myself too big.
I was shot before and I had my entourage, but from then…no entourage for me. Because the entourage always start some trouble, and then it goes to my name. Like right now my boy Zab is involved in something and they are saying he did that, but I know Zab didn't do that. So because some people did it, and he doesn't even know them, just because he was there and he is the guy with the name, they put it on him. That is why I don't walk around with a big entourage.
Fan: Zab is one of my favorite fighters of all time, I like him a lot. That is mainly when I first started seeing you on Friday night Fights, back in early 2001 I would see him at your fights and that made me really take interest in you actually, then I just started noticing you for the great fighter that you are, and I just started to like you more and more.
Boxingtalk: (To the fan) What did you think about our chat session tonight with Ouma?
Fan: It was good. Both of them (Ouma & Jantuah), I was on both chats actually, I like that you guys do that.

KO: In my upcoming fight, you see I am a guy that don't talk too much, but I do answer back sometimes. The last time I spoke to Ray (Boxingtralk.com), I said good things about us both being two good warriors. It is going to be a good fight and it is good that we are both Africans getting a chance to fight each other. But like I told you I started boxing for my life really.
Fan: Your childhood and life just amazes me how you have been able to be the way you are.

KO: I not too long found out I lost my uncle in a car accident (January 17th), but I don't want to talk about it too much because you guys are going to think it is an excuse for me, but I am not an excuse guy. So I am just going to go kick that boys but for him. My uncle always liked a move that I do in the ring, so Jantuah's head is probably going to be knocked off. He said I am not going to leave the ring walking, then let's find out. I am going to knock his head off.
Fan: I am taking you by TKO in round ten, in your fight next Saturday.
KO: Talk about it, talk about it. You are my fan, you know that is the way it is going to happen. Because if he don't knock me out, he is getting knocked out. But you know what, I am not a guy that gets easily knocked out, you know why? Because I am a soldier man, I am burning, and if you talk too much about me, you will be in trouble. .
Fan: What do you think about your fight being on an under card, instead of a main event?
KO: Well that is how my life has been, so what I do is thank God for giving me an opportunity to get on HBO, because that is how it starts. And I am taking over; I'm probably going to steal the whole show.
RC: (To fan) Is there anything else you would like to say to Kassim Ouma in closing?
Fan: Ooh yeah, I just want to thank you once again for talking to me and everything. Like I said it was an honor.
KO: No problem, you are my fan; I will do anything for you. I'll talk to you again after the fight.
CLICK HERE FOR MORE OF THIS EXCLUSIVE
Send questions and comments to: rayocampbelljr@hotmail.com