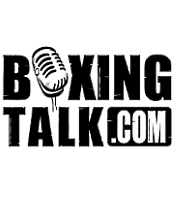 It was nearly two weeks ago that many came to see living legend Julio Cesar Chavez give one of his last curtain calls, however, they were truly indulged when Carlos "Famoso" Hernandez took on Jesus Chavez for the #1 WBC spot it what turned out to be the best fight of the evening.  Even though Famoso was on the wrong side of a close split-decision, everyone was asking when they could see these two warriors do it again.  Famoso, whose never-say-die approach to fighting and who has always desired a fierce trilogy in his career, is eager to get it on again with Jesus Chavez as soon as a deal can be made.  Before he departed for his well deserved rest in his beautiful home country of El Salvador, BoxingTalk caught up with Famoso to get his thoughts on his fight with Chavez, what he felt when he heard that one of the judge's scores was 117-111, and what he plans to do next when he meets Chavez in the ring again.
BoxingTalk: Carlos, how do you feel about your performance last Saturday, and what are your thoughts on losing the decision?
Carlos Hernandez: I thought the fight went very well for both of us.  It was a great, great fight where we both rose our stock in that fight, and in hope reached out to the people.  I think both Chavez and I deserve more respect, and I hope we captured that.
BoxingTalk: Do you feel that you did everything you needed to do to win that fight?
Carlos Hernandez: Possibly not, but I don't believe I lost either. 
BoxingTalk: You feel that a draw would have been a fair decision then.
Carlos Hernandez: Absolutely.
BoxingTalk: When you heard 117-111 as one of the scores, what went through your mind?
Carlos Hernandez: (laughing)  117-111.  When I heard that I looked at my wife, and I saw her face was a bit worried, like she was praying to God saying "Please, Please,  Please, Please."  I kind of knew, but even if that score was going to be for me I would have been shocked as well.  I don't think any either Chavez nor I dominated the fight where the score should have been that way.
BoxingTalk: From what some are saying, and from what I saw at ringside Jesus Chavez touched the canvas with his glove in the twelfth round…
Carlos Hernandez: Yeah, I was doing an interview over the phone recently with some reporter who were watching the fight, and while they put it in replay they told me that Chavez' glove touched the canvas.  They then asked me, "What do you do now?"  I told them I can't appeal since it was a judgment call, like a ref officiating a baseball game.  The judges can't go back and look at the film to change their decision.  What happened happened, and that's it, but it would have been nice if the ref has seen it.  The beautiful thing is that Jesus Chavez admitted to touching the canvas himself, and I think he is not only a good fighter, but also a great person outside of the ring.  For him to admit that was tremendous.
BoxingTalk: Had the knockdown been ruled correctly and the scores being what they were, wouldn't the fight have been ruled a draw?
Carlos Hernandez: It was 115-113 for him, 115-113 for me, and then 117-111 for him.  But since the guy that had Chavez at 115-113 gave the last round to me, I was already at 113, so the knockdown would have made his score 114-113, and I still would have lost. 
BoxingTalk: Are you going to actively pursue a rematch with Chavez?
Carlos Hernandez: A rematch would be good for the sport, it would be good for Chavez and myself, but most of all it would be good for the fans.  I think they enjoyed a great fight, and they're ready to enjoy another one.  I have always wanted a trilogy.  I wanted that Gatti-Ward or the Morales-Barrera type trilogy, and I think Chavez and I can make one of those.  It was a great first fight, and I plan on making it a great second fight.  I will leave no doubt who the winner will be, but I'm sure Chavez is saying the same thing.
NOTE: BOXINGTALK RECENTLY SPOKE WITH TOP RANK ABOUT A HERNANDEZ-CHAVEZ REMATCH, AND WERE INFORMED THAT THEY WERE DEFINITELY WORKING ON "SOMETHING."  THEY REITERATED THAT TOP RANK HAS BIG THINGS IN STORE FOR CARLOS HERNANDEZ AND JESUS CHAVEZ.
BoxingTalk: What will you be doing to keep yourself busy until you see action in the ring again?
Carlos Hernandez: I can't wait to start training again, but I need some time off to go grab some sun in El Salvador.
BoxingTalk: Will you make fighting Chavez again your top priority when you return to the ring?
Carlos Hernandez: Chavez is the man to beat for me.  He is the ranked above me.  He is a tough opponent.  He has faced tough fighters, and I thought our fight should have been a draw, but he took the win, I congratulate him, but now it's my turn.
BoxingTalk: Pacquiao lost his fight against Morales, and Castillo lost his fight against Corrales but no one thinks of them as losers.  After your fight with Chavez, do you think people have put you in the same boat as Pacquiao and Castillo?
Carlos Hernandez: I hope so.  I hope people don't think of less of a fighter after my fight with Chavez, but I really can't say.  From what I heard, people came to the Staples' Center Saturday night saying that my fight with Chavez was the real fight on the card.  Also, I heard that even the people who came to see Julio Cesar Chavez were saying that the Hernandez-Chavez fight was the best fight.  We could have boxed each other, but we decided to duke it out and we made it a great fight.
BoxingTalk: Especially the 12th round.  There you both showed that you would fight to the end to get the victory.
Carlos Hernandez: I clearly remember that round, and I still wake up after sleeping throwing punches.  I am truly honored to have been in a war with Chavez and hopefully we can do it again.  Next time however, I will be victorious and then we'll make a third.
For those of you who would like to see more of Carlos "Famoso" Hernandez.  Please visit
www.MoreThanFamousMovie.com
or
www.MasQueFamoso.com
Send questions and comments to: fool4rush@aol.com