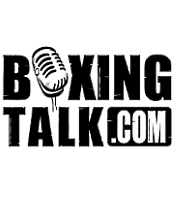 On the eve of returning to his native land of El Salvador, former IBF junior lightweight champ Carlos "Famoso" Hernandez spoke with BoxingTalk about Jesus Chavez' unwillingness to live up to his word, and give him a highly anticipated rematch.  Famoso shares his thoughts on why he feels Chavez is making a big mistake, and what he plans to do in October that could prove this all to be a blessing in disguise.
BoxingTalk: Carlos, what are you thoughts on Jesus Chavez not giving you an anticipated rematch in October?
Carlos Hernandez: What has me confused is that Jesus has an opportunity to make some real good money by fighting me, and he's just giving it away.  Top Rank has done a great job promoting both of us.  Jesus won his championship title with Top Rank, he fought Morales, and he fought me through Top Rank, so I don't know what more he wants.  He wants to fight Morales, Barrera, and Pacquiao, but so do I, but they're all busy right now.
BoxingTalk: If you were in the situation Chavez is in, what would you do?
Carlos Hernandez: I have done that.  I have put myself in Chavez' shoes.  If my promoter told me that they couldn't get me Morales, Barrera, or Pacquiao, but they could pay me double to go up against the guy you beat already, I wouldn't have any problem with that.  That's the fight for me.
BoxingTalk: Chavez said in a recent interview on BoxingTalk that it's nothing personal towards you, it just that he wants to see what fights are out there for him.  Do you take this personally?
Carlos Hernandez: I have to because it was a good showdown for us.  He gave everyone his word at the post-fight press conference that he would offer me a rematch, so I feel a little offended that he's going back on what he said.
BoxingTalk: Chavez has said if he can't get Morales, Barrera, or Pacquiao that he could face WBO champ Jorge Barrios or WBA champ Vicente Mosquera…
Carlos Hernandez: I'm sure they are great guys, but if Chavez wants to say that he has fought the best out there I don't these are the guys to fight.  Who is going to pay to see Chavez fight Mosquera?  Is Chavez going to make $500,000 to fight Mosquera.  I personally don't think so.  I wish him all the best in his career, but if we ever face each other again in the ring I'm taking the "W." 
BoxingTalk:  I think a Chavez-Barrios fight could be pretty exciting.
Carlos Hernandez: That would be a good fight, but I don't think he would make the money with Barrios as he would if he faces me.
BoxingTalk: One thing that would make your rematch fight with Chavez so exciting is that it would be on the night of rematches with Corrales-Castillo and Jorge Arce-Hussein Hussein doing it again…
Carlos Hernandez: Exactly.  It would be a great card.
BoxingTalk: Chavez feels that Erik Morales doesn't want any part of him, what do you think?
Carlos Hernandez: What Morales is doing to Chavez is exactly what Chavez is doing to me.  I know Chavez doesn't want any part of me.  I think the best thing for his career would be to face me.
BoxingTalk: How much of a mistake is it for Chavez not to give you a rematch?
Carlos Hernandez: It's a huge mistake, but let me tell you this Darren, mark my words, those fighters that he wants to face I will face them first.
BoxingTalk: Are you trying to give BoxingTalk a juicy scoop?
Carlos Hernandez: No, but I trust Top Rank.  We have a great relationship, a great manager, and I've shown that I'm loyal to them.  I'm happy that we're all together and I plan to be with them for the rest of my career.
BoxingTalk: If Chavez came back and said that he has seen the err of his ways, and decides to give you the rematch, do you still want it?
Carlos Hernandez: That would be fine.  I don't think he will come to his senses, but let's get this fight started.  I think the best thing for him to do was to stay with Top Rank and to fight me.
BoxingTalk: Will you still fight in October with or without Chavez?
Carlos Hernandez: Mr. Bob Arum has been nothing but a gift to me and my family, and he has already said that I am still on the card.  Like I've said before, 'You shouldn't bite the hand that feeds you, especially the ones that feeds you so well."  It wasn't as though Top Rank was offering Chavez peanuts, they were offering him a large sum of money to face someone he already beat.
BoxingTalk: If you can't get Chavez in October, who could you face that is just as good or better?
Carlos Hernandez:  That's for Top Rank to answer, and I think they'll answer that in a couple weeks.  Bob Arum has told me just to stay ready, and that they would have someone really nice for me.  I have faced some of the bet fighters in the world, like Floyd Mayweather and Erik Morales.  I don't back down from any fight.
BoxingTalk: Hopefully if the rematch doesn't happen now it will happen soon in the future.  It was the best fight of the night on May 28th, and a lot of people would love to see it again.
Carlos Hernandez: Absolutely.  We worked our butts off that night.  It was a great fight for everyone, and the rematch would be great as well.  We even had it set up in the contract that if I was to win the rematch, there would have been a third fight.  That way maybe down the line like when we are giving our acceptance speech at the Hall of Fame we could look back together and say, "Wow, what great wars we had."  I guess it will have to be with someone else now.  I know since I'm dealing with Top Rank my future will be well taken care of.
BoxingTalk: So you are now off to El Salvador.  What will you be doing there?
Carlos Hernandez:  I'm going down there for 3 weeks to grab some sun and to train.  They're making a big presentation of the documentary movie based on my life called, "More Than Famous."  They're going to show it on the big screen over there and sell the DVD's as well.
NOTE:  To see a preview of the movie go to: 
www.morethanfamousmovie.com
or
www.masquefamoso.com
BoxingTalk thanks Carlos Hernandez for taking the time to speak with us.  We wish him continued success both in and out of the ring.
Send questions and comments to: fool4rush@aol.com