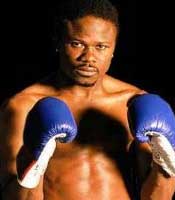 "Hopefully I'll fight some time this summer...May or June!"
thehype: Boxingtalk would like to welcome Vernon Forrest to tonight's TNT chat session
fuckpriceline: is this really Vernon?
VERNON_FORREST: YES IT IS
fuckpriceline: what up vern dog!!!!!!!!!!
VERNON_FORREST: NOTHING MUCHVERNON_FORREST: JUST GETTING IN THE GAME
lino.miranda@wachovia.com: Vernon is it a possibility once you get a couple of fights due to the long layoffs that you will fight mayorga again
VERNON_FORREST: ABSOLUTELY
fuckpriceline: Vernon, please go on a crack diet and starch that loudmouth Zab for me!!!!!!!!!!!!!
VERNON_FORREST: LOL. MY ONLY INTEREST IS GETTING HEALTHY AND THEN I'LL DECIDE TO FIGHT AT 147 OR 154
CoryR: Vernon, there is a lot more money at 147 than at 154.....is it that tough for you to get down to 147 still?  also, have there been any talks with the Mayorga camp yet?
VERNON_FORREST: I HAVEN'T BEEN AT FIGHT WEIGHT FOR OVER 2 YEARS SO I DON'T KNOW WHAT WEIGHT I CAN DO YETVERNON_FORREST: AS FAR AS MAYORGAVERNON_FORREST: IT WILL BE IN MY FUTURE, BUT I DON'T EAT DRINK OR BREATHE MAYORGA
awesomeald: vernon... you tasted what its like to be on tip of the boxing world, now your not on top... does that motivate you even more to get back to the top and to stay there. once and for all...
VERNON_FORREST: MY MAIN OBJECTIVE IS TO GET ONE OF THOSE WORLD CHAMPIONS ONCE I'M HEALTHYVERNON_FORREST: MY MOTIVATION IS TO BE THE BEST FIGHTER I CAN BE.  I WAS HAPPY WITH MY CAREER BEFORE I WAS ON TOP OF THE WORLD AND I'M HAPPY NOW.  I'VE ACCOMPLISHED ALL THE GOALS I'VE SET OUT TO DO IN BOXING.  BEING ON TOP OF THE WORLD DOESN'T MAKE OR BREAK  MY CAREER
nardfan: Whats up Vernon glad to see you make it.How many things you can do boxing wise in the gym?Hope rehab is going good.Stay healthy.Do you go to any fights? Hype tell him too kill the caps.hahahahah
VERNON_FORREST: RIGHT NOW I WENT TO THE DR. TODAY AND I CAN SHADOW BOX.  I'M NOT REALLY ALLOWED TO HIT ANYTHING SOLID.  I WAS ALLOWED TO HIT THE SPEED BAG TO SEE HOW MY ARMS FELT.  BUT NOW MY DR. ALLOWS ME TO TRAIN FULL STEAM AHEAD AND I'M LOOKING FORWARD TO THATVERNON_FORREST: I HAVEN'T BEEN TO ANY FIGHTS..MY LAST ONE THAT I WENT TO WAS JOHNSON/TARVER
nebor: will you retire again if you get another injury?
VERNON_FORREST: WHEN MOTHER NATURE AND FATHER TIME LET ME KNOW
Mino: Yo Vernon Im a big fan, no question , good luck on the comeback trail and keep up the good work with group homes man!!
VERNON_FORREST: THANK YOU
byrdman: vernon, would you be able to keep up with ouma if you fought
byrdman: how would you fight him
VERNON_FORREST: I DON'T LOOK AT A FIGHT IN WHAT I CAN DO TO A PERSON I LOOK AT A FIGHTER TO SEE WHAT HE CAN DO TO ME.  IF THAT FIGHT HAPPENS IT'S A MATTER IF HE CAN KEEP UP WITH ME.  MY NEXT MOVE WILL BE MADE BY ME.  THANK YOU FOR ALL THE SUGGESTIONS
MrUnstoppable: Pleasure having you in the chat tonight, Vernon.  Tell us about what you plan on accomplishing with your comeback.  Who would you like to step in the ring with?
VERNON_FORREST: RIGHT NOW MY GOAL IS TO FIGHT THE MAJOR FIGHTS WORTH A CHAMPIONSHIP OR THE MONEY.  I'VE ALREADY PROVEN I CAN FIGHT.  MY COMEBACK IS TO FIGHT WITH A PURPOSE AND TO PROVE THAT I'M THE BEST OUT THERE.VERNON_FORREST: I'M A PRIZE FIGHTER AND THE PRIZE COMES FIRST, THE FIGHTER COMES SECOND
fuckpriceline: Ay Vernon, what do ya like to do for leisure? Do ya like to go catfishing? I luv fishing for catfish. I just wanna say I'm proud of the work you do for the disabled folks and keep up the good work. The media never highlights the good stuff athletes do so
VERNON_FORREST: I DO A LOT OF THINGS.  IN MY LEISURE TIME I'M TAKING ACTING CLASSES SO I CAN MOVE ON TO A DIFFERENT FIELD WHEN I'M DONE BOXING
hopkinsexecutestarver: Vernon, When do you expect to fight?  how would you fight zab if you two were to fight.  were you impressed with his win against spinks?  is there any chance of you fighting mosley a third time?
VERNON_FORREST: HOPEFULLY I'LL FIGHT SOME TIME THIS SUMMER...MAY OR JUNE.  I'M NOT LOOKING TO FIGHT ANYONE IN PARTICULAR, I'M JUST INTERESTED IN GETTING THE RUST OFF.  ALL THOSE OTHER QUESTIONS WILL BE ANSWERED IN DUE TIME
C.Lang: Vernon, hope you're recovering well man. Who do you like in the Winky/Tito fight? And when do you realistically think you'll be back? Boxing needs more stars like you fighting.
VERNON_FORREST: FOR SOME REASON EVERYBODY IS PICKING TITO AS A RUN AWAY FAVORITE, BUT I DON'T THINK IT'S GOING TO BE THAT EASY.  WINKY IS CONSISTENT AND A BUSY FIGHTER, SO I THINK WINKY HAS GOT A GREAT CHANCE
AKay: Vernon while you were inactive because of injury all the big names bounced on you to 154! when you announced your going to 154 they are jumping down to 147! I smell something you smell that? Get these 147lb belts back man. aint no body at 154!
VERNON_FORREST: I'M GOING TO GET OFF MY DIET AND WE'LL SEE WHAT HAPPENS.  I'VE BEEN FIGHTING AT 147 FOR 11 YEARS, I'M SIX FOOT AND 147 IS TOUGH, BUT WHO KNOWS. I JUST WANT TO GET IN THE RING NO MATTER WHAT WEIGHT
RossFromNashville: Hey Vern!!!! I would love to see you fight Zab Judah. What do you think your chances are against him
VERNON_FORREST: I'M A WORLD CHAMPION.  I WOULD BE AN IDIOT TO ANSWER THAT QUESTION.  WHAT KIND OF STUPID ASS QUESTION IS THAT.. THIS AIN'T NO HORSERACE…I'M A WORLD CHAMPION FIGHTER
bmunoz@pulte.com: I bet your pretty anxious to get back in the ring.  Hope your coming along fine. So what has the Viper been up to? Gatti or Mayweather?  Thanks for joining the chat on short notice. God Bless.
VERNON_FORREST: GATTI AND MAYWEATHER IS GOING TO BE A GOOD FIGHT, I'M NOT SURE THOUGH.  MAYWEATHER HAS THE SPEED AND GATTI HAS THE POWER SO I REALLY DON'T KNOW, BUT I'LL SIT BACK AND ENJOY THE FIGHT
boxing_fan: hey forrest what are your plans as u come back to the ring?  who are you looking to challenge? What motivates you the most to come back & box????.. ooookay u just said ur happy when ur not on top and when u are on top?? --> so what is motivating ur return?
VERNON_FORREST: WHAT MOTIVATES ME THE MOST IS LIVING OUT A DREAM I HAD WHEN I WAS 9 YEARS OLD AND THAT WAS TO BECOME WORLD CHAMPION, I ACCOMPLISHED THAT GOAL, BUT IT BECAME INTERUPTED BECAUSE OF INJURY AND I'LL BOX UNTIL BOXING IS COMPLETELY OUT OF MY SYSTEM.VERNON_FORREST: MY ULTIMATE GOAL IS TO HAVE MY NAME IN THERE WITH RAY ROBINSON AND JAKE LAMOTTAVERNON_FORREST: THAT WOULD BRING A DREAM TO AN ENDING.  TO GO FROM A KID TO A MAN FROM A AMATUER TO A PRO AND A PROSPECT TO A PRO AND A CHAMPION TO A LEGEND
CoryR: Hey Vernon, how about you and Spinks getting it on at 154.  I think that would be a great technical bout?  your thoughts?
VERNON_FORREST: THANKS BUT IF THAT FIGHT IS WORTH SOMETHING I'LL DO IT IF IT'S NOT I' WON'T
nardfan: Viper,what old fight of yours do you watch most?Is it hard for you to watch boxing now that you've been out so long.Do you like Stat Quo(he's tight).I like how you said Shane off the roids on FNF.Thanks
VERNON_FORREST: I REALLY DON'T WATCH IT.  I'VE JUST GOTTEN BACK INTO IT AND WATCHING FIGHT TAPES.  I'VE BEEN AT IT FOR OVER 25 YEARS SO I'VE SEEN 1000'S OF FIGHTS, I'VE SEEN A LOT IN BOXING, AND I'VE TAKEN MYSELF OUT OF BOXING, BUT NOW I'M READY TO COME BACK INVERNON_FORREST: I'VE BEEN GETTING ALL MY INFORMATION THOUGH BOXINGTALK
Mino: Vernon who do you like in the Morales Pac fight
VERNON_FORREST: THAT'S GOING TO BE A REAL FIGHT.  PACMAN REALLY IMPRESSES ME.  I'D PAY TO WATCH HIM BECAUSE HE'S SO EXCITING
lino.miranda@wachovia.com: which fighter do you feel you match up better style wise Fern vargas, Ouma, Dan santos,Spinks, or Mayorga? and now that Vargas is on his way back that would be great to match you guys up what u think?
VERNON_FORREST: I DON'T MATCH UP WITH ANYBODY, I'M A WORLD CLASS FIGHTERVERNON_FORREST: PEOPLE LIKE TO PLAY MATCHMAKER BUT THERE IS NO NEED TO SIT HERE AND SAY I'M GOING TO FIGHT THIS GUY OR THAT GUY.  I'VE HAD OVER 40 PRO FIGHTS AND 300 FIGHTS IN ALL MY CAREER.  MY POINT IS TO FIGHT THE GREATEST FIGHTER, AND IF THEY DON'T QUALIFY, THAN THERE'S NO NEED TO TALK ABOUT IT
C.Lang: You're clearly a great athlete, just curious if you played/excelled at any other sport back in the day? And about what weight are you walking around at now-a-days? Thanks man, & good luck on the rehab.
VERNON_FORREST: I'VE PLAYED EVERYTHINGVERNON_FORREST: HAD I GREW ANOTHER 3 INCHES I WOULD HAVE BEEN A BASKETBALL PLAYERVERNON_FORREST: IF I WAS HEAVIER I WOULD HAVE BEEN A FOOTBALL PLAYERVERNON_FORREST: MY TV STAYS ON ESPN
_iodine_: Are you interested in persuing the winner of Write/Trinidad, and would you consider campaigning at 160? It's all good hype, thanks.
VERNON_FORREST: I'M INTERESTED IN MAKING BIG FIGHTS
awesomeald: has this experience humbled you in a way and said wow all this can go away like that
VERNON_FORREST: MY INJURY PUTS MY CAREER IN PERPSPECTIVEVERNON_FORREST: MY PHILOSPHY IS THAT I WANT TO DO IT BECAUSE I LIKE TO NOT BECAUSE I HAVE TO...VERNON_FORREST: AT THE END OF THE DAY I WANT TO GET BOXING OUT OF MY SYSTEM.  I HAVE BEEN FORTUNATE TO LIVE OUT MY ATHLETIC DREAMVERNON_FORREST: AT THE END OF THE DAY, I WANT TO SAY THAT I'VE FULFILLED ALL MY DREAMS OF BOXING AND I CAN'T DO THAT IF I'VE BEEN HURTVERNON_FORREST: I'M A HUMBLE PERSON ANYWAY AND I'VE ALWAYS BEEN IN MY PLACE...VERNON_FORREST: I'VE BEEN FIGHTING THE TOP GUYS OF THE WORLD WITH ONE ARM, AND I HAD TO TAKE CORTIZONE SHOTS TO HANDLE THE PAIN AND MAKE IT THROUGH THE FIGHTVERNON_FORREST: PAIN KILLER DIDN'T WORK ANYMORE, BUT NOW THAT I'VE GOTTEN IT FIXED I'M READY TO COMPETE PHYSICALLY AND NOW YOU'LL SEE A COMPLETELY DIFFERENT FIGHTERVERNON_FORREST: I LOOK FORWARD TO GETTING IN THE RING AND I HAVEN'T BEEN ABLE TO FIGHT DUE TO INJURY, BUT NOW I'M LOOKING TO FORWARD TO GETTING BACK ON TOP AND THE VERY BEST GUYS OUT THERE...VERNON_FORREST: BOXING HAS BEEN SPOILED LATELY BECAUSE THE BEST FIGHTERS ARE FIGHTING EACH OTHERVERNON_FORREST: DO YOUR RESEARCH #1 FIGHTERS ARE FIGHTING THE BEST GUYS, AND IT'S UP TO THE FANS TO BRING PEOPLE IN WHO DON'T KNOW ABOUT BOXINGVERNON_FORREST: WITH BOXINGTALK…BRING OTHER PEOPLE INTO THE SPORT AND PUT IT BACK ON ITS PEDISTAL AND THE PREMIER SPORT THAT IT ISVERNON_FORREST: BRING SOMEBODY IN WHO FOLLOWS BASKETBALL, SO THAT BOXING CAN GROW AND BE SUCESSFULL LIKE ALL THE OTHER SPORTSVERNON_FORREST: IT WILL TAKE THE MEDIA THE FIGHTERS AND THE FANS TO BRING OTHER'S INTO THE SPORT.  AND DON'T JUST WATCH IT ON TV,VERNON_FORREST: THE EXPERIENCE OF SEEING A LIVE FIGHT IS ELECTRIFYING
thehype: Boxingtalk would like to thank Vernon Forrest for taking time to chat with us tonight
VERNON_FORREST: I THANK THE FANS AND CONTINUE TO WATCH THE SPORT TO BRING OTHERS INTOTHE SPORT...IT'S A GREAT SPORT TO FOLLOWSVERNON_FORREST: BE GOOD BOXINGTALK