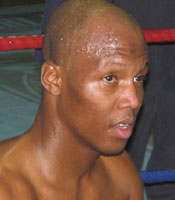 "If I can't get De La Hoya, the second guy I want is Arturo Gatti."
thehype: Boxingtalk would like to welcome Zab Judah to tonight's TNT chat session
CoryR: Yo Zab, I saw you on 50 Cent's house party last night.  Hope you stayed away from his 16 year old neighbors.  What's happenin with De La Hoya champ?  Be good playa.
ZAB_JUDAH: De La Hoya, we had a meeting and tried to make things happen. But it probably won't be nothing legit talked about until the summer at the earliest.
blinkz_: Hey Zab how does it feel having all those shiny belts ?!! When people say the belts dont mean anything anymore you have a big smile on your face
blinkz_: Will you fight hatton if he beats tsyzu in england
ZAB_JUDAH: It's a great feeling it's a lot of hard work and a lot of sacrfice and I'm just happy this day has finally come through.
ZAB_JUDAH: I'll fight anybody in boxing. If it makes dollars it makes sense.
KennyG: yo zab you going to eason fight in FL ON SAT.
ZAB_JUDAH: Andre's my boy and I'll definitely be there.
Reg_One: Zab, what's good man? I personally can't stand De La Bitch. I believe he's overhyped and and overpayed. Do you believe he could have gotten up after the Hokins liver shot or do you think he was like Aww fck it I just made 40 Million, let's chill?"
ZAB_JUDAH: I think Hopkins hurt him with the punch. Hey probably said forget this though I'm getting paid.
ft_myers_pal: what up zab i just want to thank you for autgraph you signed for me a few years ago in fl at you rborthers fight on the under card of a freeman bar fight. who is top 3 big fights you want
ZAB_JUDAH: I would love De La Hoya,  Kostya Tszyu and Aruturo Gatti.
AKay: yo Zab was good man im the dude that asked you about your label and sending you a demo! My question is what do you plan to do with the label thing and what other things outside the ring can we see you doing?
ZAB_JUDAH: I'm doing a lot of things. I got a music thing going on that should be up and coming by the summer. I got my S. Judah's out there so go cop a pair. I got the Zab Judah for life foundation for kids.
ZAB_JUDAH: And I also got my own set of spinner rims out.
AKay: the omega ones right?
ZAB_JUDAH: Yeah the Omega ones
ringsidemike: Zab, what's your thoughts on Margarito vs. Cintron?
ZAB_JUDAH: I don't know, it's a toss up. They're both slow and boring so I don't know what's going to happen. They've both got good punching power but they're slow and boring.
lightsoutrome: zab good win, i thought you won the first fight with spinks too, who would you like to fight more. kosta, or mosley?
ZAB_JUDAH: Kostya Tszyu.
canada123: yo zab we what's good playa and i first want to congradulate you on your win and will you ever consider fighting kermit citron.
ZAB_JUDAH: I would love to, if he's a fight that makes sense in the welterweight division I would love to fight him.
mbase: Zab, great win wit Spinks, where do you train in NY, at Gleason's, I want to watch you work out
ZAB_JUDAH: Yeah, I train at Gleasons.
bart: zab who is the most underrated fighter out now
ZAB_JUDAH: me.
bart: besides you
ZAB_JUDAH: Besides me? Daniel Judah.
Southeastpaw: Yo Zab. Big Fan Here. I've heard you and Tyson are buds. Have you and Tyson ever sparred together? If so, what was it like?
ZAB_JUDAH: We played around one time,but he's strong as hell. He's way too strong for me to even think about getting in the ring with. It was just out of fun and love.
LeftHookFan: Zab, I know youn and floyd are tight, buth what would oyu think of a fight between you and him? how would it go?
ZAB_JUDAH: I don't know. At the end of the night I would be victorious.
babylons_prophet: zab,i heard u say that u would fight kostya tszyu more aggressively n a rematch,but whats the logic n pressing the fight 2 tszyu when ur the quicker fighter,but at a strength disadvantage?
ZAB_JUDAH: I never said that. All I said is I would want a rematch with Kostya Tszyu.
Method: Minor websites are reporting a fight between you and Gatti...can you give the hardest core boxing fans any color on those rumors?  More importantly, if you could fuck ANY piece of celeb pussy, who would it be
ZAB_JUDAH: First of all, I'm married so I wouldn't want to fuck no celebrity pussy. I got my own celebrity pussy at home. There is a chance for me and Gatti fighting and I think it would be a great fight for the fans to watch.
ZAB_JUDAH: There's a good chance of it coming off.
ZAB_JUDAH: I hope.
usmc: Zab, Congratulations on the Spinks fight. Is Kostya the hardest puncher you ever faced and if not who was it.
ZAB_JUDAH: I don't know, the punch that hit me from Kostya I never really felt. Micky Ward was probably the hardest puncher I've ever fought.
superjudah27: zab you the best fighter in world
ZAB_JUDAH: I know, thank you.
blinkz_: Which are your favourite fighters to watch and who would you of most liked to fight out of any era ? Do you think Tsyzu has underestimated Hatton ? would you consider moving up in weight again ? or even back down ?
ZAB_JUDAH: My favorite fighters to watch would probably be Joe Louis. And if I could fight any fighter from any era it would probably be Ray Leonard. I also love Hagler. Ali was great also.
KennyG: yo zab do you exactly were that fight is in pahokee fl i cant find were its at?much respect to you BK
ZAB_JUDAH: I don't have any information on it at the moment.
superjudah27: Do you ever intend on managing your own fighters and some day promoting your own fights, and what is the name of your company if it is already in motion?
ZAB_JUDAH: I'm currently looking for fighters to start managing. I just started out my own company and I looking for fighters to manage and promote. The name of my company is called Super Entreprises. I'm currently putting on an amateur fight this summer in the New York area. And look out for my Zab Judah non-profit fight for life organization.
Method: Zab, all kidding aside, just wanted to say that I respect the shit out of you for climbing back after your losses and continuing to put yourself in the big fights to get back into contention while so many others  try to protect their records/careers...
Method: My question is, if you could fight anyone, who would it be and if  it's Tszyu, what or how would you fight him differently, if at all?
ZAB_JUDAH: De La Hoya. It gotta be. If I can't get De La Hoya the second guy I want is Arturo Gatti. They're both great fights that the boxing fans want to see and they generate great money. I want to be the best and I want to become the best by beating the best.
ZAB_JUDAH: I ain't scared of nobody.
ArturogattiISGod: Hey Big Z Whats up champ?When you knockin out floyd?
ZAB_JUDAH: We're good friends. Me and Floyd don't have anything lined up.
ft_myers_pal: I came up wit a name for your head movement out of the picky bo  brownsville dip you like
ZAB_JUDAH: The Brownsville dip, I like that.
canada123: hey zab i heard that you have sparred with one of the simms twins ( tarvis or travis ) i'm not sure but it was while ago at gleason's what do think of the two brother's both fighting at jr.middle.
ZAB_JUDAH: I think they're two great fighters. I've known them for a long time and they're great people with great families and they will both be champions of the world.
Southeastpaw: It is safe to say that there isn't anyone out there faster than you. Maybe another on par but not faster. I know that speed is a natural gift but I know there are ways to enhance it even further.   What is your method in training for speed?
ZAB_JUDAH: A lot of hard work. I don;t work on my speed.
ArturogattiISGod: Is his talk just prmo? Why would your boy bust on you like that?At leaste he should just say that You are the king at 147 for a reason and respect will be paid
ZAB_JUDAH: Gatti, what are you talking about?
Method: YOu still hittin that big ass tractor tire with the sledge?
ZAB_JUDAH: Oh yeah. HELL YEAH. That;s the old Joe Louis workout.
ArturogattiISGod: In an interview he said that he would like to fight you but it wont happen cause he is the truth and you know you cant beat him anyway?
ArturogattiISGod: You know he would take your straps
ZAB_JUDAH: Help Gatti sign the contract then.
ZAB_JUDAH: and I'll show you like I showed everyone in the show me state.
AKay: brooklyn be taking it
ZAB_JUDAH: yeah Akay, I like that.
toldyaw: Hey Zab you are good but why are you usually fighting some that is scared of you?
ZAB_JUDAH: Like who?
awesomeald: what was it like to show spinks whats up in his own state
awesomeald: nervous at all going into the fight?
ZAB_JUDAH: It was beautiful to do it in his backyard. It was a message.
AKay: zab teach me that dance you did when you caught him wit the left
ZAB_JUDAH: that was the same dance he did when he came out, I just did it back to him as he was falling.
ArturogattiISGod: Zab these guys that are hatin are all from stlouis and been cryin since you punked out their boy!!Pay no mind you are the best at 147 I think you are right there with B-Hop and you will have your revenge on that ponny tail punk
ZAB_JUDAH: Now Gatti is on my side? Wasn't he just talking shit?
ArturogattiISGod: No I wasnt talkin bout you Zab been wit ya the whole way champ!
ZAB_JUDAH: thank you thank you.
canada123: zab will you ever fight here in toronto canada.
ZAB_JUDAH: I hope so. I would love to fight in Toronto Canda.
usmc: Zab, What type of a shot would you give Gatti to beat Floyd.
ZAB_JUDAH: None. Gatti is too slow for Floyd.
toldyaw: We'll see how good Zab is the next time he fights someone who hits as hard as him.  We know what happend the last time
ZAB_JUDAH: If you find him make him sign the contract and we could do this.
babylons_prophet: zab,whats ur take on the james toney-john ruiz fight?
ZAB_JUDAH: Toney by  KO.
thehype: Boxingtalk would like to thank Zab Judah for taking time to chat with us tonight
ZAB_JUDAH: Peace out Boxingtalk!