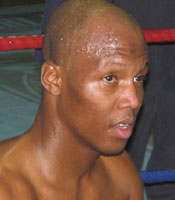 "Oscar De La Hoya and then Margarito and then Nosley and thenTszyu!"
thehype: Boxingtalk would like to welcome Zab Judah to tonight's T.N.T. chat session
MaYORgA_911: How do you measure yourself next to Mayorga, would you be willing to put your titles on the line against the hardest puncher at 147lbs, assuming he drops back down 147???
ZAB_JUDAH: I'll fight anybody man.
sticman: zab i been a fan since 97 and i actullay had the privellage to meet u in A.C in 2002, i just wanna say thanks for being such a great fighter man for real, tru talent if i ever seen it.
ZAB_JUDAH: Thank you very much for that.
Super_Judah_Fan: if you cant secure a dlh fight what are the chances of u fighitng margarito
ZAB_JUDAH: If I can't De La Hoya, I would fight Margarito so I would say the chances are really, really good.
zahi: congratulations on ur recent outing.  what did u learn from the tzyu fight?
ZAB_JUDAH: Thank you. I really didn't learn much. I learned not to play, to keep my hands up and work hard at all times.
Indiana: Zab, I know that De La Hoya fight is more money, but Margarito is the fight to prove who the best at 147 is, I think.  I mean De la Hoya did not beat Shane.  And also thank you for beating spinks, I like boxing, but only if you have power
ZAB_JUDAH: I think that the level I'm at rightnow it's about making money. We know who the best welterweight is, that's undisputed.
kytfo3: sup champ. fight margarito next so there's no doubt about who's the man at welter.also fight tszyu again.watch out for that right.that's all he's got .dont let him think in there. just like round one in your first fight.get at margarito early trust me!
ZAB_JUDAH: Thank you. There is no doubt, look up what undisputed means.
AliBoomBaaYeh: Which fight of your career do you consider to be your best performance?
ZAB_JUDAH: Probably the Cory Spinks rematch.
Indiana: how can you be undisputed if you only fought at welterweight 3 times??
ZAB_JUDAH: WBA, WBC and IBF, that's how.
Rick: Zab, I'll ask you the same question I asked Lamon, When do you think you will fight again and who do you want that fight to be against? Thanks.
ZAB_JUDAH: Anybody. And I want to fight soon.
ounce4ounce: B4 u started boxing u said u use to fight guys on the street bigger than u & that in boxing its unfair to ur opponents that u would get 2 fight people that are same weight as u. Did u get into, and still get into a lot of street fights & did u ever lose?
ZAB_JUDAH: Naw, I ain't never lost a street fight and I did get into a lot of them. I'm known around Brooklyn to be real, real thorough.
SweetScience: Zab, it seems that your power is elevating.  What have you changed in your workout?
ZAB_JUDAH: Nothing has changed, I'm just growing up.
monicaone: I always hear people say the west produces the best fighters which I don't agree with..what is your opinion?
ZAB_JUDAH: It's not true at all. They should check their history books and see where the greatest fighters in the world come from.
SteveballColeone: I heard you could be fighting on DKP's August 13 PPV, possibly against mandatory Carlos Baldomir. Is that the case or are you close to locking down a big fight?
ZAB_JUDAH: I want to lock down a bigger fight, but where you heard that at?
ZAB_JUDAH: You should know if ain't on Boxingtalk, it ain't official homey.
boxingfan: Who is # 1 on your hit list?
ZAB_JUDAH: Oscar De La Hoya and then Margarito and then Nosley and thenTszyu!
boxing: At of these possible opponents who presents the toughest challenge to you? Oscar, Margarito, Tsyzu, Mayweather,or Mosley?
ZAB_JUDAH: None of them. None of them don't really mean shit to me.
sweetchuck: You seem to be coming up much like Trinidad did fighting on all the undercards, is that something you want or would you rather be showcased as the main event of a regular telecast?  Forget about Margarito, he could never beat Santos, go make the money!
ZAB_JUDAH: That's right. I would love to headline my own PPV, it would be beautiful. But it's going to be happening REAL soon.
jabmalassie: what high school in Brooklyn did you go to. what part of brooklyn are you from? How much running do you do per day?
ZAB_JUDAH: I went to Wingate High School and I'm from Brownsville. Three miles.
thekid52881: hey zab whats up im from nc tell katon and eli is aid whats up  i believe youve sparred with floyd jr, who got the beter of it and how would a fight between yall go?
ZAB_JUDAH: Of course I got the best of him. Who would win? Me! I'm too strong, too fast and too smart for him
jgoo: zab, what do you have to say to all the haters out therew?
ZAB_JUDAH: Look at me now!
ZAB_JUDAH: Nothing much else. I don't want to badmouth anyone. Just look at me now. I told you.
...: Who are you feeling in the music industry right now? Who is your favorite rapper of all time? And are you going to be able to maintain the same type of intensity/concentration you exhibited in your last two fights in future bouts?
ZAB_JUDAH: Jay-Z. Jay-Z, BIG and 50cent. Jay-Z and BIG is the two best ever. Absolutely.
goussen: Zab thank you for being a good sport and not calling yourself a Mexican Assasin, because you really do have a lot of Mexican fans.  Hope to see you fight July 23rd.
ZAB_JUDAH: Cool.
Calypso_KO: Sweet uppercut Zab .....Is your S.Judah boot still gettin released, I noticed you rocked Adidas last time out?
ZAB_JUDAH: I'm still waiting for that deal to be finished. As soon as that deal is over they'll be hitting the streets.
JudahIZdaMAN: Hey Zabdiel, thanks fo being here tonight, would you consider fighting Cory Spanked for a third time?, I Would love to have the teeth you have dawg lol
ZAB_JUDAH: If the money is right, why not? I'll fight anybody.
JERMAINE: Who do you got in the Gatti- Maywether fight, And do you think Maywether has the power to knock Gatti out. And would you fight the winner of this bout!
ZAB_JUDAH: Floyd. I think has the power to stop him and I would love to fight the winner no matter who it is.
goodjab123666: Zab i know this is a stupid question but how many pushups can you do? And who is your favorite fighter? Oh and thanks for shutting up Cosme Rivera.  He talked so much shit about you, and didn't even put up a good fight.
ZAB_JUDAH: Probably like 500 in a row.
thehype: Boxingtalk would like to thank Zab Judah for taking time out to chat with us tonight
ZAB_JUDAH: Peace out Boxingtalk