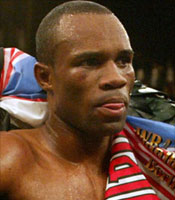 "Whenever they're ready, we're ready too!"
thehype: Boxingtalk would like to welcome Vivian Harris to tonight's T.N.T. chat session
Athabascan_Asassin_: Hey Vivian! how come u talk so much while u never fought anybody and turned down a ricky hatton fight and muhammed abdulleav fight? Make a name for yourself before u start talking. how come u wanna fight cotto now that corely exposed his chin?u didnt before
VIVIAN_HARRIS: You sound like one of the fighters that don't want to fight me fan's. I'm not even going to answer your question because it doesn't sound like you know boxing
CheeChee: vivian WHEN!!! are you going to fight cotto and unify, who are you picks tito winky, corrales castillo? Emmanuels a hell of a trainer, do you plan on staying with him the remainder of your career? Thanks champ, good luck with arturo and KO cotto for me.
VIVIAN_HARRIS: I was trying to fight him on June 11. They didnt't make one offer for the fight so it didn't happen. Whenever they're ready, we're ready too. They could go with Abdullaev. Trinidad is my idol so I definitely like Tito.
VIVIAN_HARRIS: I really don't care who wins Castillo-Corrales, but I think it should be good. I'd like to wish the both of them good luck and may the best man win.
rjjrp4pno1: Vivivan thanks for coming ito Chat Champ. Who do you think wins Hatton-Zoo and Floyd-Gatti. Also will you ever be able to get a big fight or will the sports politics continue to ruin your chances at fighting another title holder or a big name opponent?
VIVIAN_HARRIS: I really don't know who's going to win those. I'm not really a big fan on picking who's going to win. I just hope the winners become fights that I could make because I want to fight the best
VIVIAN_HARRIS: I definitely think after this fight everything is going to be good. I'm hoping it goes good after this fight. There's nothing for me to do except win until that big fight comes.
VIVIAN_HARRIS: I'm just waiting for the unification. I hope they're looking for it, but it's sad we don't hear nothing about unification at 140.
VIVIAN_HARRIS: They're acting like the WBA belt don't even exist.
CASH_718: BROOKLYN!! Vivian who you fighting on the PBF under card. And When you going to KO Floyd or Cotto?
VIVIAN_HARRIS: I'm going to fight Carlos Maussa on June 25 and I'm definitely focused on him. Any of the big names could be next but right now I'm focusing on the guy that I'm fighting right now.
Simms: hey Vivian, where is your favorite place to fight and if you had to choose between fighting Floyd, Kostya, or Gatti, who would you take?
VIVIAN_HARRIS: I would pick Floyd Mayweather. My favorite place to fight is the ring.
Nero: Hi Champ-I know Main Events hasn't given you the attention that you deserve, but watch how important you'll become to them next month if Gatti loses when they want you to get the title back for them.
VIVIAN_HARRIS: Thank you, I appreciate that.
scorpionox: Yo Vivian what about fighting Chico Corrales if he moves up or going up to 147 and fighting Shane?  Would you take those fights?
VIVIAN_HARRIS: Yeah, I would definitely fight Chico if he came up and wanted to fight. If I can't make 140 or get a big fights I would move up to take on the best names and biggest fights.
BALTIMORE: vivian, is that you in the new juelz santana video? holla at you boy he picked you over zab that must feel good
VIVIAN_HARRIS: Yeah, that's definitely me.
VIVIAN_HARRIS: I don't know what that's about...
pimpdaddy: would you fight judah or oscar at 147
VIVIAN_HARRIS: Right now I'm not thinking about 147, I'm thinking about 140, there's no sense for me to really talk about moving up in weight until I take care of all my business at junior welterweight.
achillesthegreat: you viv you only got one shot at glory, dont waste your time with the business. you gotta put food on the table BUT fight the best out there for short change and it will pay dividends, trust me. tell me about your training. how far you run? you a gym rat?
achillesthegreat: DONT GO TO 147, take care of business at 140, your time will come
VIVIAN_HARRIS: I'm definitely a gym rat. I'm training hard and I run five miles per day on the sand
VIVIAN_HARRIS: I guess that's why they don't want to fight me because they know how hard I train and how much work I put into this.
TRINIDAD: HEy Vivian Harris thankyou for havin the time to be with us and do you believe you have what it takes to beat cotto??? If you like Tito I like you then :D com visit Puerto Rico, Good Luck on your fights!!
CheeChee: if bernard can go back to pr without getting stoned by the locals, then im pretty sure vivian can
VIVIAN_HARRIS: I was in Puerto Rico last time and the people was loving me.
Titlebelt05: Vivian, Can you explain a Second Wind" and what round most fighter's receive one?"
VIVIAN_HARRIS: I don't know about fighters, I know about me and if I do me right I won't need no second wind.
sticman: Yo vivian whut up i just wanna say good luck in the future with ur fights and i know your gonna be a unified champ real soon.
VIVIAN_HARRIS: Thank you , you sound like someone who knows boxing.
VIVIAN_HARRIS: That other guy from before needs to call you to learn about boxing
pimpdaddy: good luck vivian on your title defense next month
VIVIAN_HARRIS: thank you
BALTIMORE: have you and zab ever sparred
VIVIAN_HARRIS: Yeah we sparred a lot of times.
Athabascan_Asassin_: just like achilles said take less money to fight any body just lik ZAB JUDAH. 700,000 to fight Hatton geez who wouldn't take that? if u beat hatton awhile back, think where u might be right now? look where Brooklyn Judah is?
VIVIAN_HARRIS: I don't regret not taking the fight but if i would have beaten Hatton things might be different now, but everything happens for a reason
Simms: Vivian, what do you consider your best punch?
VIVIAN_HARRIS: I consider my best punch the left hook and hell yeah I would fight Tszyu
thehype: Boxingtalk would like to thank Vivian Harris for taking time to chat with us tonight
VIVIAN_HARRIS: Peace out Boxingtalk!