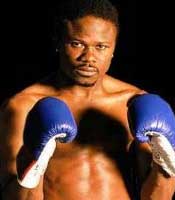 "I'm working and training just hoping to get in the ring sometime in July."
thehype: Boxingtalk would like to welcome Vernon Forrest to tonight's T.N.T. chat session
nardfan: What up Viper? What happened to the April return?
VERNON_FORREST: It looks like it might be in July. My arm wasn't healthy enough, but I went back to the doctor and got it fixed. Now it looks like it's going tobe July
TRINIDAD: Hey Vernon Forrest, Thank you for takin some time for us, hope you and your family are good, when will your next fight be?, Will you move up to faces Trinidad after you saw what happend to Mayorga?
VERNON_FORREST: Right now I'm looking at July and my arm is getting back into shape. Right now I'm not focusing on anyone in particular. I'm focusing on getting to 100% and then letting everything else fall into palce
Mino: No question, Just wishin you good luck and do your thing homeboy
VERNON_FORREST: I appreciat it. Thanks
Titlebelt: Vernon, Do you feel Mayorga used illegal drugs, before his bouts with you?
VERNON_FORREST: Absolutely.
coryR: hey vernon, how's it goin?
VERNON_FORREST: Good.
ani-mal: vernon what division will u be returning to ?.......will it be at welter?......because i can see you cleaning out that division......or will it be at middle where the competition is tougher?
VERNON_FORREST: It's going to be at wherever my body takes me and I'm always going to look to fight the best
BALTIMORE: vernon, did you use to go to freaknik?  what was the girls like?
VERNON_FORREST: It was incredible. Back in the day we had some good one's and we had some bad one's but it was like Mardi Gras and memorial day in south beach rolled into one without the water.
Ring_Master: Thanks for coming to chat with us tonight viper. have you ever sat down and scored the second fight with Mayorga? if so what did you score the fight?
VERNON_FORREST: Actually, I watched the fight one time and about three months ago I did Friday night fights and they wanted me to watch some film and critique it.
VERNON_FORREST: I thought I won the fight but that doesn't really matter because I didn't get the decision so it's a moot point.
boxingtalk: would you be willing to fight vargas at 154
VERNON_FORREST: Absolutely. I think me and Vargas will have a super fight down the road at 154. It's just a matter of timing. We both need to get a couple of good wins and then we could have a superfight.
CheeChee: whats up Vernon. Hows the arm healing? What about a possible fight with Tszyu if he comes up to 147, we know he beat you in the amateurs would that fight interest you? who wins corrales - castillo, tito - winky? Thanks Viper
VERNON_FORREST: The arm is healing fine and I'm functioning around 80%.  I would love that fight with Tszyu.
VERNON_FORREST: This weekend will be a great fight I'm just going to sit back and eat popcorn to watch the fight.
VERNON_FORREST: I think when two great fighters get in there it's tough to pick who's going to win. We should enjoy these fights as fans and not really care who's going to win
rjjrp4pno1: Do you think that Ricardo Mayorga would beat Oscar De la Hoya? Also do you think that Roy Jones will beat the winner of Tarver-Johnson 2
VERNON_FORREST: I don't know, I'm not a psychic
THEDEVIL: vernon, who do you pick to win hopkins vs. taylor?
VERNON_FORREST: I'm going to give it to Hopkins. Bernard is a legend and he continues to win. Jermain is a great fighter I think he's in over his head with Bernard...I don't see it going the distance and I can't see Bernard losing
VERNON_FORREST: Jermain will be a great champion one day but right now it's x-man's time.
Kikin_21: Vernon How are you dog? Are you hoping a rematch with Mayorga? I think you are a really good fighter, I love your style man, you take care of Mosley twice, man youre good, What are you doing right now, your plans man? Good Look dog, Tito or Winky?
VERNON_FORREST: I hope the fight with Mayorga happens again eventually. I'm working and training just hoping to get in the ring sometime in July. Winky brings a dimension that Tito ain't never seen before.
VERNON_FORREST: So I got Winky.
jeremy_from_www.docsports.com: whats up champ. who are you fighting next and do you think you need to throw more punches so you can be labeled as an exciting fighter, thus bigger paydays? otherwise i feel like you will have trouble getting fights w/the big names at 154
VERNON_FORREST: First of all, I have never had any problems with throwing punches. My fans have no problem with the way I fight, but you don't sound like one of them so you may have a problem with the way I fight.
VERNON_FORREST: Thanks for dropping by
fausto: are you coming bak down to 147? we need you at 147 champ!!]
VERNON_FORREST: Like Ray Charles said, I'm going to make my body do what it do baby
noname: aiight vernon tell the truth what at the 147 division would give u the most problems and why
VERNON_FORREST: Anybody who's worth fighting wouldn't give me problems. If you ain't got a belt and you ain't worth fighting than you've got no chance with me.
LA_Boxing_Club: Vernon whats your take on Ouma?
VERNON_FORREST: He's a good fighter.
LA_Boxing_Club: IS he your choice?
LA_Boxing_Club: to fight that is?
VERNON_FORREST: My top choice for my next big fight is whoever's going to make the most money, I'm looking for the biggest reward, the risk don't matter to me.
fausto: how would you fight a bernard hopkins ? what do you think a fighter has to do to break the riddle that is hopkins?
VERNON_FORREST: There's no set way to fight Bernard. He's like a chamelon, he's got many styles and many faces and you've got to be able to do it all to deal with bernard. Bernard is the most complete fighter out there. That's like trying to figure out how to pitch Barry Bonds. You have to be able to mix it up to beat him
VERNON_FORREST: You have to do different things like Bernard does in the ring. I've seen him change his style five times in one round.
fausto: when you said you seen him change his style 5 times, what do you mean? and which fight? i wanna watch it and see if i can tell
VERNON_FORREST: Watch him and Echols and him and Robert Allen the second one.
kevvy: Will your style be the same as before bro ,or will it adjust according to who your fighting
VERNON_FORREST: I always like to adjust my style according to who I'm fighting but like I said right now it's like I said, I'm just trying to get focused on fully recovering.
TRINIDAD: So who do you plan to be your next victim right now? What are your thoughts on Winner on Trinidad Wright and Hopkins Taylor?
VERNON_FORREST: I plan to get in the ring and fight the best with both hands. Right now I just want to fight pain free. I don't know who's going to be next, but I just want to get a comeback out of the way and then I'm going to come back on the chat line and answer all of your questions a lot more specifically.
VERNON_FORREST: Y'all got to understand what I went though. It's not even right to talk about me fighting Bernard and Trinidad and guys like that right now. That's like one of you having a Phantom pull up to your garage. It's not going to happen anytime soon.
ani-mal: vernon will u ever fight tito trinidad? i think it would be a hell of a fight....i see you winning that fight.....is he on your radar?....and who do u think is the best welter, jr middle and middlewieght as of right now?,,in that order......
VERNON_FORREST: Yes I would love to fight Trinidad. Trinidad is one of the best in this era and I would definitely love to fight him. He's definitely on the radar. The one's who are considered undisputed are the best in those divisions.
VERNON_FORREST: Zab, Winky, and Bernard.
Kirk_Johnson: Who do you think will win in June Johnson or Boswell?If you know who they are lol!!! lol
VERNON_FORREST: I didn't even know that fight was made.
VERNON_FORREST: They've been trying to make that happen for the last two years.
thehype: Boxingtalk would like to thank Vernon Forrest for taking time to chat with us tonight
VERNON_FORREST: be cool Boxingtalk!