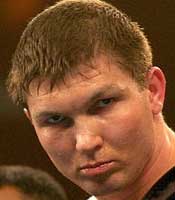 "I wish I get that rematch with Toney and I hope he wins just so I could get the rematch with him."
thehype: Boxingtalk would like to welcome Vassiliy Jirov to tonight's T.N.T. chat session
luiggi: vassily....does it feel bad that you put mesi out of business
VASSILIY_JIROV: It's not me who did. I just finished him off that's it man. It's the boxing businss you never know what could happen
VASSILIY_JIROV: People get hurt in this sport and it's sad but I hope he makes the best of it.
VASSILIY_JIROV: This isn't chess, it's a fight.
VASSILIY_JIROV: I'm not happy about his condition and I wish him the best. Hopefully he recovers quick and is able to make his living. But he's a smart guy, Mesi, so he'll be fine.
ejamaru7: Vassily, do you think you will ever get a rematch with Toney? Who do you have winning Toney - Ruiz, Gatti - Mayweather and Winky - TIto? I have a personal inside bet with the webmaster. You have a date on the 14th next month right? Any opponents lined up?
VASSILIY_JIROV: I wish I get that rematch with Toney and I hope he wins just so I could get the rematch with him. I'm going to be looking forward to the fight tomorrow. We'll see what happens.  Mayweather, Winky Wright.
Chuck_B.: Hello Vassily! I'm excited for the heavyweight division in this time of change. How have you been adjusting to the extra weight of these big strong guys andcould you let us in on how you'll be able to cope with the real big punchers like Golota? Good luck
VASSILIY_JIROV: Dealing with the division is no problem. I'm training hard against big boys and I feel better than ever right now so it's just a matter of time.
Craven: Jirov did you have much contact with the Klitscko brothers in the former Soviet Republic.. Eg Amateur competitions?
VASSILIY_JIROV: We did sparring with each other and we know each other.
VASSILIY_JIROV: We never fought in the amateurs but I sparred with them when I was at light heavyweight and they were at heavyweight.
T-MONEY: Jirov what got you into boxing? Did Baby Joe Meis surpise you  in the fight wiht him?
VASSILIY_JIROV: Nothing about Mesi surprised. I come from a sports family, my mom was a runner, and we're all athletic, so I just decided to get into boxing, I worked hard and now here we are
Pygmy: Vassiliy, you have an evil, evil body attack. What do you do in training to turn someone's insides to spaghetti sauce like that? Also, will you be fighting at heavyweight or cruiserweight from now on? I love watching you fight.
VASSILIY_JIROV: I'll be fighting at heavyweight. I punch very hard to the bag, I pretend it was a human and I punch really hard.
Bobbito: Why keep fighting at heavyweight, where you're losing. Why not dominate at cruiser?
VASSILIY_JIROV: Because I did dominate at cruiserweight and now I'm moving on. Been there, done that and moving on to bigger fights and bigger money.
VASSILIY_JIROV: I was at cruiserweight enough, but if the money is right maybe there'll be something we can talk about then.
stoneys_a_redneck: What are your thoughts on Joe Mesi, who is now pursuing the continuation of his career in court? As a pro, would you even step in the ring again with a man that is knowingly putting his life at an increased risk? Any kind wishes for Toney tomorrow? :)
VASSILIY_JIROV: I'm just a boxer, I go to the ring to do my job against whoever's across the ring from me.
VASSILIY_JIROV: Anyone want to know when my next fight is?
awesomeald: YA
ejamaru7: whos your next opponent vassily?
Chuck_B.: Yeah , me too!
VASSILIY_JIROV: May 14 vs. Troy Beets, I think his name is beets
VASSILIY_JIROV: It will be on local TV in Louisiana.
Athabascan_Asassin_: what up JIROV? whos next on your list? are u good friends with Kostya Tzsyu? whens your next fight?
VASSILIY_JIROV: Not good friends, but we know each other well.
VASSILIY_JIROV: Beets
da_man: Vassiliy, I respect your style very much and you are very tough fighter and fun to watch.  What about a match vs the African new hvy wgt??
da_man: I can't remember his name
Chuck_B.: You mean Sam Peter
da_man: yes
VASSILIY_JIROV: Sure. We could fight. I fight anybody
ft_myers_pal: is there any non heavyweight you would fight like a tarver at a catch weight of 190
VASSILIY_JIROV: I wouldn't go to 190 for Tarver, but if he wants to fight me all he needs to do is come to heavyweight.
Craven: Jirov who do you think is the best heavyweight out there besides yourself?  Also how do you think you would go in a fight against Mike Tyson?
VASSILIY_JIROV: I would like to fight Byrd.
VASSILIY_JIROV: He's a good heavyweight and I think we would make a very good fight.
VASSILIY_JIROV: I also want the winner of Toney and Ruiz
jeremy_from_www.docsports.com: vassily, do you think a rematch w/james toney is the best fight out there for you, because i feel the klitschkos are too big, they are twice the puncher of micheal moorer.
VASSILIY_JIROV: I don't care how big they are or how hard they hit, I sparred with them so I know what they're capable of and I'd be ready to fight them if the time came.
thehype: Boxingtalk would like to thank Vassiliy Jirov for taking time to chat with us tonight
VASSILIY_JIROV: Be good everyone