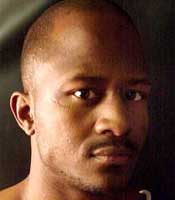 "I want all those belts and if Vargas gets one of them, that's how he's getting on my list."
thehype: Boxingtalk would like to welcome Travis Simms to tonight's T.N.T. chat session
T-MONEY: Whats up Travis hows it going? What fights do you got planned comeing up? Is Vargas on your mind?
TRAVIS_SIMMS: Right now we don't have anything scheduled. Vargas didn't impress me and he's not on my list at this point but fighting Vargas would be a lucrative fight for me but right now he's not on my list.
luiggi: Hey Simms nice work so far.....who exactly do plan on fightin and the near future do you think you can handle the spotlight  fightin against top fighters
TRAVIS_SIMMS: Absolutely. Right now I'm the only undefeated world champion at junior middle and those big fights against the best is all I've asked for since I became champion.
TRAVIS_SIMMS: I've been asking for the best since before I became champ so you know I want to fight them now that I'm champ. Ouma, Castilliejo, Santos, Winky. I will prove to everyone in the next two years that I am among the best pound for pound fighters not only at junior middleweight but the world.
jsmith: What up Travis  Why are you going to just let the WBA strip you why dont  you just  fight Rhoshii Wells and lose your belt like a man?I know you remember Colorado Springs.
TRAVIS_SIMMS: If I remember Colorado Springs well, I fought him in the semi's and beat him easy and dropped him. For whatever reasons the judges gave him the fight and just gave him all sorts of points in the round I dropped him
TRAVIS_SIMMS: If Wells ever gets in the ring with me I'll knock him out.
TRAVIS_SIMMS: Wells is like a girl, he's leery and he's a scared little punk. I'd show him that he doesn't deserve to be fighting on the world class level.
ejamaru7: Travis, now that youve successfully defended your WBA strap, if Wink loses to Tito and comes back down to 54 would that be a fight you would like? Who are your picks Winky - Tito, Corrales - Castillo, Toney Ruiz? Any news on your next opponent?Thanks champ
TRAVIS_SIMMS: Absolutely. That fight there would vindicate everything that I've been long waiting for and that's to prove that I'm the best jr. middle in the world. If he comes back down I'd show people why I want to fight him so bad and why I consider myself among the best pound for pound fighters in the world.
TRAVIS_SIMMS: Winky, Corrales, Ruiz
nardfan: What up Travis?How are you handling being inactive for so long?Do you stay in the gym or take it as rest time?How would you handle someone with the volume Ouma brings?Good Luck!
TRAVIS_SIMMS: I'm always in the gym and that's why I'm champion. A true champion, that's what he does. He works in the gym and practices to get better. It's not my fault that I've been so inactive.
TRAVIS_SIMMS: That's strictly with my promotional team and hopefully in the coming months all that's going to be changed.
Tuaman: yo travis, i saw how you handled bronco mccart and you're clearly on winky wright's level. could you have taken emile griffith at 154? what about duran? also, are you and tarvis identical?
TRAVIS_SIMMS: As a champion I feel I could take out anyone in front of me. That goes for anyone including the legends that I have a lot of respect for. But once you're in the ring with me I plan on taking you out.
TRAVIS_SIMMS: Yes me and my brother are identical
Gumaro: Yo Travis, i dont know much about your career,other than your a Champ at 154, but i would like to know what great fighters in there prime you have victories over?? Thanks.. 8)
TRAVIS_SIMMS: I wouldn't say that I fought any great fightes at this point. But I fought good fighters that were close to their best when I fought him. Kelley from Australia, McKart and the undefeated Alejandro Garcia.
kikin_21: What yours plans right nright now? What are you looking for your next fight? your pick Tito or Winki?
TRAVIS_SIMMS: My plan is to stay in the best shape I can and looking forward to fighting the best fighters out there and unifying the division. Whoever has the belts, bring em on.
Pygmy: No questions. Just admire your style Travis. That shot you nailed Garcia with was beautiful. Much respect.
TRAVIS_SIMMS: Thank you.
CompleteFighter: Whats good Travis.  How frustrating is it to be the WBA 154 champ but see fighters like Ouma, Vargas, Wright etc getting their proPS???
TRAVIS_SIMMS: To me it's a bit frustrating but at the same time I can't control what the writers and people put out there. I know deep down inside that I am the best p4p in the world. I know that by continuing to exploit these guys my time will come. I'm ready and looking for all those guys you mentioned to change everyone's minds out there.
TRAVIS_SIMMS: Once I get those top guys and exploit them, I'm sure we're going to change all their minds too.
WBCxWBAxIBFxWBOxKING: Good luck to you in your future bouts.
TRAVIS_SIMMS: Thank you.
T-MONEY: What was your game plan going into the Alejandro Garcia fight?
TRAVIS_SIMMS: Going into the Garcia fight I knew that he was strong and he was a decent puncher, so my game plan was to go in there, outbox him and hit him with as many clean shots as possible.
luiggi: when tito came out of retirement there wus some buzz over here about you fightin him wuz that tru or just rumors......over here in puerto rico people always talkin....
TRAVIS_SIMMS: That was very true and what happened with that was Winky Wright was starting to negotiate but pulled himself out when he outbid himself. I'm always looking for the big fights, that's why I always stay in shape to take advantage of opportunities against the best. I would have loved to make the fight and I was ready to do so.
jsmith: How come Wells is fighting for your belt then in May?You know your getting stripped right ex-champ because you didn't want to fight him.
TRAVIS_SIMMS: Next question please, these dude makes no sense. Who is Wells? Didn't he get stopped by the same Garica I stopped?
TRAVIS_SIMMS: Tell Rose to let his hair grow a little longer, it may help him get a little action.
ejamaru7: If Vargas beats Castillejo for the WBC Strap, would a unification bout with Vargas interest you? I would have you favored over Nando should that happen too. Can you elaborate on why you think Winky will win hype doesnt seem to think so. Is working with two trainers easy or hard? Thanks for answering my questions champ.
TRAVIS_SIMMS: It's very easy to work with two guys, especially when they care about you and are knowledgeable about the sport. They're not just there to piggy back a fighter
TRAVIS_SIMMS: I want all those belts and if Vargas gets one of them, that's how he's getting on my list.
Gumaro: Travis, where do you see yourself at this point next year?? and will you give Ike Quartey a shot at your title?
TRAVIS_SIMMS: I would give anybody a shot if they're deserving or if the fight makes any sense.
TRAVIS_SIMMS: Or dollars
nardfan: Who in the fight game did you idolize growing up?Who are your favorite fighters to watch now?Why do you think Don is putting you on the back burner,you have some skills!
TRAVIS_SIMMS: I grew up watching tapes of Leonard and Robinson. Those are the two that I idolized. I admire so many guys from today. Jones, Hopkins, De La Hoya, all of them. But I'm looking to put myself on that list too shortly.
thehype: Boxingtalk would like to thank Travis Simms for taking time to chat with us tonight
TRAVIS_SIMMS: Thanks for having me Boxingtalk