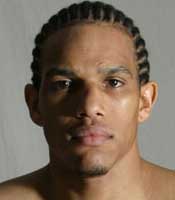 "I'm going to take Chris Smith to the deep water and drown em."
thehype: Boxingtalk would like to welcome Sharmba Mitchell to tonight's T.N.T. chat session
SugarDusMosley: Hey Sharmba thanks for showin up. My question is in your fight with Koz you fought in his punching zone and you got caught, did he force you to fight there at mid-range with all of his rough house tactics on the inside? And what round you takin Smith in?
SHARMBA_MITCHELL: He didn't force me to fight in his zone. I had no choice but to fight in his zone. After the first round I didn't feel I had the energy to stay away. I'm just looking forward to having a good fight and to be victorious and become the NABA welterweight
Sun: Hello Sharmba,  you are a championship fighter, not a prospect.  So when do you expect to get a title shot with Zab Judah?  How do you see that fight going?
SHARMBA_MITCHELL: I want Judah ASAP. LOL at getting him in six, hopefully that comes true than I'll be one step closer to the world title.
litazuNEXTlegend: Sharmba, what were you thinking while watching Hatton-Tszyu? After calling him the "Shitman" and blasting him in the press, do you have a newfound respect for the "HITMAN"?
SHARMBA_MITCHELL: Well, I thought Hatton was always a good little fighter, I just think he needs to come out of England. He's a busy fighter, but I think a boxer would give him a lot of problems. If you're not there for him to punch at he's beatable.
Titlebelt: With Tyson in the Main Event, will you be boxing in a much smaller ring, than you normally are accustomed to?
SHARMBA_MITCHELL: No. The ring is actually big. It's a nice sized ring.
SHARMBA_MITCHELL: I'm looking forward to fighting with Mike in the main event he's the only major heavyweight that I haven't fought with as a pro
jeremy_from_www.docsports.com: Yo Champ what up.Were you surprised by hatton vs.kostya and do you think you can deal w/the big punchers at 147 after the kostya loss? No disrespect but I feel the 140 pound division is more wide open and Mosley, Zab & Margarito are big punchers.
SHARMBA_MITCHELL: Yeah I was kinda surprised but I think Hatton did a great job. Nothing is really surprising to me in boxing. If your body isn't working on fight night what could you do. I think Tszyu was flat the whole fight. Big punchers at 47 don't fight no different.
SHARMBA_MITCHELL: I had to drain myself to make 140 and I'm going to be hitting just as hard as they do at 147
Sun: do you expect to move any higher than 147?
SHARMBA_MITCHELL: Nope. I'm here to stay. I think I'm better than a lot of the guys at 154, but I would feel fat at that weight.
Junior: Sup champ, zab vs dlh, whats your pick?
SHARMBA_MITCHELL: That would be a good fight. I'd like to see what happens when De La Hoya comes down. I think De La Hoya might beat him because Zab makes a lot of little mistakes.
jabmalassie: how do you see a Judah Hatton match up??
SHARMBA_MITCHELL: I can't even imagine that fight happening. Zab is at 47, but if they fought Zab might get because he could box, but Hatton might be able to beat him because he's a busy little fighter.
inandout: Sharmba, do you see the fight with Smith going the distance, or are u gonna take it to this fools dome proper like ?
SHARMBA_MITCHELL: I'm going to take Chris Smith to the deep water and drown em. That's what I like to do to them young guys.
goldenboyprm: How many fights do you feel you'll need to become adjusted to the weight at 147? What did you think of Tszyu quitting on the stool after he made those comments about you bowing out because of your injury?
SHARMBA_MITCHELL: I done had 60 fights so how many more fights I need? I don't need to really adjust to the weight, because I've been around this weight my whole life so it's been a smooth transition.
sweetchuck: Sharmba, you weren't known for your power at 140, are you doing anything to add more power to your game at 147?
SHARMBA_MITCHELL: Yeah, don't go past 145 and I won't lose none of my muscle.
SHARMBA_MITCHELL: lol
Tito_Martinez: No questions here, just reading.  Sharmba,  I hope to see you bounce back from the Tszyu fight.  I'll always support you in your fights.  Good luck with your career and God Bless!
SHARMBA_MITCHELL: Thanks a lot man. You'll see Sharmba on Saturday night.
SugarDusMosley: Of the three top dogs in the division, Mosley, Estrada and Judah, which one do you hold the most respect for? and which one do you want to smmash into a bloddy pulp?
SHARMBA_MITCHELL: Probably Shane.
SHARMBA_MITCHELL: I have a lot respect for all of them because they're all fighters, but I respect all fighters. I think Margarito is very underrated, I think he's someone they've been ducking.
Sun: Sharmba are you willing to fight a title eliminator with Margarito or Shane, or do you only want the Judah.
SHARMBA_MITCHELL: I want Judah more than anything but I wouldn't turn down a fight with Margarito. I have a lot of respect to Shane for going up and coming back down. I think that would be a helluva fight, especially since I know him so well.
KYLE_THEEE_SPINKS_FAN: Whats up Sharmba,  Could you tell me what your daily workout was for the Tszyu fight or any fight over your career?
SHARMBA_MITCHELL: Everyday work. I get my run on, work with my personal trainer, do my boxing and get outta there and rest.
goldenboyprm: Which elite level Welter do you think would be tailor-made for the Welterweight Sharmba Mitchell ?
SHARMBA_MITCHELL: Oscar De La Hoya.
Sun: I am slightly surprised that you are willing to fight Margarito, not because you can't beat him.  I am just surprised that you would fight him without a title on the line.
SHARMBA_MITCHELL: Margarito has a WBO belt
ED_GRIFFIN: WHAT UP .THIS YOUR BOY ED GRIFFIN .LONGTIME.........BOY DO YOUR THING OUT THERE AND GO AND GET ZAB.....
SHARMBA_MITCHELL: I ain't talk to my man Ed in SO long. Are you still boxing?
SHARMBA_MITCHELL: I'll do my best
thehype: Boxingtalk would like to thank Sharmba Mitchell for taking time out to chat with us tonight
SHARMBA_MITCHELL: Thanks for having me Boxingtalk tune in on Saturday night.