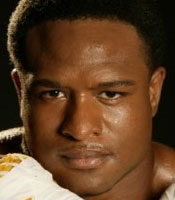 "Vitali is the preference, but we could go with Ruiz if that's the direction they want to go."
thehype: Boxingtalk would like to welcome Lamon Brewster to tonight's T.N.T. chat session
Indiana: Lamon, you said that you had problems fighting people you know and like.  If so, then why would you ever fight your cousin, Chris Byrd??
LAMON_BREWSTER: Well, I would fight Chris, but after me and Chirs talked when he was mad about my performance with Kali, he set me stratight about dealing with my personal feeling. He said if we fought, we would go at it. I also spoke with James Toney and he told me I can't have fights like this because I'm too marketable for that. I'm going to fight everybody the way I fought Golota. It was a learning experience, but I've learned.
Super_Mike_PR: Hey Lamon, good victory over Golota, who will your next victim be?,
LAMON_BREWSTER: It has not been completely finalized. I've heard talks, but I don't know what's going on. I haven't signed anything.
MaYORgA_911: Even though Peter doesnt hold one of the mayor titles,  would you be willing 2 put yours on the line... and would you go toe 2 toe with him???????
LAMON_BREWSTER: I don't know very much about him so I can't say if I'd go toe to toe. I'm not interested in fighting him at this moment, because there's nothing to gain. I think the best direction for me is unification with other belt holders.
goodjab123666: Hey Lamon, if its possible can you tell me your training log before you fought Golota.  Oh, and congratulations on your easy win over Golota.
LAMON_BREWSTER: I basically tried to kill myself everyday. I knew if I didn't die in the gym I would destroy him.
sticman: lamon big up on ur victory, good luck on ur future fights and hope to see u unify the titles
LAMON_BREWSTER: Coming to a theater near you.
Super_Judah_Fan: LAMON I've heard you sparred toney before..who would be tougher for you vitali or toney?
LAMON_BREWSTER: I think James would be tougher because he has great balances and reflexes and he's quick. I don't have trouble with tall fighters at all, but elusive guys like James are like ninja's there in your face and the all of a sudden they're on the other side of you. He'll really make me bring out my A game.
zahi: could you tell me how is your heavy bag routine?  congratulations on a very impressive ko
LAMON_BREWSTER: That's a good question. Everyday  I switch it up. One day I may work on my jab, one day staying on line, another body shots. I try to mix it up so it doesn't get monotonous.
kytfo3: hey champ good performance.you should be the wba,ibf and wbo champ right now. after golota got robbed twice.anyways champ would you fight vitali the same way you fought golota being that he much taller than you? how would you beat both peter and brock?
LAMON_BREWSTER: Yeah I would definitely fight him similar but not the same. I would come right to him and make him fight me every second of every round which I know he can't do. Not even steroids would help him.  I don't know, I'd have to look at tape on them. I know Brock from the amateurs and I've only seen Peter one time so it's tough to evaluate them
AliBoomBaaYeh: Great fight on saturday. Given the odds favored Golota, were you a bit surprised by how fast you disposed of him? Is this how you plan to fight in future bouts.
LAMON_BREWSTER: Yes this is the way I plan to fight my future bouts. I wasn't surprised. You don't look for the KO but if the opportunity presents itself, you take it.
Rick: When do you think your next fight will be? Any prefrence on who you would want to fight?
LAMON_BREWSTER: It could be August 13, but as far as who, another title holder is my preference. Vitali is the preference, but we could go with Ruiz if that's the direction they want to go.
madvibes: You've had two very impressive wins against top contenders in your last three fights. You are certainly a true champion and it would be great to see you in there with Ruiz, Byrd and  Klitschko. In a perfect world who would you fight next?
LAMON_BREWSTER: Vitali Klitischko.LAMON_BREWSTER: It would be something to become the first guy to beat both brothers.LAMON_BREWSTER: I'll just never be able to visit the Ukraine.
...: What fighters have influenced you? And Why did u lose to Ettiene and Shufford?
LAMON_BREWSTER: The biggest influence in my life was Marvin Hagler. Then I would say Larry Holmes, Mike Tyson, Michael Dokes, Michael Moorer, James Toney and Evander Holyfield. I lost the fight to Etienne because for the first time I realized I was undefeated with all these KO's. I trained a while for Etienne but I didn't know who this guy fresh out of prison was. I tore my knee in the first round and I did it my way instead of God's way. End of story.LAMON_BREWSTER: As a result, the doctor put me on bedrest. He told me he would have to do surgery if I walked out of that bed. I stayed in bed for two months and blew up to 280. Then I tried to go from 280-220. I was listening to the wrong people to make a long story short
monicaone: Are you going to be at the Indy 500 on Friday to waive the green flag?
LAMON_BREWSTER: Yes I will.
mikey: congrats on your win champ. My question is why isn't the WBO belt considered one of the major titles? Especially when such great champs have held it such as yourself, Barrera, Hamed, Corrales, Zab, etc...?
LAMON_BREWSTER: Because it's a new title. It's the most recent of the four titles, therefore, it's like a freshman among the seniors.
1zz: How would  fight Vitali?He's such an awkward fighter.
LAMON_BREWSTER: It'll be a pit bull against a greyhound. A greyhound can't run forever. I'd lock on his neck sooner or later.
SteveballColeone: I heard that you could be unifying the titles with John Ruiz on DKP's August 13 PPV, possibly in front of your hometown fans at Conseco Fieldhouse. Can you comment on that?
LAMON_BREWSTER: Well, everybody's keeping their fingers crossed and if it's in Gods will it's going to be done.
boxingfan: Is Bolo Wills a contender or pretender?
LAMON_BREWSTER: I think that Bolo is a good fighter. They need to step him up a little more so he doesn't get complacent for doing something against those walking deadmen as Frankie Lyles would refer to them.
jabmalassie: Whats your favorite movie and food. lol Do you chop wood as an exercise?How much runn
LAMON_BREWSTER: My favorite is probably Dune. And my favorite food is pizza. I tried to chop wood but it's not something that's for me. I do so many other things. I try to do a lot of anareobic training as far as running and exercises.
#1_boxingfan: who in your opinion is the best p4p fighter today?
LAMON_BREWSTER: I think Floyd Mayweather is, in my opinion.LAMON_BREWSTER: I only say that because Floyd has been out there for a while and he's very consistent.
thehype: Boxingtalk would like to thank Lamon Brewster for taking time out to chat with us tonight
LAMON_BREWSTER: Thanks for having me.