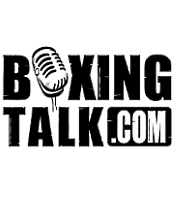 "The AK47 is going to shoot a lot of bullets in a minute, but one grenade will finish much quicker!"
thehype: Boxingtalk would like to welcome Kofi Jantuah to tonight's T.N.T. chat session
Ruben: I know you're gonna lay out Ouma like you did Rubio and Santos, but what is the beef between you and Ouma? You fixin on ending this fight early or you gonna try to punish ouma to make a statement? Jantuah the new king of the junior middleweights baby!
KOFI_JANTUAH: LOL....Interesting question. there is nothing like punishment in boxing. The punishment is the KO punch that you give to him, because you dont want to give them confidence.KOFI_JANTUAH: There is no beef, this is boxing. I have nothing against him we just happen to be in the same division.
nardfan: Whats up Kofi? What a shot in that Rubio fight.Can we expect to see the same thing come the 29 or will you try and let Ouma's workman pace wear himself down before you lower the boom?Which one is tighter the East or West?
KOFI_JANTUAH: If Ouma comes at me like Rubio did, he is going to go home early. I know he is smarter than that and will try to box, but no matter what I am going to find him and send him home.KOFI_JANTUAH: West side forever!
Praise_Him: Well Jantuah this being the biggest fight of your career........how do you plan on setting yourself apart? We all know Kassim got a beard and doesn't stop throwing punches..........what can you do to off set that high work rate?
KOFI_JANTUAH: With my power shots. It's like in war. The AK47 is going to shoot a lot of bullets in a minute, but one grenade will finish much quicker. The grenade comes to do the damage, it will kill more people than a gun
AKay: Kofi wasup my question is if you end up defeating Kassim would you contemplate fighting Quartey now that he is back in the jr middle, middlewieght mix? Would you fight him in Africa if possible?
KOFI_JANTUAH: Quartey right now is not in the picture, and he says he will be fighting at middleweight. But if he comes back and we are in the same position and the people demand it then we will fight.
byrdman: you remind me of julian jackson, did you ever watch him fight?
KOFI_JANTUAH: Yes, I use to watch him. He was a very interesting fighter
attyg3: Kofi, do u feel that u have to win by KO? I know most of the media feels that if the fight goes 12, that Ouma has the big advantage. Do u think that you can box with him for 12 and get a dec? Lastly is 154 tough for u to make, and is 160 on the horizon?
KOFI_JANTUAH: I mean boxing is like, you have to adapt to whatever helps you in the game. So when I watch him and see something that can help me, yes I will do it.KOFI_JANTUAH: 154lbs is not a problem, and if I have to go the distance I am ready for it. I feel i will win if it goes the distance. Every fighters dream is to knock out a champion and win the title to make a statement.
J-Gon15: WASSUP KOFI? IF OUMA WEATHERS THE EARLY STORM, AND YOU ARE UNABLE TO OVER POWER HIM, THEN WHAT? WILL YOU TRY TO BOX WITH HIM OR PLAY COOL AND ALLOW HIM TO BE THE AGGRESSOR TILL HE GETS CAUGHT WITH A BIG SHOT?
KOFI_JANTUAH: Styles makes fights. It depends on what he brings to the table. If he comes to box and move I am going to find him. Even if I have to take the fight to him. I am much stronger and the bigger puncher, so if I have to I am going to take the fight to him
Albaholic: what's the buzz in your home country, do you feel the need to win more for your country than any previous fight because it's Ouma, from Uganda and who do you like morales or pacquiao in march
KOFI_JANTUAH: Its not really about Ouma that i have to win. It is everybodies dream to become a champion. I know I have to do my best, because at the same time everyone from my country is watching me and everyone is rooting for me so I can't let them down.KOFI_JANTUAH: That is a tough one...I like Morales but Pacquiao is a little tiger. I dont really know who to go with. I think it is going to be a very tough fight.
oumaisthefuture: say you win, who would you like to fight next? who do you like in judah-spinks 2? one more who are some your favorite fighters to watch?
KOFI_JANTUAH: It is hard to say. I really want to fight Wright or Trinidad, they are the top in my division and I want to become undisputed champion. My all time favortive is Marvin Hagler and Chavez and Azuma Nelson and now I like watching Pacquiao and Barrera and MoralesKOFI_JANTUAH: Interesting fight. Judah has to redeem himself and Cory doesnt want to let it go, but I think I am going to go with Judah this time
Napolean2626: skip me, I'm just watching..........but good luck Kofi I'm betting on you by KO!
KOFI_JANTUAH: Thanks napolean. Good Pick
madcap: How do you see Wright-Trinidad ?
KOFI_JANTUAH: That is a tough one. Winky is always covering up and has good defense. Trinidad is a good fighter and by his last performance it shows he is still in the game, but If i am picking I will go with Trinidad
Praise_Him: Kofi you sound very confident in you're ability ......which is no doubt a good thing.........from looking at your record i see you have one loss by ko.......what happened in that fight.....and can you maybe be a little over confident? did that confidence
KOFI_JANTUAH: You are right, the fight I lost is a fight I was winning easy, but sometimes you think you are superman thinking that you cant be beat, and I paid the price for it. I am confident in my ability and my workrate right now. I am not taking him lightly - he's a champion and a tough guy
byrdman: how did it feel to show up the rest of the ppv fighters on the dlh-hopkins card
byrdman: u stole the show that night
KOFI_JANTUAH: It wass great. LOL. The whole show was hyped about Oscar and Nard but I had my plan in my head for what i wanted to do. So I took advantage of the moment. The world was watching two of the best fighters and i got a chance to steal the show
byrdman: when do you plan on getting paid too?
byrdman: looking for a big fight?
KOFI_JANTUAH: This is a big fight, me and Ouma is a very big fight. A big fight to me are two guys going at it and making the people want to see more. Like when Pacquiao came no one knew him but now they want to see him. People talk about big names, but when they fight they dont give the fans what they want. Real fighters go out there to fight and make it happen.
AKay: Kofi when you land a knockout punch can you feel it in your bones that your opponent aint getting up? describe the feeling for me?
KOFI_JANTUAH: When you hit somebody clean you feel it in your hands with the impact. You know right then and there that you got him. It is a good feeling when you land the big shot that you want to. It is about punching ability...most fighters hit hard and think they get hitKOFI_JANTUAH: The big one is when you land it and everybody says WHOOOAAA. You can feel it, you can feel that he is not getting up
attyg3: Curious on who you had come into camp for sparring , to get ready for Ouma? Tito vs Jantuah, I would love to see that, there would be hammers thrown from all angles.
KOFI_JANTUAH: I am boxing a guy named willie stewart, jesus chaves and a couple other guys
jalik: Do you have a rematch clause in the contract if you beat Ouma? How many fights do you have left with Dibella. If you knock Ouma out make sure he promotes you like he does Jermain Taylor
KOFI_JANTUAH: No rematch clause, the promoters have an option since I am not a mandatory. After I win the fight they can co promote me in my next fight. I have one more year with diBella after this fight
jalik: We the fans need 1 punch knockout artist like you in the game.
KOFI_JANTUAH: Thank You. I appreciate all of my fans
madcap: Yeah, how would you compare an African journeyman to an average american fighter?
KOFI_JANTUAH: American fighters have more technique and skill than most Africans. Africans tend to rely on power and strength. You have a lot of Americans that have good technique, Africans have conditioning but once that is gone they dont have anything else to back it
attyg3: Kofi, how many southpaws have you fought in your career? Do they cause you any problems?
KOFI_JANTUAH: I have fought about five of them, and I knocked all of them out
KOFI_JANTUAH: When I go in there I dont think about him being a southpaw, I think about my punch. I dont try to figure them out, i think about how i am going to hit them
oumaisthefuture: is there anyway to get some of your fights that havent been televised here in the US and also did you have anyamatuer fights?
KOFI_JANTUAH: I had about 4 or 5 amatuer fights. i started late when I was 19years old. i just jumped into the pros. I came into the US with a record of 13-0KOFI_JANTUAH: I really dont know where you can get the tapes. i have some of my fights though but some I dont know how you will get
Praise_Him: Kofi........I belive in looking at your record.....that you havn't always been a knock out arteest........what has made the difference?
KOFI_JANTUAH: The difference is, when I started boxing I didnt really have technique on my side and went through with toughness, the hard way. Now I know how to make it easy and time my punches. I have a good trainer and I know how to land punches better, so i think that is the difference
attyg3: We are about to chat with Ouma too, is there anything you would like for us to tell him?
KOFI_JANTUAH: Ask what you want to ask him, it is your chance to do so. If I have something to ask him, I will ask him direct. So take the time out to ask him what you want to ask him.
thehype: Boxingtalk would like to thank Kofi Jantuah for taking time to chat with us tonight