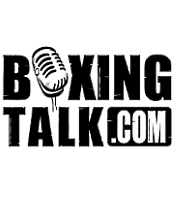 "I probably wont even find out if he has power because I don't plan on letting him hit me."
thehype: Boxingtalk would like to welcome Kassim Ouma to tonight's T.N.T. chat session
nardfan: Kassim,big fan!With your style(workman,come foward)do you think his heavy punches will wear you down?What weight do you walk around at?Who are your favorite fighters to watch?Much respect for your struggles outside of the ring,to be where you are now.
KASSIM_OUMA: I appreciate you being a fan. The guy that I am fighting is a tough guy, he has heavy punches but he turned pro in 1993 and I turned pro in 1994, and nothing is going to stop me. I am going to tear him apart pieces to pieces…and I appreciate you liking my style. Keep up because I have a lot more I have to do, I am working very hard and nobody is going to stop me. If he feels he can stop me let him prove it next Saturday
oumaisthefuture: Kassim I have been a fan of yours since I first saw you on FNF in early 2001.  I respect you so much as a fighter and as a man pulling through your horrific childhood and everything you have been through.  after you beat kofi who do you want?  good luck!!!
KASSIM_OUMA: I appreciate that you respect me. I will give you my next opponent after Kofi because I am not looking past him. He is a tough CookieKASSIM_OUMA: Please when you ask your question let me know where you are from
AKay: Kassim was up first i would like to say good luck! How do you think the fight will play out? Would you contemplate fighting Ike Quartey to be considered the premier African fighter? AKay out of Paterson, NJ
KASSIM_OUMA: Kassim Ouma is going to stay the champion. Nobody is going to take the championship from me. I will move up later on down the line to Middleweight. I am not losing any time soon. I respect Quartey because he has been reppin for us for a long time, but now is my time. I wouldn't mind fighting himKASSIM_OUMA: I would like to fight the guys he beat that they took the fight away from him in
attyg3: Kassim, have u ever faced a fighter with the power that Jantuah has? Do u expect the fight to go the full 12 rounds, and who do u like in the Wright\Trinidad matchup. if it comes off. Attyg3 out of Philadelphia, Pennsylvania, Go Eagles!!!
KASSIM_OUMA: People say he has power, but they don't know about my power and hopefully Kofi will find out, I might be stronger than him. I probably wont even find out if he has power because I don't plan on letting him hit meKASSIM_OUMA: They are both my victims, it will be a good fight. I like Winky, he is my homey even though he doesn't want to give me a fightKASSIM_OUMA: But I do have mad love for Trinidad
Method: Why are you waiting to move up somewhere down the line"?  Are you pulling a Jermain Taylor, Winky Wright (and EVEN a Mosley) and talking that shit just waiting for Hopkins to retire?  I mean, Felix Trinidad is currently fighting at 160, but even HE is..."waiting to move up to Middleweight""
KASSIM_OUMA: It doesn't matter, if I start having weight problems I will move up. But I want to move from Jr. Middleweight to Middleweight champion and skip Super Middleweight, to Lightheavyweight champion
Method: Thanks for spending time with us
Method: Best of luck with everything, champ
KASSIM_OUMA: Method Thank you because there is no me without you
byrdman: how often do you do roadwork and how much mileage do you?
KASSIM_OUMA: I don't give out too much information, but I do about 2 miles straight sprints like someone is chasing meKASSIM_OUMA: I'm ready to go for the 29th. I am ready to make my fans happy. I am the peoples champion
Ruben: What happened in your fight with Agustin Silva? Ruben from Arizona
KASSIM_OUMA: That one…take it as it is…he took me out and I don't want to say no more, and whoever feels like they can do me like Agustin did, they can come fight me. I am the champion now. Besides that fight, I never been down.KASSIM_OUMA: I have never been down besides that , Agustin is the only person to put me down in the pros. But so what I am the champion of the world and I am still here
nardfan: Kassim, was it disappionting that Winky Wright would not fight you?Nardfan,Louisiana
KASSIM_OUMA: It is disappointing, because I fought to be the mandatory, I beat up all of the Jr. Middleweight and I am not looking past Kofi, but we will see who they bring me next
oumaisthefuture: I know you started getting recognized when you became a sparring partner for Zab Judah.  How did your sparring sessions go with him and who got the better of who?  also whats your prediction for judah-spinks 2?
KASSIM_OUMA: I was a house fighter, but it only took me one day to get recognized. I was just helping him out and getting him ready. I got madd respect for Zab. They are both cool guys…it is kind of hard but I pick Zab because he is my man.
attyg3: Kassim, you honestlt think you can fight at 175? If you couldnt KO Verno phillips how are you going to drop light heavyweights? Good Luck vs Jantuah.
KASSIM_OUMA: I am still growing I am 26years old. But you know that is my goal after I conquer my division. In my first international fight I was 112lbs. My little brother is a Middleweight champion, he is probably going to end up a heavyweight. If I stop training, I will get heavy like when I got shot in 2002, I got up to 176lbs so I can get up to that weight
Ruben: So Ouma what past time fighter would you like to fight?
KASSIM_OUMA: I wouldn't like to fight anyone from the past because they are from the past. But I will like to be considered amongst the best, and have them say things like I am the new Sugar Ray Leonard of this generation.KASSIM_OUMA: I gotta go, I love you all. I want to thank everyone that came hereKASSIM_OUMA: Don't forget to holla at your boy at
www.Kassimouma.com
thehype: Boxingtalk would like to thank Kassim Ouma for taking time to chat with us tonight
KASSIM_OUMA: Don't forget we got big things going on helping out African people and trying to make the difference. I don't know what the rest of the African fighters plan on doing but I want to give back to my poor people