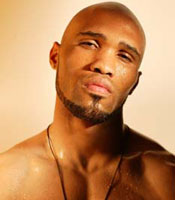 "154 is the target weight, and Vargas is the target fight"
thehype: Boxingtalk would like to welcome Ishe Smith to tonight's T.N.T. chat session
MikeS: yo ishe
ISHE_SMITH: Sup?
AKay: Ishe was up man glad to see you home. you cant make 154 no more? why 160?
ISHE_SMITH: I can make 154lbs, I just think there are big fights at 160lbs. I am eating comfy, 154 is the target weight, and Vargas is the target fight. I cant wait for the show to be over so i can do some real boxing.
OnFire: what's good Ishe?
ISHE_SMITH: Fire Waddup
OnFire: Do you think you'll be able to carry 160 comfortably?
ISHE_SMITH: Defintely, its a lot of haters out there. I feel comfortable, there is a lot of haters out there that wont tell me none of that negative stuff to my face. They talk all of that stuff on the internet, but they need to pop off at the mouth when they see me in the streets
litzauNEXTlegend: Why were you hating on Bonsante? He's a good guy and a tough fighter!
litzauNEXTlegend: Vargas hits harder than Bailey ya know lol
ISHE_SMITH: Because hs stabbed us in the back. If I would have done that, you all would be talking bad about me like ya'll are doing. It is not because he did it, it is because the way he did it. I say I want to fight the best. I had 13 fights when I fought him.
ISHE_SMITH: Cotto had 20 something. And I know who hits hard and if you have so much to say about Baliey and Vargas you come and spar me
BK: Ishe what do you think happened with Salmaci ? Ring Rust? Age? And Secondly the show seems to have some major politics whats your view on that?
ISHE_SMITH: I think Salmaci it happened to be ring rust. I think he is going to be ready next time. The politics is politics. That is part of boxing. I am just ready to get back to fighting
ISHE_SMITH: I just cant wait until it is all over so I can get back and fight the best
MikeS: so who did you vote back after juan left? Can you say? And should Tarick have come back automatically since he put juan out
ISHE_SMITH: Me personally I voted for Naji and I cant speak for the other guy. I think he fought the best and wasn't given justice. I thought he won his fight so he deserved to be back.
Athabascan_Asassin_: win or lose what do u plan on doing after the contender?who did u vote back?
ISHE_SMITH: I voted back Najai. I want to continue fighting. Win or lose it is great for boxing. it was a great experience. I learned a lot from the people involved. No matter who promotes me, I want the best 54 and 60 lb fighters. I like when people hate
spencer: if you could turn back time would you do the show again?
ISHE_SMITH: Definitely, in a heart beat
irishbrawler: i have to admit I didn't like you at first ishe but after you fought ahmed and won i got respect for you. What did you think about the margarito vs cintron fight
ISHE_SMITH: I thought he improved a lot since I first seen him, but it goes to show you can't be boxing for 3-4 years and say you are the best and think you can call out the best. It is hard to box for 4 years when you are a wrestler and then box, and think u are the best because you can hit hard. I have a lot of respect for what he did in that time but it proves he isn't ready for the elite fighters.
CoryR: Ishe, we know Manfredo is in the finals......will you be pissed if he wins knowing that he was the first fighter to lose?  Also Ishe, you couldn't even win the contender....who are you to call everyone out?  You better get more 5 rounders in lol
ISHE_SMITH: Keep watching the show and that is all I can say to you, next QUESTION
litzauNEXTlegend: so then fight Cintron
ISHE_SMITH: Fighting Cintron wouldn't do anything for me. #1 I cant make 147, and #2 more people know Ishe Smith than they know more than half the world champions so what would that do for me career
MrUnstoppable: Honor having you here tonight, Ishe!  I saw you two years ago in Biloxi and have followed your career ever since.  You made a name for yourself by being a sparring partner to some of the best.  How did that prepare you for the rest of your boxing career?
ISHE_SMITH: Finally, not a hater. Being a sparring partner for those guys prepared me and got me ready for boxing. Estrada went 10 rounds with Shane, and I dominated him better. I want the same people that hate now, I want them to continue to hate when I become champion
Tee101: Big ups for representing Christ brother. At 160 do you really think you will be a factor seeing that you didnt have a big punch at 147?
ISHE_SMITH: Thank you, it is always a pleasure to know I have Christ on my side. I have a great team in place right now so i know I wil be a factor.
ISHE_SMITH: No disrespect to Ikeke, I think he is a great fighter and I think Taylor has been ducking him, and I just want to fight the best. I think it would be a great fight
OnFire: Ishe, did you know that the million dollars they showed all you in the ring at Ceasers Palace in the last show was fake money? Honestly.
ISHE_SMITH: I didn't know it was fake money, I thought it was real. I suire would have tried to spend it if I got my hands on it
jluvbaby: ishe what do you think of young contender paul williams?
ISHE_SMITH: I think Paul Williams is a terrific fighter, but once again he has to beat somebody but I think he has the makings to be a great fighter. And that is me as a fan
ISHE_SMITH: No disrespect to Ikeke, I think he is a great fighter and i thinkTaylot r has been duckign him, and I just want to fight the best,. I think it would be a great fight
bustinjustin: he does act like he is the best, i fought ishe in arizona like 5 years ago and was beating him and the gave him the win. in 127 amateur fights ishe was the only one talking the whole fight about how good he was
CoryR: Oh man, MINNESOTA'S OWN KENNY KOST!
ISHE_SMITH: Yeah I remember Kost
ISHE_SMITH: I smashed Kost , do you want me to go home and get it and put it on Boxingtalk so everyone can see that fight wasnt even close
ISHE_SMITH: You better be quiet b4 i release the tape
ISHE_SMITH: You got smashed
ISHE_SMITH: No comparison
CoryR: Ishe don't be all talk player
ISHE_SMITH: Cory you sound like a little girl
WAFE: wait u and vargas still cool?
ISHE_SMITH: I haven't talked to him in a while but we still have respect for each other. He is still cool in my book
thehype: Boxingtalk would like to thank Ishe Smith for taking time to chat with us tonight