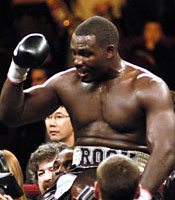 "I put it on Boxingtalk and James Phoney don't really want it."
thehype: Boxingtalk would like to welcome Hasim Rahman to tonight's T.N.T. chat sesssion
HASIM_RAHMAN: whats going down!
awesomeald: Yo Rock hows it going man, you a man of your word i noticed that... you said you would go down there and you would... James Toney is putting a stop to it what are your thoughts on that and whats the deal with that auto you send it out yet
HASIM_RAHMAN: I mean, James Phoney is a fag and he don't want it with Rock. I put it on Boxingtalk and James Phoney don't really want it. His security people and Freddie Roach wouldn't even want it with me.HASIM_RAHMAN: James Phoney is a fag!HASIM_RAHMAN: He hides behind security instead of talking like a man.
nardfan: What up Rock?You seem to have won the war of the words with James,now I want to see you win the war in the ring.
nardfan: Any chance of that happening
HASIM_RAHMAN: Brother, I'm ready to come wherever and do this. He's the one who doesn't want to spar. I want to put it on Boxingtalk for the world to see. We could do it at any gym, since he doesn't show up at his gym. No head gears and ten ounce gloves, and I guaranteeHASIM_RAHMAN: if he spars with me like that, he won't be fighting for no title on April 30.
byrdman: hasim are you in training now? how would you land that right versus vitali and do you have a game plan......vitali seems to get tired quickly
HASIM_RAHMAN: I will definitely land the right hand and I definitely got a game plan for Vitali. I think I'm going to be the first one to knock him down and out.
Philip: How does it feel having an L on your record from the worst Champ on the heavy division? Talking about Ruiz, and if Toney doesnt suceed when are you going to do us Fan the Favor of getting rid of Ruiz? Please not im a born and reside in Puerto Rico
HASIM_RAHMAN: It's a doubleedged sword. It feels terrible knowing he could only beat me on my worst day and he just so happened to fight me on my worst day. Nine out of ten times I stop him, he just was lucky to get his first. But that just motivated me to come back stronger than ever. After you see what I do to Vitali, you'll know I'm head and shoulders above Ruiz.
Ig: Love from many fans i Russia ,we love you Rock
HASIM_RAHMAN: And I love ya backHASIM_RAHMAN: lol
fausto_in_dallas: champ, how will you approach vitali when you fight him...u gonna rush him or box him. please get him out of there asap. so hbo can get off vitali's dick. i believe you are due to be on top again!...btw can't believe toney bitched out on you. what a chicken
fausto_in_dallas: after vitali offer a shot to james so he can get bitched slapped
HASIM_RAHMAN: He does a lot of awkward things well. I got a game plan and I'm going to execute it to perfection. That dog that you saw with Chris Byrd, I'm going to bring that all out of himHASIM_RAHMAN: Toney is a fag. I've tried to tell the world Toney is a Phoney. He's been winning middleweight, super middleweight and other titles. Now he's making look like he's doing something, but all he's doing is coming up to his natural weight anyway.HASIM_RAHMAN: He's always been a heavyweight making middleweight.HASIM_RAHMAN: Boxingtalk gives James way too much credit.HASIM_RAHMAN: He's a fag
nardfan: Rock,are you still going to train as if you were fighting in April or have you already tapered down in your training regimine?Who gave you the toughest sparring session?What partners did you use for Lennox?
HASIM_RAHMAN: I'm definitely not going to train like it's in April. I'm going to train like we fighting in June. I don't want to peak too soon, so me and my trainer got it set that I'm going to peak on June 18HASIM_RAHMAN: I've sparred with several tough guys, I think Williamson and Peter are tough guys, there's been so many it's hard to remember.
awesomeald: what do you think about james toney being all mad  and stuff and blaming it on boxingtalk... and whats the dweal with that auto
HASIM_RAHMAN: You got to talk to G. Leon about the auto, he's going to broker that. And James Toney doesn't want the problems with me, so he knows if he's cool with Boxingtalk and I'm cool with Boxingtalk he's going to have to deal with all the questions about the sparring. His way of getting out of it was acting like an asshole to Boxingtalk to avoid getting his and have it shown on Boxingtalk.HASIM_RAHMAN: If you don't want to see the neighborhood bully you transferHASIM_RAHMAN: But Rock and Boxingtalk are one and the same.HASIM_RAHMAN: so he couldn't keep coming to deal with questions about me.HASIM_RAHMAN: He's a phoneyHASIM_RAHMAN: and I just proved itHASIM_RAHMAN: You must too, we're all on here.HASIM_RAHMAN: I'm down with Boxingtalk
duthy: whats good rahman...........what exactly happened between you and toney??? Did he really puss out and did you personally approach him????........ anyway good luck against vitali and put alot of pressure on him you know he cant deal with it..........thanks
HASIM_RAHMAN: What kind of thug walks around with security guardsHASIM_RAHMAN: ?HASIM_RAHMAN: tell me?HASIM_RAHMAN: a Phoney thug, a homo thug
ringsidemike: Hasim, what is different now with your focus from when you fought your rematch with Lewis?  Any plans to get back into Michael's ballroom in glen burnie?
HASIM_RAHMAN: Well, I don't take anything for granted. I know I have to go in there and work every minute of every round. I trained hard and I thought I would be able to stop him when I hit him. I'm coming out for this fight hungry from bell one until I stop this guy!HASIM_RAHMAN: Hopefully only as a spectator
MizJordan: Rahman....u ready for James to beat ur silly unskilled ass?
HASIM_RAHMAN: Yeah. Please, tell him to do it. Yes I am. Maybe he'll show up at his own gym next time. I need a beating I've been a bad boy. Tell James I'll spar with his security too if I have to.
fausto_in_dallas: yo champ, who do you want after vitali
HASIM_RAHMAN: I want any of the other champions.
nardfan: Hey Rock,no disrespect but how long did it take your homeys to stop clownin you after Oleg put you on the front row?(I know you have a sense of humor thats why I asked you.)Good Luck Dawg!
HASIM_RAHMAN: lolHASIM_RAHMAN: lolHASIM_RAHMAN: That's mad disrespect, but you can't clown a guy that goes out like that. If I'm going to lose I'd rather lose like that instead of quitting like a Klitschko.
jgoo: Rock, iv been a fan of urs for awhile, back in the day, u wrere thin and fought a different style of fight, have u ever thought to go back to the way u once were instead of being big and slow?"
HASIM_RAHMAN: If big and slow is going to win me the title, that's the way I'm going to be. All I'm going to be on June 18 is champion.HASIM_RAHMAN: But obviously you can't please everybody.
coryR: Hey Rock, James Toney talks a lot of trash, but hasn't accomplished anything in the heavyweight division.  Do you feel disrespected when he constantly brings you and other heavys down?  Good luck
HASIM_RAHMAN: It's like, that's what women do. They sit back and watch the men working hard but still find something to say. What else do you expect from a fag?
Philip: Rahman had you realize that Grandpa Holy tkoed you, and Granpa Holy got Koed by Toney, how do you expect to change reality?
HASIM_RAHMAN: I don't remember Holyfield TKOing me. If he wasn't using his head the whole fight who knows what happens. Toney stopped him late, but I never saw those rounds because of a head but..HASIM_RAHMAN: Not a TKO buddy.
coryR: Rock, what do you think about the return of David Tua?  In his last fight I thought you beat him decisively, but only earned a draw.  Would facing him again be something you would consider after you KO Frankenstein?
HASIM_RAHMAN: I would love for Tua to get back in the mix. He's a devastating puncher and a good fighter. He has a lot of heart and courage and I'd like to see him back in the mix. I feel I beat him twice even though my record don't show it. IHASIM_RAHMAN: If he comes back and puts a few  people to sleep with the left we could get it on.
nardfan: Hey Rock,I didnt mean to disrespect you dawg,just clownin.Anyway how would a fight with you and a prime Riddick Bowe play out?
HASIM_RAHMAN: I'm not going to go back in the past, but if the Riddick Bowe of now gets serious he could get it.
fausto_in_dallas: who's your pick in wright versus trinidad and why? hopkin versus taylor?
HASIM_RAHMAN: If it goes the distance I like Winky. I don't think Trinidad is busy enough to outbox him. I think the only way to get him is by stopping himHASIM_RAHMAN: But Winky's been sparring with Lacy for years, so I'm thinking he's going to pull the upset against Trinidad.
thehype: Boxingtalk would like to thank Hasim Rahman for taking time to chat with us tonight
HASIM_RAHMAN: Be good Boxingtalk