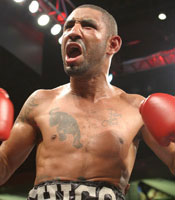 "I want to unify the division before I move up and then I want to put Mayweather to sleep."
thehype: Boxingtalk would like to welcome Diego Corrales to tonight's T.N.T. chat session
DIEGO_CORRALES: What's going one!
Mino: Chico, Big up, I talked to in one of the last chats and you were mad cool and down to earth. Does it suck to have to wait to knock one of these clowns out? Hopefully Castillo
DIEGO_CORRALES: It does suck that I have to wait to do this fight. But I have to do what I have to do. I'll wait, but I'm still going to put one of them to sleep.DIEGO_CORRALES: Whoever it is, somebody's going to bed.
AKay: Diego exactly how pissed off where you when the fight with castillo fell through, AGAIN! and do you think all this inactivity will affect you in your next fight?
DIEGO_CORRALES: I was very pissed off at my people. They fought with each other like a bunch of high school girls. Would it hurt me? No. I stay in the gym, I'm on top of my game I'm a seasoned professional, and I stay in shape.DIEGO_CORRALES: I will never give up my edge.
casamayor=bestlightweightanddown: Chico, I love watching you fight but i must say im a little disappointed that you havent given casamayor a third fight when he turned right around and gave you a rematch when he had other options?  is it in your plans to ever give him a third fight?
DIEGO_CORRALES: First off, we did try to give hima fight. He didn't want to make the second fight and Showtime had to make that fight happen.DIEGO_CORRALES: They didn't want to do it, then he lost to Castillo. If he would have won against Castillo we'd be doing it again.DIEGO_CORRALES: If he puts himself in position it would happen againDIEGO_CORRALES: And he would go to sleep next time too.
hardhead: much respect Deigo, I really enjoy watching you fight, you have a very tight sharp style, just keep up the hard work man, that's all.
DIEGO_CORRALES: Thank you hardheaded one. Floyd Mayweather Jr. easily. Does anyone even have to ask that question? I want my revenge.DIEGO_CORRALES: And Floyd would go to sleep in that one too,DIEGO_CORRALES: My fists are like Ny-Quil…they help you sleep better
BoxingFan: Chico, who do you as a FAN like throughout boxing  in the other weight divisions?
DIEGO_CORRALES: I'm a huge fan of Cory Spinks. I've always loved Evander. Ike Ibeabuchi is another one, it's sad to see him not in there. I love all of the little guys, Barrera, Morales, Pacquiao, all those tough little dudes are my fav's.
KOartist: i would just like to know your training schedale pre camp and during camp bro and how many rounds do you spar in camp best of luck
DIEGO_CORRALES: You can't even count how many rounds I spar in camp. We do a lot of sparring in camp! Camp is, I'm probably one of the most harding working guys out there.DIEGO_CORRALES: Hopkins shows everyone how to do it, but outside of Bernard I don't think anyone works how I do.
WBO: personal question are you mixed. your fathers black right?
DIEGO_CORRALES: Yeah, I am mixed. Yes.
bandito: diego, do you wish you'd stayed at jr lightweight now that morales, barrera and pacquaio are up there. also with chavez and hernandez? you could have made some great fights there.
DIEGO_CORRALES: No. There's no way I could have continued to make the weight. I moved up because there was no way I was going to be able to hold that weight any longer.
SHYNE_MOTH@FVCKEN_PO: how far up in weight are you going to go up? realisticly! discribe a fight between you and TSZYU and you and DELA HOYA! THANK YOU!
DIEGO_CORRALES: 147. Oh man, both of those would be big. I would box cleverly against Tszyu and me and De La Hoya, it's hard to say because he's such a smooth boxer, but at the end of the day they both go to sleep after putting up great fights.
ol_mongoose: hi chico, great of you to talk to your fans, what do you think of the state of boxing today? a lot of great fighters are winding down their careers and there don't seem to be many top newcomers, wat u think?an who do u like in castillo- diaz match?
DIEGO_CORRALES: First off, I think there's a lot of great up coming fighters. I think I'm on top of the class,but there's Vivian, Zab, Cory, and others coming up and coming strong. There's a lot of great fighters leaving but the new breed is coming up...the only division in big trouble is the heavyweight division. Castillo over Diaz.
Titlebelt: Diego, Who do you feel will win the Middleweight showdown between Felix Trinidad and Winky Wright?
DIEGO_CORRALES: Honestly, I think Winky can win it and he should be able to win it. He's a southpaw and he's very hard to hit. People sleep on Winky but he's a great fighter and I think he's going to pull the upset.
Laser_Right: Diego, Can you still make 130lbs (pacman vs Morales winner, Are you planning to go Undisputed (WBC, IBF, WBA) in 130lbs or 135lbs?
DIEGO_CORRALES: He better not get touched by one of those wicked left hooks though. I can't make that weight for anyone. I'd have to cut off my hand.
brand03: What do you think improved upon the most from when you first started out. Is experience just as important as talent?
DIEGO_CORRALES: Yes experience is even more important, because talent only takes you so far it's that experience that gets you over the hump. My overall skills
BaronVonRoss: you looked great at 135 man...how long do you plan to stick around?  apart from castillo i dont see anyone there even in your league...not trying to kiss @$$ but im interested...i mean who else do u like at 135?
DIEGO_CORRALES: As long as I can physically make the weight. I figure, once I have two of the belts I might as well collect them all. Whoever's got the belts won't be safe until I get them unless something presents itself at 140.
Mike: Hey  Champ first of all thanks for beating Freitas.  I made some good money on that fight....Next,,  do you ever bet on your fights??  Good Luck in the future
DIEGO_CORRALES: Glad you made that paper. No, I don't bet on my fights. NEVER
mikefrmmiami: forget about who won or lost.  We all know casamajor won 9 out of 12 rounds/if you're scared, say you're scared/don't give us this BS about Showtime...we all know Casa Mayor beat you twice!!And please don't go to 140 lbs & become the new Corey Spinks!!
DIEGO_CORRALES: I love guys like you. Guess what, Casamayor's career is over. It's a wrap choke on that
Pastor_Method: Diego, firstly, I'm a fan and I love to watch you fight. I'm wondering who you'd like to fight at lightweight before moving up and how you think a fight between you and Zab Judah would play out? thanks.
DIEGO_CORRALES: I want to unify the division before I move up and then I want to put Mayweather to sleep, but if I ever fought Zab I could clip him with my left hook. Southpaw's sleep on the left hook and I know I have the power to clip him.
B-Talk01: How's it goin Chico, traditionally you have had problems with movers, for example floyd, casamoyer in the first fight, and even popo until he tired out, what would you do differently against floyd in a rematch who is game to peddle twelve rounds, and is much smarter than the others?
DIEGO_CORRALES: Use my jab, It's something very simple, but something I failed to do the first time. It would cure everything and help Floyd get his Ny-Quil
alibomaye: Diego, if your fight May 7 doesn't happen, could you fight Gatti on June 11? Would that fight be hard to make? I would guess Vivian Harris would fight Gatti if Floyd can't.  He's with Main Events and he has some belt that would make him acceptable. Thanks!
DIEGO_CORRALES: Yeah, I'd love to fight him on June 11 if I didn't fight on May 7. I'd love to do it....I'd fight Cotto as well, let me unify lightweight first and then I'm coming for all of them.
thehype: Boxingtalk would like to thank Diego Corrales for taking time out of his busy schedule to chat with us tonight
DIEGO_CORRALES: PEACE OUT BOXINGTALK!