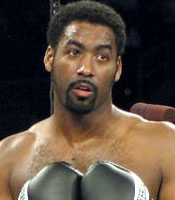 "I'm going to be ready for whatever he brings on April 23."
thehype: Boxingtalk would like to welcome Calvin Brock to tonight's T.N.T. chat session
nardfan: What up Calvin?Good fight against Black Rhino,you knocked a huge bugar out of his nose the 1st knockdown.Watching that fight I think Mclines reach will be a big problem for you,what will you do to neutralize his size?He dont fight big.Good Luck!
CALVIN_BROCK: You're right. His reach could be a problem, but I know how to get around a long reach and I've got a bunch of tall sparring partners. I'm going to be ready for whatever he brings on April 23.
CALVIN_BROCK: And I'm going to come out victorious.
ringsidemike: Cal, you helped yourself gain more fans and name recognition with your knockdowns of Ettienne while showing you can take his power punches.  What is your ideal scenario vs. McCline that will make a big money fight a reality for you?
CALVIN_BROCK: I'm going to make it real intense. He's not going to be looking at me, I'm going to be throwing punches and bring it to him. I'm going to let my hands go and beating him will put me in line for a big payday.
Michigan_Assassin: Calvin, this is a big step up for you.  How are you gonna prepare for stepping up to a big stage/audience in this fight?  We know he has no heart so take it to him!!
CALVIN_BROCK: Well, I think he does have heart. I don't see how a heavyweight could become a top contender without heart. He's beaten Lance Whitaker, Michael Grant and Shannon Briggs. It takes heart to get in the ring and brings what he got.
CALVIN_BROCK: I'm going to prepare how I always prepares, I'm eating right, working hard and I'm going to be in the best condition I've ever been.
CALVIN_BROCK: I'm use to the hype around the fight from being a five time national amateur champion
CALVIN_BROCK: I'm going to come out and perform like the heavyweight champion of the world
klitschko: calvin excellent excellent win vs. rhino man. what most concerns you about mccline? and is it true you were koed in the 2000 olympics?
CALVIN_BROCK: I wasn't knocked out. The Italian got 15 points ahead and they stopped it on the mercy rule.
CALVIN_BROCK: Mostly everyone who lost in the Olympics that year lost the same way.
CALVIN_BROCK: Nothing really concerns me, I'm looking at him like any other opponent. I'm training hard and I'm going to adjust to whatever he brings to the table. He's going to find out that he's never been in the ring with someone like me before
ft_myers_pal: is audley harrison a fight that intrest you
CALVIN_BROCK: Not right now.
CALVIN_BROCK: I wish him the best, but now I'm not even thinking about him
CALVIN_BROCK: I hear he's doing his thing in Great Britian though.
YoungHype: hi mr. brock have you ever thought about fighting rahman, how would you deal with his constent pressure,and amazing power, with all due respect i dont think  you should take that fight man, you migh t go a little EARLY!!! Who wins Rahman v. Vitali?
CALVIN_BROCK: The only time I thought about boxing with Rahman, was when I requested him for my May 15 NBC date last year, but he's not used to fighting for short money and there were bigger things on the horizon for him so I can't blame him
CALVIN_BROCK: He's very good, strong and athletic, but I would adjust to him the same way I do to McCline. My skills, power and speed would get the job done with Rahman.
CALVIN_BROCK: But he's not even on my list right now because I'm just looking at Jameel MCCline.
shawn: Calvin......what is the biggest purse you made so far
CALVIN_BROCK: The last fight against Clifford Etienne.
Primetime: When do you expect to fight for a world title? Which belt holder do you think is the best match up for you?
CALVIN_BROCK: I expect to fight for the title some time this year, hopefully later this year. I guess I put which title first in the hands of God, because it's hard to know who's going to have those titles at the time.
CALVIN_BROCK: It could be Rock instead of Wladimir and Toney instead of Ruiz. So the picture can change completely by this summer.
mentor4: CALVIN, I HAVE SEEN YOU AS AN AMATEUR AND AS OF RECENT IN THE PRO'S, YOU HAVE MADE SIGNIFICANT STRIDES AND I BELIEVE YOUR SKILLS ARE UNDERRATED
CALVIN_BROCK: All I could say is, I've always been good, but since I've been training with Tom Yankello he's helped me tremendously and I literally learn something new in every trainign session with him
lilphil: hey calvin im going to vegas to see you beat mccline ,will you have any open work outs and any way i can get pics. and autographs? big fan iwas at the rino fight.
CALVIN_BROCK: I won't have an open workout, but if you see me come up to me ask me for an autograph and I'll do it.
nardfan: Calvin,you dont look like someone who box for a living,how did you get into the sport?Do you really think you could bring it to ole Tyson?Who you got Toney or Ruiz?What stock should I put some money into?
CALVIN_BROCK: I can definitely bring it to old Tyson as well as anyone else in the world. I got into the sport because God blessed me with two gloves in 1983. I started boxing with my friends and when I ran out of friends to box with God put it in my heart thaat I was going to become heavyweight champ of the world and give him the Glory.
CALVIN_BROCK: Toney.
CALVIN_BROCK: The Brock Stock!
CALVIN_BROCK: lol
ringsidemike: thanks Calvin for giving us thourough & intelligent responses  Destroy McCline for us and after you beat rahman a toney fight will be awesome for boxing
CALVIN_BROCK: Oh yeah, me and Toney would be an excellent match because we're both fundamental sound. It would be a tough great fight.
ft_myers_pal: who was a idol of yours growing up.and you beet guinn in the trails right
CALVIN_BROCK: I beat Guinn three times and one of the times was in the trials. I never really had an idol growing up. I guess you could say my favorite inspiration is Evander Holyfield.
CALVIN_BROCK: When I think of someone accomplishing a lot of goals that I've accomplished in boxing, I guess you could say Evander.
stateofthegame: Sorry for interrupting, just wanted to say hello to Calvin. This is Jeff Young from Arkansas
CALVIN_BROCK: Hello Jeff.
YoungHype: Hey Calvin who do you see winning the Rahman v. nVitali fight how can you say you can beat Rahman when you have nowhere near the experience and you havent really beaten any notable opponents beside Rhino who isnt all that good?
CALVIN_BROCK: I really don't know who'll win. I was talking about that today and it's a tough fight to call. They're both good enough to beat each other so I don't know.  Well, first of all, for me to feel like the heavyweight champ I need to believe that I could beat everyone on earth.
CALVIN_BROCK: I might not have as many pro fights, but I have 188 amateur fights and I've boxing for 16 years.
CALVIN_BROCK: I always train to do all the rounds I have to and I'm always in shape with great stamina, so going rounds while bringing the pain is no problem.
excellence_of_xecution: Calvin, good luck in your outing against Jameel? 1.) who wins at '47 Oscar or Tszyu? 2.) what area of your game needs the most polishing? thanks guys. lol
CALVIN_BROCK: I would have to say Kostya Tszyu over Oscar.
CALVIN_BROCK: I guess you could always say my jab could use more polishing and I'm continously working on my jab. We work on everything, but especially my jab.
mentor4: BROCK, HAVE YOU HAD TO DEAL WITH ANY SERIOUS SITUATIONS YET IN YOUR CAREER LIKE BEING KNOCKED DOWN OR WOBBLED?
CALVIN_BROCK: No I've been dazed or knocked down as a professional.
CALVIN_BROCK: I don't mean to say yet, like it's going to happen, but it hasn't happend yet
CALVIN_BROCK: lol
nardfan: Calvin,what up wit the ole school side burns?What boxers if any are you cool with?
CALVIN_BROCK: I think I've gotten rid of those sideburns for about a year and a half now. I don't hang out with anyone in particular, but I'm cool with everybody and I don't have an enemy in the world.
rjruiz: Calvin, what is your time period for competing in a world championship? And would you give options to King if necessary?
CALVIN_BROCK: Well, I like to be in a world title fight in October or November. If options were to go to King it would be a decision made by Main Events, since I am promoted by them exclusively.
ft_myers_pal: terry smith better the black rino
CALVIN_BROCK: I think the Black Rhino is better.
nardfan: Who is your favorite lighter class fighters?
CALVIN_BROCK: I would have to say Ray Robinson, Ray Leonard, Thomas Hearns and Roberto Duran.
ringsidemike: what happened to guinn in your opinion
CALVIN_BROCK: When something happens to any boxer, it comes to either, they're not playing their role and doing everything they supposed to do or the training could not be up to par.
YoungHype: Vance ( smile )  who would win mayweather judah or Floyd Gatti?
CALVIN_BROCK: I'm in no position to say which one it is, but it comes down to the boxer because we know what needs to be done to be successful
thehype: Boxingtalk would like to thank Calvin Brock for taking time to chat with us tonight
CALVIN_BROCK: Be good Boxingtalk