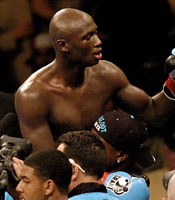 "We're coming to destroy what they considered the fighter of the year for 2004. I want to make a statement, I'm coming to knock him out as early as possible."
thehype: Boxingtalk would like to welcome Antonio Tarver to tonight's T.N.T. chat session
coryR: Tarver...i bet $500 on roy in your rematch..damn it..then i bet $100 on you to beat Johnson...bad night...can you give me a guaruntee that i break even if i put $600 on you in the rematch, or do you just want to give me back the $600 you lost me? wooooo!
ANTONIO_TARVER: I ain't got nothing to do with no bet. That's on you
KYTFO2: ANTONIO WHATS UP CHAMP! WHAT DO YOU THINK ABOUT HOPKINS WANTING TO FIGHT YOU AFTER HE GETS BY TAYLOR??
ANTONIO_TARVER: I haven't heard that, but it would be great. We crossed that bridge once before and it was quickly shut down.
MagicManFan: Hey Antonio, how are you doin, hope you and your family are doin good, i thought you won the fight against Glen Johnson by 1 round, and to thank you for making my wish come true by knocking out Roy Jones Jr.,Good Luck on your rematch with Johnson.
ANTONIO_TARVER: Thanks man.
Method: Anotnio, your educated analysis on Hops / Taylor
Method: and who are you sparring with to prep for Johnson?
ANTONIO_TARVER: I've been doing a lot of thinking about that fight. When I look at Jermain its a fighter in shallow water being thrown into the ocean. He has no solid resume and they're rolling the dice looking for 11. The guy has some skill but I see this like I saw the Winky fight. He's going to have to knock Hopkins out cold and I think Bernard is too skilled to let anyone catch him cold. I just think it's far too much, and I don't think the quality of oppositon has prepared him for Hopkins
ANTONIO_TARVER: I like Bernard by decision or late round stoppage.
KillerEliott: Antonio Tarver it is an honor to talk to u...I really hope u KO Johnson...will u go for a knockout against Johnson this time???
ANTONIO_TARVER: I'm training to knock him out. We're not trying to see no judges. I'm looking for that good look.
chodeberg1: RJJ and Hopkins are both saying they want the winner of your upcoming fight. Which of those is more likely to actually make the fight? Also, which would you prefer to fight? Good Luck!
ANTONIO_TARVER: That's just an option I'll have to figure out once I take care of Johnson. Obviously, we're going to go with whatver fight makes more sense.
ANTONIO_TARVER: But it looks like it's going to be a big year for The Magic Man.
ANTONIO_TARVER: lol
C-Rican: Sup homie!  i used to train at the Garland Police Boxing Gym in Texas....Now i live in Tampa, proud 2 know you live here also...i just wanna know what gym you'd recomend in da Bay area??
ANTONIO_TARVER: It's kind of hard because I just do all of my strength and conditioning there. Harbor Island. I know there's a Calters Health and Fitness and he has several locations.
anthonynj: Antonio would you predict the same outcome if there were a Tarver vs Jones III and why?  Did you train differently for the rematch vs. Johnson or was it similar to the training for the first fight? Also, would you ever consider moving up to Heavy Weight?
ANTONIO_TARVER: Yes. I'm training much differently for this fight. I've had more time to prepare and I'm in better shape mentally and physically. Everything is about timing and I'm right on time. It took us at least two weeks to finalize the deal and I had only five weeks
ANTONIO_TARVER: Now he's got a chance to do something no fighter has ever done and that's beat me at my best.
ANTONIO_TARVER: Right now I'm not overlooking Johnson. I can move up to heavyweight for the right opportunity but it's not something I'm losing sleep over.
athleticmovement.com: Tarver good luck and god bless you and your family always. Stay healthy in and out the ring. I wish you best success train hard and always fight with passion
ANTONIO_TARVER: Thank you.
irishbrawler: why have you been so quiey antonio
ANTONIO_TARVER: I got work to do baby, that's why I've been quiet. We're not trying to talk about it, we're going to be about it.
TarverEXPOSEDJones: Hello Mr. Magic Man, after you KO Johnson.... will you fight Hopkins next and end his carrer much like you did with Jones.
ANTONIO_TARVER: I would love to have that opportunity, but it takes two to rumble. I've never shyed away from a challenge. Me and Hopkins is a major fight and whoever steps up next, I just want to sit back and make the best business decision for myself and my family.
jgoo: antonio, big fan and wish you luck.  do you feel the that this is a must win fight for you to continue fighting?
ANTONIO_TARVER: Most definitely. It's a must win and that's when I'm at my best. And I'm accepting that challenge.
jeremy_from_www.docsports.com: antonio, 1st off u are a class act.2nd, do u think you took johnson for granted, there is a reason after a fighter wins a big title you take a gimme, it takes a while to get into that killer frame of mind. are u ready to be that hungry killer again?
ANTONIO_TARVER: I am. That passion is back. I can't wait. It's burning deep. It's hard for me to sleep anticipating this fight. I've never made this weight so good before. I just had some Salmon and fresh vegetables and this is the way camp is supposed to be. We're coming to destroy what they considered the fighter of the year for 2004. I want to make a statement, I'm coming to knock him out as early as possible. I ain't got no time for no long fight.  I don't feel this guy is in my class.
ANTONIO_TARVER: And once I knock him out nobody's going to want no parts of me.
ANTONIO_TARVER: I wish I was fighting this weekend, I'm only five pounds off weight already. After June 18 they'll never be able to doubt who the best is again.
Loser_No._27: Antonio, there's been a lot of talk on the type of gloves determining outcomes of fights lately, I won't mention names - what's your take on this, and what's your personal favorite brand?  I'm gonna guess Grant?  Looking forward to their clothing line!
ANTONIO_TARVER: I knocked them out with everything. I knoked Eric Harding out with Everlast. To me it doesn't matter as long as they're ten ounces.
athleticmovement.com: Tarver who has been you toughest fighter so far? Did roys speed ever give you trouble? what do you considered your number 1 attribute to boxing is, as a fighter and as a person?
ANTONIO_TARVER: I don't think Roy's speed bothered me. EVen in the first fdight I made him miss and blocked all night long. Harding was a tough fight style wise, but in terms of guts I think Chris Johnson was the toughest guy I fought. He gave some and he took my shots until I knocked him out.
nardfan: What up Antonio?Was this loss an eye opener?You have been pretty quiet and I havent seen you at any fights.Alot of punchers think they will always land that big shot (Tito and Tyson)is that what happened to you?Good Luck!
ANTONIO_TARVER: Not at all. I just didn't have enough time to prepare to come in to the fight in the best shape. The man took a week off after Roy and went back to the gym. I didn't see a gym for five monts. He was better prepared for the fight and he did some things that he wouldn't be able to do if I was at my best. I still won that fight, now we're going to see if he's ready to handle my piece. I don't think he's going to be able to handle my output. No more taking fucking rounds off because I need a second wind.
ANTONIO_TARVER: I'm coming to put the pressure on and we're going to see if he can fight backing up.
Bryan_AKA_SUPERMAN: Antonio, good to see again homey.  Long time no chat. How has training been going for the Johnson fight?  Hopefully you come out and give a great performance, winning your third RE convincingly as well.  I am a huge fan of yours and I'm rooting for you!
ANTONIO_TARVER: When I feel like this I can't be beat. He's got an opportunity to shut me up but something's telling me I'm still going to be talking on JUne 19.
Andrey73: Hey Antonio. How do you see Golota - Brewster plays out this weekend?
ANTONIO_TARVER: I'm just saying, you got to thank Don King. I never saw a dude get so many shots in one year like Golota. But with a Golota win maybe he could bring Klitschko in. Lamon needs to be on his game and he hasn't looked good. I know he has a lot of talent
ANTONIO_TARVER: It would be nice to see him let that talent go. Hopefully Brewster is ready mentally and physically. The fight could go either way though.
JTisKING@160: Which weight class do you most like to watch, and also, who is your favorite fighter to watch...in another division than your own ofcourse.
ANTONIO_TARVER: The best weight class is the welterweight division. Zab Judah's there, Mayweather and Tszyu are talking about going there and I think it's going to be the hottest division in boxing. Then you've got Barrera, Morales and Pacquiao. I make sure I follow what those little guys are doing.
awdsawds: Did you enjoy ur fight in L.A. if so come back  I was there I thought u lost but its all good come back strong
ANTONIO_TARVER: LA is where all the stars are born. LA was real good to us. It was just a rush job. They wanted to end the year with a big fight and it is what it is, but yeah…we can come back to LA anytime.
thehype: Boxingtalk would like to thank Antonio Taver for taking time out to chat with us tonight
ANTONIO_TARVER: Thanks for having me Boxingtalk! Tune in on June 18!