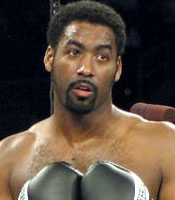 "Right now we're looking to move on to bigger and better things."
thehype: Boxingtalk would like to welcome Calvin Brock to tonight's T.N.T. chat session
ringsidemike: Calvin, thanks for stoppin in, excellent job last Saturday, I think it's the big performance you needed with major audience.
CALVIN_BROCK: Thanks. I thank God for this victory and everything I'm going to receive out of it.
ringsidemike: Cal, when will you come up with a better moniker?  Boxing Banker aint strikin fear in anyone.  How bout Candyman, after Sammy, he was a tap dancer right?
CALVIN_BROCK: I'm a tapdancer, but I get a lot of good reviews from being the boxing banker. I graduated from college, I was a finance major and it opens up the door to let people know my backgrounds.
mbase: you showed some heart brotha, gettin up from that knockdown, that's what peeps like to see
CALVIN_BROCK: Well, I'm all heart. When I step in the ring I don't let winning be an option, it's a demand. If I get knocked down you better believe I'm going to get back up and win the boxing match.
AKay: Calvin what went through your head when you got put down against McCline then proceeded to win the rest of the round? I thought it was a tremendous show of heart and really impressed not only me but alot of folks!
CALVIN_BROCK: I was like dag, I can't believe I gave him the chance to put me down. Then I thought I'm going to come back and try to put him down and knock him out. I was thinking he closed up my lead and I was determined to get him until the last bell.
mbase: What's up Calvin, everybody says the heavyweight division is not happening now but I don't think it is so bad if the best fighters go at each other. What did you think of the fight with Toney and Ruiz?
CALVIN_BROCK: I think it was a better fight than what Ruiz normally be in. But I don't think Ruiz or Toney is what the world is looking for. It's looking for me a youn fighter, a former Olympian with the skills to take over the division.
Method: Calvin, who would win in a Tap-Off", Gene Kelley or Gregory Hines?  Gregory Hines or Sammy Davis Junior?  Thanks Cal .  Don't sing the rain too much, you'll get sick, dawg."
CALVIN_BROCK: Gregory Hines. Gregory Hines.
Method: Calvin, who are your favorite current fighters to watch, and why?
CALVIN_BROCK: I like watching James Toney, Felix Trinidad and Floyd Mayweather Jr.
CALVIN_BROCK: those three
ringsidemike: Calvin, I read here locally in Houston that Sergei Liakovich is lobbying hard to fight you.  Any thoughts on him beating Guinn, and I think it could be a good KO of a big tough guy that will open eyes and erase doubt.
ringsidemike: BTW, we love you in Houston, come back again soon!
CALVIN_BROCK: Thank you. Sergei is not a step up. He's a step down, and my promoters don't see a reason for me to box against him.
CALVIN_BROCK: We tried to fight him last May and he got injured.
CALVIN_BROCK: Right now we're looking to move on to bigger and better things.
mbase: I'm going to tell you the truth. I did not think you were all that before the McCline fight.
mbase: I always thought you held you head up too high. But you showed some real heart and turned my opinion around.  Are you going to fight Peters next, he called you out?
CALVIN_BROCK: His promoter Dino Duva is calling me out. I've spoken with him on the phone since that came out. We're good friends, his trainer works in my corner so we're not fighting anytime soon.
CALVIN_BROCK: I wish him the best
ringsidemike: Cal, listened to your commentary during Verquan Kimbrough's last fight.  You sounded good, maybe a side career?  He looked real good, how good do you think he'll be.  Any other Yankello stablemates we should look out for?
CALVIN_BROCK: I would love to be a commentator down the line
CALVIN_BROCK: Look out for Monty Clay
mbase: who you got? Castillo or Corrales?
CALVIN_BROCK: Corrales.
mbase: Trinidad or Wright?
CALVIN_BROCK: I can't call that one
ringsidemike: What was your record vs. Guinn in amateurs?
CALVIN_BROCK: 3-0
mbase: who do you want to fight next, whats the list?
CALVIN_BROCK: I don't have any idea. I just want to box sometime before I get married on July 23. I know I'm going again on ESPN PPV, but I really can't call nobody out
mbase: what is the PPV date?
CALVIN_BROCK: I don't know it's just in November
ringsidemike: Have you begun plans for your boxing/dance studios?
CALVIN_BROCK: No, but I'm thinking about it. When I get to the point that I don't have to use my own money, it'll  become a reality.
thehype: Boxingtalk would like to thank Calvin Brock for taking time to chat with us tonight
CALVIN_BROCK: Be good everyone