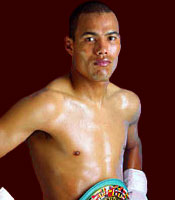 "With Corrales, he's either going to knock me out or I'm going to knock him out..."
thehype: Boxingtalk would like to welcome Jose Luis Castillo to tonight's T.N.T. chat session
nardfan: What up Jose? Why werent you able to turn the 2nd Floyd fight into a slugfest?
nardfan: Good Luck on May 7!
JOSE_LUIS_CASTILLO: It was just one of those nights. A couple of days before I had some personal problems and I couldn't get them out of my head, so I didn't go in there with the same enthusiasm that I do for each fight,.JOSE_LUIS_CASTILLO: Thank you.
Bryan_AKA_SUPERMAN: Jose, tell me about learning from one of the best in Julio Cesar Chavez.  How much has he helped you in your development as a fighter?
Bryan_AKA_SUPERMAN: and good luck on May 7!  I thought you won the first fight with Floyd!
JOSE_LUIS_CASTILLO: I'm very grateful to him he was a great confidence builder to me. He taught me a lot in the ring, he's one of the best ever and the best in Mexican history. And I still was getting my shots in, so I figured if I could it against him I couild do it against most guys.JOSE_LUIS_CASTILLO: thanks a lot for that, I thought I whooped him too. I don't know what the judges were watching. I guess they had an off night.
AKay: Jose how are you would you fight Morales? If he moved up or is your plan to move up right after this fight to 140? And if so who are you looking to fight there?
JOSE_LUIS_CASTILLO: He's my friend and I would have a hard time fighting him, but business is business. If we sat and talked it would be a good fight to do, but I don't think I would ever fight him. to answer the rest...JOSE_LUIS_CASTILLO: Right now, I think they're talking about doing another lightweight fight on September 10 and then maybe later in the year I'll move on to the next division. I'd like to fight Arturo Gatti. I think it would be a fight that would be very enjoyable for everyone and I think it's a fight that's very doable for me.
DPG: Who do you think will win in Mayweather vs Gatti?
JOSE_LUIS_CASTILLO: I have to go with Mayweather just because of his style and the way he fights. I don't think it's going to be an easy win, but I think he's going to win the fight.
Avon_Barksdale: How do you plan on getting around the jab of Coralles, and have you ever faced anyone with this type of power?
JOSE_LUIS_CASTILLO: I have looked at a lot of tapes of him but I don't know how strong is he until we get in there, but I have faced a lot of strong guys in my career. I have seen the tapes with Casamayor and Freitas and I think we have the plan to nullify his jab and everything
nardfan: Jose,its obvious you're looking to fight the best,if you get past Corrales who would you be looking to fight next?Your a true champion.
JOSE_LUIS_CASTILLO: I've had some very tough guys all in a row and they're all good fighters, so my next fight I'd like to fight against a taxi driver, I think I'll have earned it. But after one easy fight then I'm going to want to move right on to the Gatti's or Tszyu's.
Bryan_AKA_SUPERMAN: Jose, in the fight with Joel Casamayor, you seemed to start a bit slow and you came on more and more as the fight progressed.  Are you going to try and start a bit faster against Corrales and how do you do that with a man who punches that hard?
JOSE_LUIS_CASTILLO: I think we're talking very different styles here. In the fight with Casamayor I thought I could knock him out with one punch, it took me a while to figure out I had to break him down. With Corrales, he's either going to knock me out or I'm going to knock him out, but we're two buffaloes so we're going give the people explosion right from the first round.
Bryan_AKA_SUPERMAN: and Casamayor is also more of a mover... thanks Jose
JOSE_LUIS_CASTILLO: your welcome
nardfan: Jose,who was your toughest fight to date?Who hit you the hardest
JOSE_LUIS_CASTILLO: I think that my toughest fight was the first fight with Mayweather. I think because of his style it was a real tough fight that was draining for me. I Julio Alvarez was the hardest I 've ever been hit. The fight happened in Mexico, but he could punch.
Bryan_AKA_SUPERMAN: Jose, do you think Corrales is a better fighter now than he was before he fought Mayweather?
JOSE_LUIS_CASTILLO: I think every boxer as he goes and gets experience, changes a bit. I don't know if he's better but he's more experienced. Maybe it's a question of styles, who knows, but it's going to be a great fight on May 7.
Avon_Barksdale: Banner and Frietas said they want you bad if you win, will you take the money they throw at you and firght Frietas?
JOSE_LUIS_CASTILLO: We would have to consider Freitas, we're ready to fight the best out there, and if the money's right and I have enough time at 135, maybe we will do it.
thehype: Boxingtalk would like to thank Jose Luis Castillo for taking time to chat with us tonight