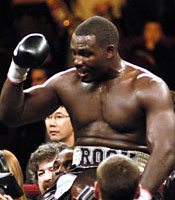 Former World Boxing Council, International Boxing Federation and International Boxing Organization Heavyweight Champion
One can take most stereotypes about how boxers are usually raised and what they are like—and what a former heavyweight champion of the world might be like—and throw them out the window when it comes to Hasim "The Rock" Rahman.  His story is unique.
Born into a lower-middle-class family in Baltimore on Nov. 7, 1972, Rahman's father was an engineer, and his mother worked as well.  He was the second-oldest child growing up in a family with eight brothers and three sisters.
He inherited his father's gift for mathematics and quickly put it to good use earning straight As after entering elementary school in Cherry Hill, Md.  In fact, he was often asked to move up with students from the next grade.
"I was a nerd from kindergarten until third grade," Rahman says with a grin, "but I got beat up a lot by older kids."
Rahman explains that when his teachers sent him to the next grade to provide more challenges for him in subjects where he excelled, the older boys took that as a slight, and the inevitable schoolyard fights ensued.
After completion of the second grade, Rahman moved to West Baltimore and decided to change his personality to help cope with the trouble he was having at school.
"I made a conscious decision to change my attitude; to become a bad boy to change my image, so I wouldn't get picked on," Rahman said.  "I excelled at my new school, but the group I was hanging with didn't think it was cool to study." 
Rahman added, "They [the school] even wanted me to join a program for gifted students, but I didn't do it because I was afraid that what happened in Cherry Hill might happen again."
As he grew older, Rahman "started doing what the bad guys do."  This included fighting, riding in stolen cars and staying away from school.  He dropped out of school in the 11th grade.  Most of his friends were dropouts, too.
"My dad owned an engineering company, so I felt like I had a safety net once I decided to get off the streets," Rahman said.
Everything changed for Rahman when he turned 18.
"I had a son and that was a wake-up call for me.  My mom always told me I was going to be somebody, and I felt I had to do better for my son." 
Rahman added, cryptically:  "I had a child because I didn't think I was going to live to see 21.  I wanted to just have my son before I died, but once he got here it changed my life.  I knew I couldn't leave him stranded."
Rahman received his high school equivalency diploma and enrolled at the Community College of Baltimore.
"I took some remedial courses because I knew I had to start somewhere," the future champion said.  "I felt God was with me, even in the bad times."
He still had yet to put on a pair of boxing gloves.
In an unusual twist, Rahman was challenged by a neighborhood boxer to what Rahman calls a "body-punching contest." 
"I got the better of him and he said I should stop by the Mack Lewis Gym.  I'll never forget what he said to me.  'You could make a million bucks.'" 
The statement by the neighborhood boxer turned out to be prophetic.
Rahman went to the gym, and he's been there ever since.  His first pro fight took place on Dec. 3, 1994, days after Rahman turned 20.  He made up for lost time by winning a stunning 29 bouts in a row and the United States Boxing Association and International Boxing Federation Intercontinental heavyweight titles. 
His titles were on the line when he stepped between the ropes to face New Zealander David Tua on Dec. 19, 1998.  Rahman had won virtually every round in the fight heading into the ninth round.  Tua had a strong ninth round, but his zeal continued after the bell when he hit Rahman with his vaunted left hook, a clear violation of the rules. 
In what should have been ruled a foul where points could have been deducted, or, at the least, Rahman should been granted up to five minutes to recover.  No points were deducted, and Rahman only received the standard one-minute rest period before answering the bell for round 10. 
Rahman came out understandably unsettled after taking the illegal punch from Tua.  Soon thereafter the referee inexplicably waived off the action in what most ringside observers felt was a premature stoppage, as Rahman appeared to have regained his composure.  To add insult to injury, Rahman was clearly winning the fight on the judges' scorecards, and, in boxing, no one is supposed to win a bout with an illegal punch or foul. 
Rahman won his next two fights by knockout before learning one of the most important lessons of his boxing career against Oleg Maskaev on Nov. 6, 1999, in Atlantic City, N.J. 
"I saw Maskaev when he was knocked out by Oliver McCall in the first round in Virginia, so I thought it was going to be an easy fight, and I didn't train as hard as I should have," Rahman said.
Rahman began the fight well, winning most of the rounds.  In the seventh round, his lack of pre-fight preparation began to show, and Maskaev made the most of it.  In round eight, Maskaev hit Rahman with a punch that pushed him through the ropes and out of the ring.  To make matters worse, Rahman's head hit the hard floor of the Atlantic City Convention Center, and he was unable to return to the ring within the allotted time period, losing by technical knockout.
"I thoroughly underestimated him, and I paid the price," Rahman said.  "But I learned a valuable lesson:  Never underestimate your opponent."
With only two losses in 33 fights, Rahman entered the 21st century and picked up three successive wins, which earned him a title shot against the reigning World Boxing Council, IBF, and International Boxing Organization heavyweight champion Lennox Lewis in South Africa on April 22.
Much of the pre-fight speculation had centered around Lewis's participation in the filming of a re-make of the 1960's Rat Pack classic Ocean's Eleven, which contains a fight seen with Lewis taking on Wladimir Klitschko, and the fact that he didn't arrive in Johannesburg, which sits at over 6,000 feet above sea level, until just 10 days before the fight.
Meanwhile, Rahman began intensive training two months before the fight in the Catskill Mountains of New York—just as many successful champions had done before him.  Thirty days before the fight, he arrived in Johannesburg to allow time to fully acclimate to the environment before entering the ring.
His hard work paid off.  The bout began at 5:30 a.m. South African time to accommodate broadcast schedules in America, and Rahman started out strong while Lewis pawed at him with his jab between attempts at landing haymakers intended to stop the fight early.  Rahman repelled Lewis and gained confidence, and won rounds, before landing "the right hand that was heard around the world."
Unaffected that Lewis was in his 15th world title fight and hadn't been beaten since Oliver McCall knocked him out in London on Sept. 24, 1994, Rahman charged on into the fifth round.  Rahman pursued the backpedaling Lewis and landed a punch that elicited a smile from the champion indicating he was not hurt—a telltale sign that the punch had, in fact, caught Lewis's attention.  The smile was erased shortly thereafter by a picture-perfect right that sent Lewis crumbling to the mat where he was left in a sprawl while Belgian referee Daniel van der Wiele counted him out.  
At two minutes 32 seconds into the fifth round, "The Rock" had shocked the world and won three world heavyweight titles in what he and his co-managers, Steve Nelson and Stan Hoffman, said was not an upset.
"I came up with one punch.  One punch," Rahman said after the match.  "Not one time since the fight was made was I nervous.  He came out and tried to dictate the pace, but I wouldn't let him."
"After I won the heavyweight title people were asking me if I was going to go to Disneyland like the Super Bowl MVP.  I said: No, I'm going to Mecca."
A lifelong Muslim, Rahman made good on his promise by visiting his religion's holy land soon after winning the heavyweight titles.
"This is the manner in which I am raising my children, so they will have these values instilled in them every day."
One of the biggest bidding wars ever ensued for Rahman's services as he was a free agent when he won the titles.  Don King emerged as the victor, as the champion snubbed television network goliaths HBO and SHOWTIME, who had bid as much as $17 million in attempt to secure the rights to televise his fights. 
A rematch clause Rahman agreed to in the contract he signed for the Lewis fight provided for Lewis to receive a rematch, and a Manhattan federal court judge ruled that the rematch would be immediate.
"I'm going to make over $10 million to fight Lennox again," Rahman said.  "Am I supposed to be upset?"
On Nov. 17, they met in Rahman vs. Lewis II at the Mandalay Bay Events Center in Las Vegas.  Rahman deviated from the game plan that had served him so well in South Africa.  Gone was the burrowing, attacking style that got him inside of Lewis's lanky-armed defenses to land his powerful right hand.
Lewis changed his style as well.  He noticed that Rahman tended to push his arms out after fighter would throw a left hook, leaving him susceptible to a right hand.  He knew Rahman would be looking for right hands, so in the fourth round Lewis floated a left hook and then launched a roundhouse right that sent Rahman to the canvas.  Rahman valiantly attempted to come to his feet at the count of nine only to slip to the mat again and referee Joe Cortez counted him out.  "I'm not a quitter," Rahman said after the fight.  "Knockouts are a part of boxing."
On June 1, 2002, Rahman, undeterred and determined, took on former, four-time champion Evander Holyfield in a heavyweight eliminator fight, with immediate title contention for the winner at stake.  The two warriors stood toe-to-toe, trading blows before Rahman succumbed after suffering a hemotoma, which swelled to the size of a softball on his forehead, resulting in an eighth-round technical loss.
On March 29, 2003, at The Spectrum in Philadelphia, Rahman had the chance to avenge his loss to David Tua.  It went to the scorecards after 12 rounds with judge Bill Clancy scoring the fight 116-112 for Rahman.  George Hill scored it a draw, and Robert Grasso inexplicably thought Tua had won 116-112.
Rahman's performance earned him the right at another title shot—this time for the WBA crown—against John "The Quietman" Ruiz" at Boardwalk Hall in Atlantic City during Don King's historic night featuring eight world title fights.
Ruiz frustrated Rahman, as he has with so many others, with his brawling style of fighting, winning a unanimous decision.
Rahman, probably the most physically gifted heavyweight in boxing, was very unhappy with his performance and decided to re-dedicate himself to the sport winning his last four bouts.  King has given him another chance to catapult himself back into title contention by including him in Rendezvous with Destiny: Battle for Supremacy on Nov. 13 in Madison Square Garden against Australian surprise Kali Meehan.
""I thought Meehan won his fight with Brewster (on Sept. 4)," Rahman said.  "I told Don to get me the guy who really beat Brewster.  He rocked Lamon to sleep like a baby.  He won't do that to me.  I will be ready to fight this fight and every other fight I have until I am once again champion of the world."
Rahman, 31, makes his home in Las Vegas, with his wife, Crystal, and three children, Hasim Jr., 13, Sharif, 8, and Amirah, 6.