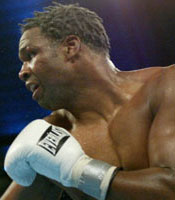 International Boxing Federation Heavyweight Champion
Chris Byrd was the youngest of eight children growing up in Flint, Mich.  He began boxing at age 5, training in his father's boxing academy.  He is still trained by his father Joe Byrd Sr. and father and son still train at the Joe Byrd Boxing Academy.
Byrd began competing in the ring at age 10, and compiled a staggering 275 wins in the amateur ranks.  He was a three-time U.S. champion: 1989, 1991 and 1992.  He was part of a 1991 U.S. team that became the first and only U.S. team to score a tie against the heralded Cuban national team.
His amateur career peaked with Byrd winning a silver medal in the 1992 Olympics in Barcelona, competing in the middleweight division at 165 pounds.
He turned professional on Jan 28, 1993, and established his punching power by knocking out ten of his first 13 opponents.  Byrd remained undefeated for 26 fights, knocking off notable opponents like Uriah Grant, Bert Cooper, Frankie Swindell, Jimmy Thunder and Ross Puritty. 
Full of confidence, Byrd entered his fight with Ike Ibeabuchi on March 20, 1999, with a secret.  He had separated his ribs while sparring with his oldest brother, Joe Jr., but he hid the fact from everyone—even his father. 
He paid the price in the ring while facing the legendarily tough Ibeabuchi.  Byrd was caught by a left hand while on the ropes in the fifth round and appeared as though he would survive the round when the referee stopped the match with just one second left.
Byrd kept fighting and winning until he received a phone call that all boxers dream of.  If he could make it to Berlin, Germany, in seven days, he could be a last-minute replacement and vie for the World Boxing Organization heavyweight title against undefeated Vitali Klitschko.
Byrd took the challenge.  In the fifth round, Byrd began to back up the 6-foot 9-inch giant, much to the Russian's dismay.  He continued to press the action, landing the preponderance of power punches.  Klitschko ended the ninth round and went to his corner complaining of shoulder pain.  He and his corner decided he was unable to continue, and Chris Byrd walked away with a win and the fulfillment of a dream:  a world heavyweight title.
In a unique circumstance, Byrd's next opponent, six months later, was Wladimir Klitschko, Vitali's highly regarded younger brother.  Bryd would again need to travel to Germany, this time Cologne, to make his first title defense on Oct. 14, 2000.
Byrd suffered a tear in the cornea of his left eye in the second round, which hampered his trademark elusive style and made him an easier target for the Russian.  He managed to last 12 rounds in a fight where he had to take more punishment than ever before but lost a unanimous decision.
Undaunted, Byrd desired nothing more than to have another shot at a title.  He went on to give the hard-hitting contender David Tua a boxing lesson in Las Vegas on Aug. 18, 2001, in an IBF heavyweight elimination bout which cemented him in the No.1 position.
This earned Byrd a meeting with the legendary Evander "The Real Deal" Holyfield for the vacant IBF crown in Atlantic City on Dec. 14, 2002. 
His day to fight for the IBF Heavyweight Championship had finally come.  With Lennox Lewis opting not to fight his mandatory defense against Byrd and vacating his title, Chris then fought the next available contender: four-time world heavyweight champion Evander "The Real Deal" Holyfield.
Byrd's boxing skills were simply too much for Holyfield with Byrd winning a lopsided unanimous decision and the title in an impressive performance against one of the best fighters in history.
There is usually little respite for a heavyweight champion with opponents delivering optimal performances, and Byrd has been no exception.  He faced "Fast" Fres Oquendo in his first title defense at Mohegan Sun Hotel & Casino in Connecticut Sept. 20, 2003.
Oquendo fought the fight of his life in a very close match that ended in a split-decision victory for Byrd.  Never one to avoid a challenge, Byrd then agreed to meet his stylistic opposite, brawling Polish strongman Andrew Golota.
Golota gave his best performance since his 1996 heyday when he faced Riddick Bowe in two epic clashes.  This fight also went the distance, but the judges could not determine a winner.  Steve Weisfeld scored it 113-115 for Golota; Melvina Lathan had Byrd winning the fight 115-113; and Tony Paolillo couldn't break the tie at 114-114.
Byrd is delighted to be defending his title again at Madison Square Garden on Nov. 13.
"Jameel McCline is my friend and we tried to avoid fighting each other," Byrd said at a press conference at the Garden announcing the fight on Oct. 2, "but eventually the top guys have to fight.  I fought my brother Patrick in the amateurs, and although I love him, we fought like dogs.  May the best man win."
Byrd's favorite movie is Gladiator.  He loves hot wings and pizza.  He's a big fan of traditional Christian music.  He loves to spend time with his seven athletic brothers and sisters. 
Byrd manages his own career with the help of his wife, Tracy.  They have three children:  Jordon, 12, Justin, 10, and Sydney, 6. He is promoted by Don King in association with Bill Kozerski's Fight Night.