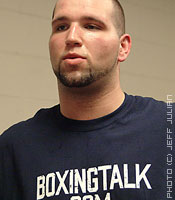 March 18th was a big fight day in Atlantic City.  Trainer Marshall Kauffman's hotel room overlooking the ocean at Bally's was a beehive of activity.  Family and friends crowded every available space, the room phone and various cell phones rang constantly, gear had to be packed, showers taken and tickets distributed.  But here amidst all the hectic activity, Marshall's son Travis, only a few hours away from his biggest fight as a young pro on the undercard of the Hasim Rahman-James Toney WBC Heavyweight Championship, was calm and relaxed as he joked and clowned around.  For a boxer there is a fine line between being relaxed and confident and being intense and 'on edge" for a fight.  A lot can happen in a young fighter's mind as fight time approaches.  How he balances these emotions can determine his success when he finally enters the ring.  This would be his third bout as a professional after enjoying a successful amateur career.  He had been ranked as the number one amateur heavyweight in the country, but he was finding out the pro ranks was a bit different.  One thing was certain – this was an important day for Team Kauffman.
An hour or so earlier, Marshall watched as long-time adversaries Don King and Bob Arum held a rare press conference touting their upcoming Mayweather-Judah PPV event. The ballroom at Bally's was filled with boxing luminaries.  In the room were various Hall of Famers such as Emile Griffith, Bert Sugar, Emmanuel Stewart, as well as King and Arum.  Also present were HBO personalities and executives, top promotional people, some of boxing's finest scribes and photographers, and miscellaneous celebrities including Oscar winning screenwriter Budd Schulberg and world-renowned artist LeRoy Neiman.  In other words, a lot of big-name people were in town and excitement was in the air.  Though not one to show it, Marshall was naturally both excited and nervous for his son – this was a big stage, especially so early in a career.
Eventually, everyone had left the hotel room and father and son grabbed their gear, headed down the elevator, through the casino floor, and outside for the short walk up the boardwalk to what was the old convention center.  The rest of Team Kauffman gathered at Boardwalk Hall.  They included strength and conditioning coach Joe Pastore, cutman Sid Brumbach, and co-managers Jim Fannin and Dan Owens.  They made their way to the undercard dressing room and dumped their gear in a corner.  They ventured out into the still empty venue to quick check out the ring, pleased that it was soft – a "puncher's ring".  Back in the shared dressing room there was still some time to relax and catch up with old friends and acquaintances from the close-knit world that is boxing. Many stopped by to say hello and grab a friendly handshake or hug and share some stories.  Boxing is a brutal and gritty sport, filled with tough and intense men.  Ironically, though, there can be found many tender and warm moments in what some may think a callous sport.  Many times this can be witnessed in the dressing room.  These guys understand each other and respect each other, even though at some future date they could occupy opposing corners. 
As fight time approaches, Marshall begins to wrap his son's hands – a serious and almost solemn ritual, while Sid organizes the tools of the cutman's trade.  A commission representative signs off on the wraps and the gloves are laced on.  They find an open space in the crowded dressing room and get a quick workout on the pads, while other boxers watch as their hands are wrapped.  Word comes in that their bout is next.  Joe stretches Travis so he is loose and relaxed.  Travis talks briefly with mental coach Jim Fannin.  Father and son kneel in a corner for a quick prayer.  It's fight time, and Team Kauffman leaves the safety of the dressing room for the battleground of the ring.
Travis took control of the fight early.  He pounded his opponent Robert Bell, who was 2-1 with 2 KO's, with left hooks and hard shots to the body.  Bell never had a chance to get things going.  Late in the round, Kauffman switched to southpaw and caught Bell with a perfect right hook, sending him crumbling to the canvas.  At 2:27 of round one, the fight was over.  Travis raised his glove and looked skyward in tribute to the mother he lost several years earlier.  Marshall stormed the ring, and father and son hugged in victory, soon joined by the rest of Team Kauffman.  He was now 3-0 with 3 KO's – a good start.
Back in the dressing room, they quietly celebrated the decisive win, pleased with the results.  They accepted congratulations from the other boxers and trainers and answered questions from a few reporters who ventured in.  Their work done, the rest of the team packed up their gear and ventured out to catch the remaining bouts before the long drive home.  Marshall and Travis were alone now.  As they turned to walk out of the dressing room, Travis slung his arm around his father's shoulder – a son's unspoken way of thanking his Dad.  Just another one of those tender moments in this brutal sport.  As it is with boxing, their future is uncertain – it could hold many highs and lows, but one thing was for certain… this was a good night!
Send questions and comments to: rocanimi@aol.com