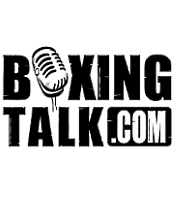 Why are you coming back?
Felix Trinidad: I want to be here and I want to be back in boxing for my people because everybody kept asking me when I was coming back.
Are you ready for whatever Mayorga is going to throw at you?
Felix Trinidad:  I'm ready for everything that Mayorga brings to the table, for boxing, I'm ready for everything he brings to the table for boxing.
If Tito wins this fight will he be looking for a rematch with Bernard Hopkins?
Felix Trinidad: At this moment I will not be able to answer that because I am so focused on this fight, we're going to wait for the result of this fight first then after this fight then we will speak about my future and everything.
What can we expect from you after this fight?
Felix Trinidad: No, its not like I'm coming back for the Mayorga fight then I'm out.  I'm coming back to beat Mayorga then I'm going to see what other fight that could be for me in the future. I don't know how many fights I want to do, but there are some fights that we might have a chance to do.
Do you think your layoff will effect you?
Felix Trinidad: No, I always been a guy who has lived a healthy life and a good life, I always tell people that it may effect some boxers but it doesn't effect others if you have the right style of life, if you take care of yourself and basically we're training hard like I always used to that's the key for being back and in good shape.
Papa: Each time you got to training its hard, training is hard for everybody, we've been training so very very hard in order to get Tito into better condition to show what Tito was in the ring, but even better.
Why Ricardo Mayorga?
Felix Trinidad:  Like I said before, we never choose fighters, it's a challenge, and fight a tough guy out there to show people who is the best. And like I said we selected Mayorga to show the people that Tito Trinidad is still the best fighter in the world.
What does it mean to you to fight at MSG in front of all the Puerto Rican fans?
Felix Trinidad: I know Madison Square Garden will be very full, and full my fans chanting my name "Tito," "Tito" and that energy that they show me is the energy that I take and help me a lot to get more energy.
How does Tito plan to knock out Mayorga if he drops his hands and allows a free shot?
Felix Trinidad:  In the ring you can expect a lot of things from fighters, if they bring that to that night in there and I can hit him we'll see if he really can take my punches, anyway I'll bring big power in my hands and I will be ready to take him out either way.
How long do you think this fight is going to go?
Felix Trinidad: The fight is supposed to go 12 rounds. I know I have a lot on my hands, I come here very well trained and if that is true that the fight is over very early then that could happen but it's a 12 round fight so lets see what's going to happen in the ring.
What have you been doing in your training?
Felix Trinidad: I've been training so hard for this fight, I have another couple of days of training but I feel ok, I'm ready for the fight. And that's why I'm so calm and confident in my victory and even when we know that fights are tough, I have my mind set for victory.
What did you miss the most about boxing?
Felix Trinidad: Well, you can miss a lot of things about boxing, especially walking to the ring from the dressing room people cheering for you, people out there. So basically that's why I'm back in boxing anything I do is for the love of boxing and the people.
What have you been doing for the past two years?
Felix Trinidad: I've been doing a lot of things, but especially I've been taking care of myself and living well, living the right way. When I say living well I mean living the right way.
Did he go to a lot fights in his time off?
Felix Trinidad: During that time I just went to two or three boxing matches.
What did he think when saw Jones flat out on the ring and possibly very seriously hurt?
Felix Trinidad: When I saw that the referee wasn't counting and he wasn't waking up my first thought was, wow second time in a row he got knocked out.
When you see the great fighters of your generation lose by knock out how do you feel?
Felix Trinidad: Well I don't know a lot about that because first of all I don't know how the train for big fights. I know how I train, and how I do my things I never got a bad feeling for a second about my fight, I'm very positive. I came here to win and I'm going to win, and that's how I feel right now. Their defeats have nothing to do with my fight.
How do you feel about your timing after taking a long lay-off?
Felix Trinidad:  Yes, it's true that you lose a little but of reaction in the ring but it's a question of time and training, and we're training so all those things will come back to you. If you keep training and training and training things begin to get more sharp, conditioning you get in great shape and you know then I get like I used to be.
Papa: Like Tito was saying, this is just a matter of time. We've been training for this fight for six months and each month that has passes he has been better and better and the results you will see when he fights.
What was your daily routine when you were retired?
Felix Trinidad: I've been doing a lot of things, I've been visiting schools, and I think education is important so I've been visiting schools. I've been visiting sick people in hospitals, I like cock fights a lot so I go there, and I have a new baby that just came and I share a lot of things with my friends and family that I couldn't in the past because of my training condition. I've been taking care of my family and friends and share with people and help the. Basically that's been my life. Also since I didn't have to get up at 4 in the morning to run I sleep more, and I got to eat anything I wanted. And now I have more time to be with my mom, and the rest of my family. I also like horses, I have some and while I was on vacation I would go and ride them free, because I had no worries. So I've been doing a lot of things that wanted to, and that was basically my lifestyle during my vacation. Honestly, that fire is inside of me is burning and that is why I am back, if that wasn't there I wouldn't be back in boxing.
Does Mayorga's behavior bother you at all?
Felix Trinidad:  He's been talking too much but it doesn't bother me at all because to be honest with you I like boxers like that because when I go into the ring I'm going to hit him hard. I feel ok, I feel good because I know I'm meeting a guy who has been talking too much, so he monkeys with me but he's helping me to hit him harder. I'm not losing focus or timing, but I feel well when I hit him hard because I know he's been talking too much.
How would you explain your son's popularity, and does it surprise you?
Papa: I think there was a couple of weeks of spite, but he's still popular and people still love him.  The latino people that have been with him, watching his career see his championship. People know he never quits and they know that he accepts all challenges in his career, he fights the right people, the tough people to she that he is the best. Out of boxing he has been a good human being, giving back. He felt the love that the people gave him and he gave it back when he signs autographs, and poses for pictures and I think his popularity that he gained right now is with his behavior out of the ring and that is the reason why people are still calling him a champion when they see him. Its for what he did for boxing and for the people.
Are you looking for a big name fight?
Felix Trinidad: Well at this moment my mind is set up just for Mayorga and that's the only fight I'm looking for right now, and after the fight I know those big names are out there but I don't want to talk about anyone right now I just want to focus on the Mayorga fight.
At any moment did Don King Productions tell you this fight now happen because of Mayorga's behavior?
Felix Trinidad: At one point I thought myself with this guy's type of behavior I might want to fight somebody else, but now that he's calm and he's here the fight will happen.
Does Tito think Mayorga is a dangerous opponent and does he respect him?
Papa: I've been watching Mayorga's other fights and I know he likes to brawl, he's coming to fight, to punch him and everything. Yes I have respect for Mayorga but it's not the respect that when you feel afraid of him. Respect that he is another boxer coming to fight, that kind of respect.
Can you tell me something about Mayorga coming up to fight 160?
Felix Trinidad:  Well Mayorga is a fighter that is coming up from 147, he already did a fight at 156 and it's a fight a fight that he's coming up to 160. Yes its something that is going to affect him but the reason why is because its going to be Tito in the other corner.
Do you think this fight is going to be tough for you in the ring?
Felix Trinidad: I feel in my past couple of fights the fighter has been aggressive with me and I have taken advantage of that aggressiveness from them and I feel that if Mayorga comes in that way I will take advantage of that too.
What do you feel about the defeat of Oscar?
Felix Trinidad: Well he has another defeat.
Have you studied Mayorga's fights with Spinks and Forrest?
Felix Trinidad: Those were two different types of fights. You have one who is a tall fighter and one who is a smaller one, you have a right hander, and one was a southpaw. But I have been watching those fights and I have been preparing myself for whatever he brings into the ring, I ready.
Do you feel any pressure being an icon, is there any concern about disappointing your fans?
Felix Trinidad: To be honest, I feel very well when I see people that support my career and my self, and when people know who I am and know my name it feels very well. I don't feel afraid of disappointing anybody, I'm coming back to New York and it feels good but I don't feel any kind of pressure.
In case things don't go the way you're planning do you recommend that Tito retire?
Papa: We're just a couple of days away from this fight and we just want to focus on this fight. Lets wait to see this fight and after we will assess everything and we will make a decision on what to do. But at this moment there is not a negative thought in my mind about it, I'm very confident that Tito will beat Mayorga and walk out of the ring a winner.
How many fights would you want to see Tito fight in 2005?
Papa: It's going to be all that we can show on tv for the people.
What pace does his father want to keep him at?
Papa:  Well at this moment Tito already made a great career out of boxing, at this moment its going to be step by step. This is the first fight, after this fight we will analyze and each time he goes back to the ring after the fight then we analyze what is going to be the next step and move and that's what will determine what will be the time frame for each fight.
What were your thoughts when Tito told you he wanted to come back and fight?
Papa: That is the thing where I didn't recommend that Tito go out of boxing and go forward and retire, since that moment I knew that things like that would happen because Tito did not leave boxing because he was hurt or anything like that but because of the situation and the time, that specific time in his career that we wouldn't recommend he leave boxing. So when he came back to me I took him and my advice for him was take the support of his family and he has that kind of support then we are back.
Why are you fighting for this kind of title?
Felix Trinidad: The reason why we are fighting for this kind of belt is because the belt of the organization are all held by one fighter and you know who it is so they wanted a 12 round fight.
Felix Trinidad:  No I feel that I have a big following with the press over there, and with the people so I feel that from the second I win there will be a great celebration with my people and I am very grateful and I always say that I am very grateful for what Puerto Rico has given to me also the people of Puerto Rico are very grateful for what I have done for them and my country.
Did you think your first fight back would be a tune up fight instead of fighting Mayorga?
Felix Trinidad: No I never thought about tune up fights, we prefer always going right to the big fights.  I think I'm going to win, we're prepared to win by knockout or by decision if the knockout comes it will be best but I'm prepared to win most importantly.