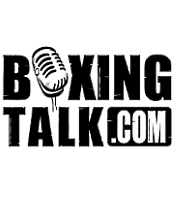 JA: Your fighting a very tough fighter in Rustam Nugaev. You took the fight on short notice am I correct? "Yeah they called me about a week ago and asked if I wanted the fight. I am having a little weight problems but everything seems to be on point. This is going to be the toughest guy that I have faced in my professional career."

JA: Is that going to be a problem for you with losing the weight?

AM: No not at all, I did this before on short notice. I am still young so I can still get away with it [laughs].

JA: Do you think that its dangerous for you to take a fight on such short notice?

AM: No it wasn't really that short notice, I had a week, and a half to train and prepare for this fight. I fought on short notice on January 31st and I got my self in real good shape and felt really strong during the fight. I want to be consistent and get back in the ring as soon as I can.

JA: Do you know a lot of Rustam Nugaev?

AM: Yeah I actually saw tapes on this guy. He is good, has fast hands, hands real high, great offense. My goal is to just break him down.

JA: Are you predicting a knockout?

AM: I don't predict knockouts. If the knockout comes it comes but I do predict a victory.

JA: A lot of people are probably considering you to be the underdog in this fight…

AM: [Cutting In] Yeah and I like to be the underdog. It gives me more motivation to knock this guy out.

JA: This is going to be your first time fighting on Showtime?

AM: Yes this is going to be my first.

JA: Does this make it even more important to show people that your no slouch?

AM: Yeah definitely. I don't get no stage fright and the cameras don't really bother me. After the fight knowing that I was on TV will be cool but right now it doesn't really bother me.

JA: Are you in "Fight Mode" right now.

AM: Yeah of course. I am just getting ready to weigh in and I will go over my strategy for the fight. I am right on schedule.

JA: I know you're a busy guy and getting ready to hit the mitts so we will keep it short. Is there anything that you would like to say in closing?

AM: I just want the fans to tune in Friday on Shobox, your going to see a great show and GOD willing I will come out victorious.


Send questions and comments to: aldenjimmy@cox.net