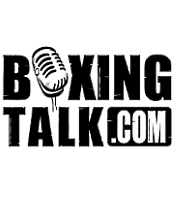 "He is going to have to bring some ass to get some ass if he thinks he is just going to be able to get to my body"
Boxingtalk.com recently caught up with Welterweight prospect Thomas "The One" Davis 9-1-1(5) as he was all set to take on two time Olympian and 1996 Turkish Olympic silver medalist Nurhan Suleyman 14-1(6) tonight at the Sovereign Bank Arena in Trenton, New Jersey. Many of you might remember the Knoxville, Tennessee native as the guy who stopped previously undefeated Jr. Welterweight prospect Kendall "Rated-R" Holt 15-1(11) back in mid-June in the first round of there action packed 2:59 bout. In this one on one exclusive we spoke to the former amateur standout about tonight's fight as well as his future plans and the message he has issued to the division "Tell them Welterweights Beware because "The One" is here".
RC: What's going on Tommy?
TD: I'm doing good. We are very optimistic of this fight man. We are not taking anything from Suleyman, but we are going to do our thing
RC: How did training go for this fight?
TD: Ooh training went great, training is always great. I train all of the time; because you know when you get to this level promoters want to call you with two weeks notice so you always have to be prepared. I weighed in at 148 ¼, the contract was for 149lbs plus one, and he came in at 149 ¾ so I gave him a pound to show him that I was ready.
RC: Give us your thoughts on Suleyman as a fighter?
TD: I think Suleyman is a very very seasoned fighter. I have a lot of respect for him and all what he has done in the sport of boxing. He had around 400 amateur fights, he is a two time Turkish Olympian and you got to give a man like that his respect and take your hat off to him. He is 14-1 as a pro, he lost his title bid against a tough fighter in David Estrada 17-1(8) but you still got to respect him.
RC: He made it clear in an interview here on Boxingtalk.com with our very own Darren Nichols that he plans to attack the body, which shouldn't really be hard for him to do with your tall frame, do you have something in store to counter his plan?
TD: Honestly man, what we are going to do is do what Thomas "The One" Davis do, and that is box. We are going to work our jab, we are going to hook off of the jab, we got long hands and we are going to make him make mistakes. I have been boxing for 19 years and I have always bee tall for any weight class that I have been in. Even when I was fighting 106lbs I was tall, and that has always been my opponents' game plan to attack my body so that is nothing new to me. My body is strong and my defense is nice so I am not realty worried about that. The only thing he has to worry about is when he is trying to attack my body, is covering up. Because you leave yourself open when you try to attack someone's body, and we are going to counterpunch off of that, and just do me.
RC: What do you think about his last performance against Estrada?
TD: I don't think that was his best effort against Estrada, I think he could have probably did more, I don't know if it was his conditioning or if David Estrada posed that much of a problem for him by throwing a lot of punches. I honestly don't know because I wasn't in the ring with him so I don't know what was going throw his mind. Estrada beat him easily though.
RC: What would it mean to you if you defeated Suleyman who is like you said a two time Olympian and silver medalist?
TS: Man, for me to beat Suleyman at this level, it would have to open up a lot of eyes coming off my win against Kendall in the fashion that I did it in, and it being on T.V. For me to beat Suleyman with the accolades that he has, it would be very big for my career. At this stage right now Mr. Campbell I am not really fighting for the money right now, because I understand where I got to get to. When I fought against Kendall, I was fighting more for the opportunity than I was the money, and that is the same thing with this fight right here, it is to show the boxing world that I am a legit contender, and that is what we are doing right now.
RC: Many felt that they are still many unanswered questions about you, mainly because it seems as if Holt had you out in the first round and you some how managed to survive his onslaught before being able to land that perfectly timed straight counter right hand, do you feel that a victory over Suleyman would put that debate to rest?
TD: Once again people who are on the outside looking in, I was never really seriously hurt in that fight. He rocked me with some good right hands, I would give him that much credit, but with my conditioning and my heart, and I do have a good chin, I was never really hurt, I was probably dazed for a couple seconds, but my recovery was really really quick. And when he was winning and people thought I was hurt, I was really checking out what he was doing. He just got real careless. Now with Suleyman he is very experienced and has had a lot of fights, but he too makes a lot of mistakes. He punches with his hands down, and I think that is really an advantage for taller fighters. I have a 78in. reach and he fights with his left hand down, I mean why he does that? I really don't know and I really don't care, but I am just going to try and take advantage of a lot of mistakes he makes. He is going to have to bring some ass to get some ass if he thinks he is just going to be able to get to my body.
RC: Not many people know much about you, why don't you tell us a little bit about Tommy Davis and your past in boxing?
TD: I have been fighting for 19 years, I fought three years in the Marine Corp under Coach Roosevelt Sanders. I am an armed forces champion, and a U.S. national silver medalist, I was ranked as high as number two in the amateurs at 147lbs in 96-97. I lost to Fernando Vargas in the Olympic trails and that was in 96. I fought him with a broke hand, and got decisioned. And I feel that I am the future of the welterweight division.
RC: Have you faced any other notable pros as an amateur?
TD: Well no one to really brag or boast about, no one that's worth mentioning. Right now I know Vargas is my measuring stick, I see where he has gotten and if I stay focused I know I can get to where he is and that is being a world champion with a lot of money.
RC: You turned pro in 97, and have been off and on, you took a three year layoff, why such a big break?
TD: Well I suffered a hand injury, and I had to do some soul searching, I wasn't living right, I was doing things that I shouldn't have been doing and I had to do some soul searching. Before I got on ESPN I had got a job working with kids and that really got me grounded after knowing about their struggles and what I was going to through, and how blessed I was coming up. I have always had a love and a passion to box, then I got my hand fixed and now I am back, everything happens for reason, you know what I mean.
RC: After taking three years off, you came you attempted to get right back in the mix by taking on once beaten prospect Luis Collazo, and then undefeated prospect Kendall Holt, at age 32 you obviously have a sense or urgency, but do you ever feel that you might be rushing things a bit to much?
TD: Well honestly if I feel like I am the best welterweight and if I hadn't hurt my hand, I would have already been where some of those world champions are right now. The Floyd Mayweathers, the Antonio Tarvers, and even Omar Sheika who never won a world title, but he made a really good name for himself in this sport, and all of the other guys that came out of the 1996 class. I mean I was right there with them guys, I was right there with Vargas punch for punch and he out pointed me. On top f that I did that with a broke hand so I know I can get there. I don't actually feel as if I am rushing my career, I have been ready, and I am just ready to do my thing and these cats are sleeping on me which is good for me.
RC: What has life been like since stopping Kendall Holt in the first of your meeting earlier this year?
TD: Well you they voted me #1 for ESPN's round of the year top ten, I was number one in that. It was a very good fight, and I am getting a lot of praise back home in Tennessee and I have people supporting and they are behind me and want me to bring that title back home, because we haven't had one there since Big John Tate won a title back in '79, but honestly a lot really hasn't  changed. I am still the same old me.
RC: Tommy, Making the #1 round of the year on ESPN, defeating an undefeated prospect on National Television in your second fight back, and with all of the attention you have been receiving back home, how have you managed to stay grounded going into this fight, and not get distracted like what many felt happened to Kendall Holt?
TD: Because I don't have a big time promoter behind me, I have two kids that I still have to pay child support for. I still don't have things that most 32 year olds have. I am still struggling and I already feel that that is the way it is set up, because as long as I am struggling and I don't have things that Kendall had, I will always stay hungry and focused.
RC: What can those on hand tonight expect from "The One" Tommy Davis?
TD: They can expect to see me doing my thing man, we are going to go outbox, and we are going to end up boxing. Whatever picture Suleyman poses to me, that is the way I will attack it. I am really excited, I cannot wait, I wish I could put something on right now and go at it.
RC: Do you have a prediction for this fight?
TD: Thomas Davis victorious. I am not going to call a knockout, I am not going to say I am going to go in there and beat him to death. I don't really like leaving fights up to the judges but if it comes down to that I am going to make it so one sided they are not going to have no choice to give me the nod.
RC: Is there anything else you would like to add in closing?
TD: Just thanks for the support, and after this fight I still want Ishe Smith. So we will take care of this fight and see how things develop.
RC: Any particular reason why you will gun for Smith oppose to any of the other top Welterweight  prospects turned contenders like Chris Smith and Kermit Cintron?
TD: Because I really feel that Cintron is out of my reach right now with me just having eleven fights. They have too much to loose in fighting me, so why would they chance that? He is already number four, and I am ranked 176, so why would they take that chance? So that is a fight that has to materialize once I keep knocking these guys out, so I am being realistic. And I think an Ishe Smith fight is more realistic than a Kermit Cintron, Zab Judah or somebody like that because they are like way out of my reach right now. Ishe seems to be that guy right now, Chris Smith does too, but they have other plans for him right now. I think I have a better chance of getting a fight with Ishe rather than any other guy. For one he fought David Estrada, Estrada fought and beat Suleyman so I feel like right now I am in that circle. At the same time though, I am not looking past Suleyman, my focus is right here in Trenton New Jersey at the Sovereign Bank Arena at 7:30.
RC: Word is that Kendall Holt was trying to get you back into the ring, is that a rematch you will honor?
TD: Sure, I read the piece when he called you screaming on your voicemail talking about he will knockout me out, and it remains to be seen if he can knock me out. But something that we do know and it is true, is that I can knock him out. Now I am not trying to get smart that is just the facts. So that is a fight that I am not scared of, and I was not scared when I first took it. I will be the bigger man, I will still be hungrier and when I fight him I will still feel as if I have something to prove. If they can get that fight on ESPN on Tuesday or Friday night fights in Knoxville then we can do it. It he wants to fight again that bad tell him to get his boy (Dino) Duva to do an ESPN show and bring the fight to my hometown. I mean if he wants me that bad then all they have to do is make it happen.
"Tell them Welterweights Beware because "The One" is here"
CLICK HERE FOR MORE OF THIS EXCLUSIVE INTERVIEW
Send questions and comments to: raycampbell@hotmail.com