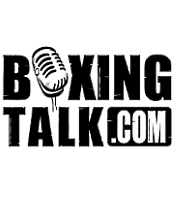 "My whole purpose is to bring back excitement to professional boxing"
Boxingtalk.com recently spoke to 2004 Haitian Olympian Andre Berto, who is expected to make his highly anticipated professional debut sometime in December. "My whole purpose is to bring back excitement to professional boxing" stated the very confident Winter Haven, FL native. Berto, 21, a former top-ranked boxer on the U.S. national team ended up representing his Mom and Dad's native Haiti after being on the short end of two controversial disqualifications in the USA team Trails. Initially a grievance committee ruled in favor for Berto, but a second overturned the decision which led to him participating in the Olympic qualifying tournament in Mexico where the second disqualification took place. After which Berto switched his nationality, because he has dual citizenship he decided to represent Haiti as their one man team. "I just wanted to show everybody that I had the drive, and the motivation to get to the Olympics. That was my whole goal, that was the only thing I really wanted to get to in the amateurs, it was to reach my dream of going to the Olympic Games" Read on to see what else Andre had to say about his Olympic experience and his thoughts on the 2000 class which he feels messed it up for the 2004 class.
RC: What's going on Dre?
AB: I'm just chilling
RC: I have been hearing some rumblings about you possibly signing with a New York based promoter?
AB: (Starts to laugh) It might be, I hear they got a lot of talk in New York about me. But you know……I don't know yet, possibly there have been talks, and a few have shown a lot of interest. We are just waiting and hopefully soon we might make it happen. I am just hoping everything goes down smooth so we can go ahead and make it happen. Right now we are just sitting back and hopefully we get things settled here in the next few weeks so I can get in the ring and start rumbling.
RC: What has post Athens life been like for you?
AB: Man it has been pretty good. Back home here in Winter Haven, Fl in my area of Polk County, I am the first Olympian Boxer to go to the Olympics and everybody gives me a lot of respect and madd props, so that has me feeling pretty good. I have been doing my thing for a while, and everybody in my city watched me grow up doing this thing, and staying focused for so long. Since I was ten years old, I have been training, running and fighting in these tournaments. Now it is like I reached the peak of amateur boxing and went on to the 2004 Olympic games and coming from a small city like this they give me so much love.
RC: Despite not winning, you seem to have some type of closure with your amateur career, and I would imagine that after going through the disqualification then appeal process, then eventually getting the opportunity to fight for your Mom and Dad's native country of Haiti, and to have it all end by two points, I would imagine that hurts more than loosing by say 10 or 15 poi…
AB: (Cutting in) Yeah yeah! Man, it really hurt me man, but I had to look at the whole picture of it. I went through so much adversity, so much of the trauma of the Olympic trails; you know going into the Olympic trails being ranked the #1 seed and representing the United States forever, like going to those international tournaments with the U.S., winning the bronze medal at the world championships for the U.S., doing things like that and then to get disqualified at the trails, then to get put back in, then to fight again to beat the guy that made the team. It never really hurt me but I just wanted to show everybody that I had the drive, and the motivation to get to the Olympics. That was my whole goal, that was the only thing I really wanted to get to in the amateurs, it was to reach my dream of going to the Olympic Games, and walk in to the opening ceremonies and all of that. And at that point it didn't matter what team I was on, if I was with Mexico, or if I was with Japan, as long as I reached my goal and made it to Athens. Then I got a chance to represent Haiti which is my parents homeland, so they was loving it, But I went out there and represented both the United States and Haiti, and I say that because both countries make me so I felt good about it.
Then the fight with the Frenchman, it was kind of wild man, and everybody know I don't have too much of the amateur point system style. And in a way it kind of takes the fun from watching the Olympic Games because of that. It changed everybody's style. Everybody was running around tapping each other, and they didn't really want to fight at all, but hey that is just the way it is right now. I am passed that, I am ready to go ahead, start this new thing here, and give everybody what they have been waiting for, for along time man.
RC: In your opinion, what do you think the United States can do to better prepare their fighters for international competition which could possibly help our fighter advanced further in Olympic competition?
AB: I think they should take them to a lot more international tournament so they can be seen on the international scene, in the Olympics they show favoritism towards a lot of the fighters. There is a lot of competition out there, they are in there fighting the European style, and they are in there fighting Cubans and everybody else so they need to get them use to those other styles of fighting.. They need to take those kids out to some of the world championships, and keep them constantly going to these international's, so they can get use to seeing those styles of fighting and so the international judges can see these guys and remember them. Basically they just need to get a lot of recognition on the international scene, that's all. I believe that is where we lack at, like a lot of these other countries like Cuba, they go to any and every international tournament there is, just so they can be seen, just so they can go out there and test the waters out, before the Olympic games, I think that is what we need to step up on.
RC: Do you still keep in contact with any of the 2004 U.S. Olympians?
AB: Yeah, as matter of fact I keep in touch with probably all of them. I have been talking to a lot of those guys on and off; a lot of them have been calling me just to see what I am doing. You know all of those guys off of the U.S team; I basically grew up with them through the USA boxing program, from the J.O's (Junior Olympics) all the way up to the open division, so I love them kids like brothers man, so you know we all keep in touch, and hopefully we will see all of them do their thing through the pros.
RC: 2000 Olympic silver medallist Ricardo Williams Jr. received a whopping $1.4 Million dollar signing bonus coming off his Olympic performance, he did his thing for a while then lost when he stepped up his level of competition in a fight many felt he lost because of his conditioning, then he makes a comeback and loose to a journeyman, and now unfortunate for him he might be doing time in a federal prison on drug related charges. Now fast forward to 2004, Andre Ward captured Olympic Gold in Athens Greece, and has yet to receive any offers anywhere close to that of Williams, does that kind of……
AB: (Cutting in) Yeah man, those guys really, really the whole 2000 team messed it up for us. Because a lot of those guys got so much up front money, then they just lost their drive and lost their hunger. They thought they already made it, they had been working hard all of those years and once they got all that money in their pocket they were saying "Aww Man I really don't have to do too much, I already got this money that I need" But you know a lot of these guys they need to understand man, the amateur is just half of it, the pros is where you get looked at.
And as for me, I mean that money wouldn't have really do nothing for me anyway, if I would have gotten all of that money I would have still wanted to be recognized for what I do in the ring. As a professional, I want to win titles, I want to just try to accomplish many things as professional. I want people to recognize me for what I do, which is for my skills inside the ring instead of flashing the money around and things like that. A lot of those guys just lost their hunger, lost their drive and you see what happen. A lot of them fell off, QUICK!
It is real crazy man, but then again, it taught us, you know even though we are not getting as much, it taught us that we really just need to grind and work hard for what we want, and I know a lot of got that in us, and willing to do it now. Some of these guys are still kind of heart broken because of the money situation, but they got to go on grinding and go on ahead and get it. You don't get rich off your up front signing bonus anyway.
RC: So when can we expect the highly anticipated professional debut of Andre Berto?
AB: Mannn (Long Sigh), hopefully man, I want to hopefully debut by the end of this year, hopefully some time in December, hopefully. I have been down here in camp with Winky Wright getting him ready for his fight with Shane. He is looking real sharp, eh is going to go ahead and do that quick repeat.
I have been down here training with these guys, these world champions. Jeff Lacy and a lot of guys like that, they keep motivated and they keep me strong. They are like my brothers. I am just ready to get it on, hopefully we can get all of papers done, and get contracts signed and hopefully get ready to rock and roll hopefully sometime in December we can give everybody what they want to see, because everybody knows how I get down. My whole purpose is to bring back excitement to professional boxing.
RC: In the amateurs you fought at 152lbs, where do you plan on making your debut, at 147lbs of 154lbs?
AB: I want to debut at 147lbs, I am just going to start out at 147lbs.
RC: Is it going to be difficult trying to make 147lbs?
AB: Nah, in the Olympics, I was fighting at 152lbs, but I was weighing in at 148-149lbs, so I think I will be good.
RC: Who will be managing your career?
AB: We have talked to a few guys as far as dealing with management. But as of right now, everything hasn't got worked out yet on the management end yet. So hopefully we will get the promotional aspect all worked out right now, because we are closer to a promotional deal, than we are with a manager.
RC: Give us your thoughts on the Welterweight division right now?
AB: Like the whole of boxing right now, like the last few months we are basically seeing an end of an era. Tyson went down, De La Hoya wet down, and Bernard has a few more fights. Roy Jones lost, Evander Holyfield, you know guys like that, but like they say all good things come to an end and it is up to the prospects out there to step it up. So it is time for a whole bunch of new cats to come in and take charge.
As far as the Welterweight division right now, we have my boy up there Cory Spinks, He is like a real sharp boxer, he is the undisputed champion and you can't take nothing away from him because he is doing his thing right now. You got Zab Judah, but I don't really think there is too much excitement right now. I mean Cory Spinks is doing his thing, he is just winning fights taking this guys to school, but I don't really see too much excitement in all of boxing right now. So hopefully when I come into….. that is the main thing I am training to bring to the game. Because I bought a lot of excitement through the amateurs and hopefully I can chance it over to the pros.
RC: I spoke to Dan Birmingham recently, and once again he told me that you are a key factor in helping prepare Winky Wright for Shane Mosley, what has that been like preparing with him for one of the biggest fights of his career?
AB: Yeah man, Winky and I go way back. He knows me since I was little kid; coming up fighting on the local shows I have known Wink. He is like a role model to me, and every time I am in the ring with him sparring, I try to do the best I can because I know Winky is a smart veteran and he is always there to teach me in the ring at all times, so I just try to go in there and try to learn all what I can learn in there with him, he is a sharp cat. I think he is the best southpaw in boxing right now, he is just not getting the recognition but I think he is going to go ahead and beat the hell out of Shane again and hopefully go on to some bigger fights and get the recognition he deserves.
RC: Who are some of the fighters you looked up to as an amateur?
AB: My whole back home base, all of my Florida fighters. My man Winky, you know I seen him go through a whole bunch of hard times and now he is just making the way he wants to, my man Jeff (Lacy) he has been through a few struggles, now he is doing his thing. Antonio Tarver, Roy (Jones), and a few other fighters like Tyson, man I idolized Tyson coming up, Sugar Shane Mosley, "Too sharp" (Johnson), De La Hoya I was into watching a lot of those guys coming up. I use to be a boxingholic. I idolized everybody really; I took a little bit from everybody and learned all I can.
RC: Is there anything you would like to say to all of the Boxingtalk.com fans out there?
AB: Everybody just need to stay tune, because after the Olympics it is just brief, brief intermission right now, and man they just better be prepared to see one of the hottest pro prospects since Tyson in his prime baby, I am going to be up there really making a statement and bring excitement to professional boxing. I want everybody to just stay tuned and just be ready to see a young lion come out there with a lot of heart, a lot of passion, a lot of pride for the game go out there and do his thing.
CLICK HERE FOR MORE OF THIS EXCLUSIVE INTERVIEW
Send questions and comments to: rayocampbelljr@hotmail.com