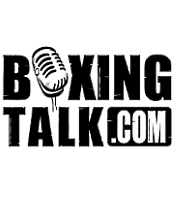 JA: A lot of people may be curious to know how you came up with the name Jewboy Promotions for your company
. "I had a couple of comments like that before. I am Jewish, my dad is from Mexico and my mom is from Israel. Naming my promotional company was not intended to offend anyone, I am Jewish."
JA: How did you get started in the boxing business?
ZR: I grew up in a boxing family, my three uncles grew up in the Olympic auditorium in LA, my father was a boxer and they were all decorated amateurs.  As a young kid I used to fight in the amateurs a lot, I didn't turn pro because of family circumstances that didn't able me to continue. Boxing is in my blood and when I was put in a position to build my own promotional company, I made it happen.
JA: How long has your company been in business been in for?
ZR: I was actually was a manager for 3 years and then I decided to promote, I started to promote about a year and half ago. I have actually escalated my business in a really short period of time.
JA: Where is your Promotional Company based out of?
ZR: We are actually located out of Arizona but I am in Vegas a lot of the time working out of the Top Rank gym. We are going to be doing about 5 shows in Colorado and we should be moving in to Vegas at the end of the year and promoting shows out there real soon.
JA: Tell us a little bit about the card that you have coming up this Saturday night.
ZR: I am excited about this card. One of my superstars that I have Marvin Brewer Jr. is a superstar who has 187 amateur fights; he has 14 Grand National champions and is 7-0 as a professional. My self, his father and Marvin had a long talk and we decided to move up and that is why we decided take on Mr. Scott and goes right to the top. There is no stopping a prospect like Marvin. 
JA: Tell us the reception that you have received in Colorado?
ZR: When I first came out here I was hoping that it would be a boxing community, I think that it is. The show that I did on December 3rd in Colorado did fairly good; it wasn't like the one I expected. The second show I did was better and I think that the third show that we are doing Saturday night I think is going to be better because of the amount of competition we have on the card. We are excited about the card we have this coming Saturday night.
JA: How many fights are you going to have on the card on Saturday night?
ZR: Right now we have 6 fights on the card. The other fighter who is on the card in Ronald "the American dream" Johnston from Cleveland, Ohio. He is another superstar as an amateur who is 7-1; he is stepping up and taking on Lou Petta. I look for a great fight night this Saturday night.
JA: How have ticket sales been for this fight?
ZR: At this time I believe we have over 300 tickets sold and we have all the VIP tables sold out. I believe that this is going to be a sell out because we have been getting great vibes from the community.
JA: What are some of the goals that you have for your company in 2006?
ZR: I hope that we have an elite stable of fighters and take them to the top and then eventually go big time. I would hope to do fights with HBO and Showtime sometime in the near future. That would be my dreams come true as long as the fighters dream comes true. That is the objective that I have for the company.
JA: Is there anything that you would like to say in closing?
ZR: I would just like to say that it is a privilege to get in the boxing world. I have signed some really young superstars and continue to look for them in the future. I appreciate the time that you have given me to conduct this interview.
JA: The super middleweight division is heating up right now, do you see that there is a lot to gain in the super middleweight division?
RJ: I feel that right now with my skills and talent that there is no super middleweight out there that can beat me. In 2006 I am going out there too prove that, we are stepping up our opponenets and oppsosition. By the end of the year I want to be in the top 10 of the rankings and by the end of December I believe that I can beat Jeff Lacy.
JA: A lot of people that are going to be reading this may think that is a little bit crazy.
RJ: I have superior boxing skills, I have confidence and I have natural born talents that Lacy wouldn't be able to deal with. Don't get me wrong Jeff is a great fighter but I think that I can beat him by using my jab.
JA:  How many fights would you like to fight in 2006?
RJ: I would like to finish up this year with about 8 fights under my belt for 2006. I want to fight at least once a month. I am going to dedicate 2006 strictly to boxing.
JA: Who is on your hit list in the super middleweight division?
RJ: Randy Griffin, Allan Greene, I seen him when knocked out Jaidon Codrington, I would like to see him step up and fight a real super middleweight like my self. I would like to fight Scott Pemberton, Randy Griffin, Jesse Brinkley, Joey Spina, I want to fight any of the guys in the super middleweight division.
JA: What can we expect to see out of yourself on Saturday night?
RJ: You can expect to see a boxing clinic. You're going to see me work off my left jab and use superior boxing skills. I am going to make sure that I get the win and if the knockout comes it comes.
JA: Are you predicting a knockout?
RJ: Yeah I think that I am going to knock him out in the 4th or 5th round; I see my self getting stronger as the fight goes on. I am going to come out and feel him out, I hear that he is a tough opponent but you know that I can deal with it.
JA: Is there anything that you would like to say in closing to your fans out there on Boxingtalk.com?
RJ: I would like too thank Jewboy Promotions for helping me along the way. I would like to thank the fans for all there continued support. You are going to see the "American Dream" go straight to the top in 2006.
Send questions and comments to: aldenjimmy@cox.net