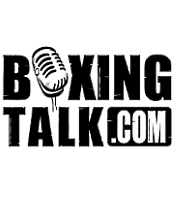 JA: The fight didn't go as you guys planned Roland right?
"You cannot count on certain things not happening. You saw what happened with the cut and Yanqui Diaz is notorious for that, he has a couple of no contests and a few fights where he got cut. We didn't get cut so we can get right back on the horse."
JA: Was it a head butt?
RE: Yeah it was a head butt. Jason ducked lower than he did and caught him on the way up.
JA: How frustrating is it for you to spend all this time getting ready for the fight and to have it end like that.
RE:  Yeah the whole thing was frustrating because of the way we were treated coming in last like that. We took a gamble because we wanted to get on ESPN. It did work out because we did get a little bit of air time but the fight didn't work out. It sucks because we worked two hard months and then it all goes down the drain as a no decision.
JA: How is Jason doing?
RE: Jason is doing fine, everything roles off Jason's back. He was pissed off at the time but 20 minutes later he is good as gold.
JA: Could you see Jason knocking him out?
RE: Absolutely. I could see it happening even in the little bit of what we saw. Jason was the stronger guy in there and the more aggressive guy in there, just give us a little time and we would have knocked him out. They cut the fight to a 4 rounder so we had to be a little more aggressive. I saw a knockout or a unanimous decision with us winning every round.
JA: Why were you guys frustrated with the contender?
RE: Well the contender as there own agenda. You have a bunch of business people and we were not on the show so there going to treat us a little bit different. They had us all in different rooms. Jason, Matt and Peter should have been close to each other so we didn't have to run back in forth. I am in the room getting Jason ready and I am in the room with Matt's opponent Ernest Matten. Then I was in Matt's room getting him ready and Yanqui Diaz is right there. I understand that they should separate Peter but they should have been close to each other. If it was a CES show they would have been all together. We had to cover are patches on the uniform, the frustration of not knowing when your going to go on, that was probley my fault because that is the gamble that I took. I was hoping that there was knockout earlier but we did get on TV so the gamble did pay off, but the fight didn't go our way.
JA: It must have been awkward being in your opponent's dressing room?
RE: Yeah it was awkward. I am working with Matt and I am looking at the guy that is going to fight Jason. It was the other way around with Jason and Matten. They were rushing us to the ring, we normally come in second because where the home town guy. They were in such a rush to get us in the ring and it was rush, rush, rush. The announcer was announcing it quickly because he wanted to get it on TV. It was a little bit disappointing to say the least.
JA: If the contender asked you too be on the card again, would you?
RE: Absolutely not. That is a definite no!
JA: Any particular reason?
RE: Well I think there not for us. We weren't on the show the contender so we are not going to get treated with the respect the guys get that were on the show. We are the outsiders. I like to be on a show that we have some control on some of the issues. I don't know if you noticed it but Jason had to cover the CES logo, Jimmy agreed with it so it wasn't a problem with me. I did have a couple of sponsors on the uniform that I was worried that they might tell me to cover but it never came to that.
JA: What's next for Jason?
RE: Jason didn't get any work in and we had a great training camp. Jason was eating right, had good sparring, he was dieting right and it all for nothing. I talked to Jimmy Burchfield today and we are going to have a meeting next week. Hopefully we can get back in there real soon.
JA: Are you guys looking to get back in there with Yanqui Diaz or are you guys going to look for someone else?
RE: The idea of that fight was for Jason to see someone awkward and tall with a good right hand. Yanqui is out for 90 days and the only what we would fight him is if we ran into him down the line. We got a little taste of what he is and I don't plan on making a trilogy out of it.
JA: What are your thoughts on the Manfredo-Pemberton fight?
RE: Peter was awesome and he did what I expected him to do. I called that fight to the round and everything. I seen them spar and I knew if Peter had him hurt he wasn't going to let him survive because Scott is really dangerous as the rounds go by.
JA: The atmosphere was incredible for the fight…
RE: Yeah you got to give it to the fans; we had over 10,000 fans there to support Peter. I know there was a few people that came out to support us but Peter has a big big draw here in Providence, he is truly the "Arturro Gatti" of New England.
JA: Would you fight on a big crowd like that or if it's a contender card its absolutely no?
RE: Well who knows if Peter is going to be fighting on a contender card again? If it comes up again with the contender we will say thanks but no thanks.
JA: Matt looked impressive…
RE: [Cutting In] Matt looked good. These are the guys that we are suppose to beat; when you put a guy in there that is 39 years old he should be getting knocked out. I expected nothing but a knockout and a quick one at that.
JA: What would you advise Matt to do next?
RE: I would advise Matt to go out to the next challenge. Matt is moving up pretty quickly in the ratings. A lot of people are getting interested in Matt Godfrey and are taking notice to Matt in the cruiserweight division. We are looking to get him in there again and show the world what he got.
JA: Do you think that Scott Pemberton should retire?
RE: Absolutely. Scott came into the game late and he gave the fans a lot of memories. I always cheered for Scott because he is a friend of mine. It was a rare thing when friends are fighting each other but I want to see Scott retire and not get hurt in the ring.
JA: Was you disappointed at the way the fans treated him because he is from around here [the north east].
RE: Yeah I know. The thing is you have the hometown fans go for Peter, there is no way around it. If Scott came and rocked Peter, Scott could have won the fans back. They came to see Peter; they didn't come to see Scott. There was probably as many Scott fans as there was Jason [Estrada] fans there. You have 10,000 fans there I can guarantee you that 9,000 of them are for Peter and maybe the rest was there to see Scott.
JA: Is there anything that you would like to say in closing
?
RE: I want to tell Jason's fans that Jason will be back, you can see that we are taking on good opponents and not trying to take on cream puffs. I want the fans to understand that we will be back and fight somebody that the fans know. I would like to thank Boxingtalk because you guys are always there for us.
JA: What's good Tyrone?
TH: Everything is going good man. I am just in the gym training really hard.
JA: You are coming off a very tough loss in your last fight. Can you tell us what happened in the fight?
TH: There were some things that I did wrong that I actually learned from now. I fought my opponents fight and I didn't fight how I usually fight, I just got away from what I know I can do. I got caught with a punch and went down, I got up but I was a little surprised that I got knocked down because that was the first time that I got knocked down before in my career. I got up at the count of 8 and they called the fight. I couldn't say anything about the stoppage because the ref is there to watch out for the fighter. I didn't fight my fight and the guy caught me.
JA: Was you disappointed with the stoppage?
TH: Oh yeah I was disappointed. When you know that you can beat somebody and your fighting his fight and something like that happens, I was disappointed. But I am over the loss and I learned from it. If it was going to happen some where down the road I am glad that it happened now rather than later when I am about to fight for a world title.
JA: Did Israel surprise you at all during the fight?
TH: I been fighting a lot of tough fighters and we knew how he was gong to come out and I knew that I was going to take some shots. The plan was to box him and use my jab which I didn't do. I was so hyped up with being on T.V and I was nervous about being on T.V. that it threw me off a little bit. I think I watched the tape about 15 times and I noticed that I spent most of my energy in the first couple of rounds trying to knock him out to look good on T.V. It was a mistake on my part and I should of kept boxing him and I would have eventually have gotten him out of there.
JA: Is this something that you are going to learn from when you do get another Shobox card to not get over anxious and fight your fight?
TH: Exactly. Like I said I learned from it and I know that in the next fight that I am going to be calmer and more relaxed, fight my fight and I will become champion.
JA: Are you back in training?
TH: Oh yeah. I am in the gym right now working on a few things and just running. Like I said I looked at the tape about 15 times too see what I did wrong. The thing right now is too just stay in boxing and to concentrate fully on boxing. I just need to fight the way I know I can fight and keep doing what I been doing and to never change for anyone.
JA: What's next for you Tyrone? When would you like to step in the ring next?
TH: Actually after my last fight was done I was ready to step back in the ring and fight again. I am a fighter and I love the sport and this is what I love to do. I am always ready to fight and I love it.
JA: A lot of people now are probably going underestimate you…
TH: [Cutting In] If I get in the ring and the guy doesn't think that he can win the fight then there is something wrong. I think that this is good on my part because people are going to go in there and say "Oh I can beat this guy, I just seen him on T.V". There going to underestimate me and that is good because I want to fight the better fighters so that can build me up faster, and it can show that I am the best at 130.
JA: Jesus Chavez is going to be fighting Marco Antonio Barrera. Can I have your thoughts on the fight?
TH: I have seen Barrera fight live but I have not seen Chavez fight live. I believe Barrera is a good fighter and he is starting to use his jab more and I believe that's a big part in the boxing game. I think that using the jab is one of the hardest punches to use because it's so difficult when a left hander is fighting a right handed fighter, there jabbing at the same time.
JA: How many more times would you like to fight this year?
TH: I would like to fight as many times as possible. I think last year I fought 10 times, I love fighting, I love traveling and I would love to fight as many times as I can.
JA: Is there anything that you would like to say in closing Tyrone to your fans on Boxingtalk.com?
TH: Oh yeah. I just want to say that the fight that I lost was a learning experience and I am going to be champion. I believe in myself 100% and I am going to be World Champion. The guy got lucky and that will never happen again.
Send questions and comments to: aldenjimmy@cox.net