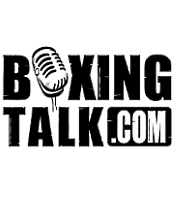 "I'm getting ready to take over this division."
Since losing to Julio Gonzalez a year and a half ago, Glencoffe Johnson has gone on to claim victories over top-notch fighters like Eric Harding and most recently, Clinton Woods to pick up the vacant IBF light heavyweight title.  On September 25th, Johnson will be facing the former 175-pound kingpin Roy Jones Jr in what will be a career-defining fight for both combatants.  For Jones, having just lost his crown to Antonio Tarver last May, he is going up against a very tough fighter in Johnson to prove that Tarver was just a hiccup in a very illustrious career.  For Johnson, he is not looking to simply step aside as Jones makes his way back up the elite ladder of boxing superstardom, but instead, is preparing himself to be at 100% so that he can take over the light heavyweight division.  BoxingTalk recently spoke with Johnson to get his thoughts on fighting Jones, his strategy for their fight, and how he will fight Jones differently than Tarver did.
BoxingTalk: Glen, how has training been going for your fight with Roy Jones Jr.?
Glencoffe Johnson:  I'm in heavy training right now getting ready, and everything is coming together nicely,
BT: What are you doing to prepare for Roy Jones?
GJ: All the necessary stuff.  I'm running and sparring.  I'm getting ready so I can put 100% into this fight like with everything else that I do, and represent myself properly.
BT: Are you doing anything differently in your preparation for Jones than you would for any other fighter?
GJ: Not really.  When I step in the ring I prepare myself to fight at my best.  Roy Jones is obviously a great fighter and the only difference between this fight and my other ones is that I'm getting the proper time to prepare for this fight.  Normally I would take fights on short notice, but this time I have a lot of time to prepare and I'm taking advantage of it.  People will see a Glen Johnson who is in great shape and ready to fight.  In some of my other fights, I was not in the best shape that I could have been, but I'm doing my thing now.
BT: Roy Jones has mentioned that you are a good, strong fighter who is durable.  What are your thoughts of his comments about you?
GJ: (laughing) I'm not worried about any comments that Roy Jones has about me, or anybody else for that matter.  My concern is about me and what I think of myself.  That's what I use to motivate myself.  Obviously, some people will have their opinion no matter what I do.  Some will like me some will not.  I will do what I have to do as a man, knowing what my goals are and what I need to get done, to get to my goals.  I can't say anything about Roy Jones because I don't know the man.  All I know is that I'm getting ready to take over this division.
BT: After his fight with Tarver, what do you feel Roy Jones' boxing skills are like?
GJ: I wouldn't know because we haven't seen him since Tarver.  I know what they were like before Tarver. He's been a great fighter, doing everything he was suppose to do over the years.  He's gotten to the top.  He's talked about as one of the best fighters who has ever put gloves on.  People have so many different opinions of how great he is, and I can't knock that.  He did what he had to do to get where he is, but now it's my time to do what I have to do to get to where I want to be.
BT:  In Roy Jones, do you feel you are getting a fighter who is more motivated now, or one whose skills are on the decline?
GJ: Only Roy Jones knows what his motivation is.  Some people think that he will be motivated to show the public that even though he lost he's still the same Roy Jones, or he could be so distraught that he doesn't want to fight anymore.  Who knows?  Nobody knows but Roy Jones.  It doesn't matter what his feeling or goals are, I will step into the ring to face the best Roy Jones possible.  That's what I'm getting ready for, and that's how I'm preparing myself to fight.
BT: Is it your opinion that Tarver got lucky that night against Jones?
GJ: Well, Tarver won the fight, so he was definitely the better fighter that night.  When Tarver threw the punch, Roy Jones' chin was there, so you can't say he got lucky, but it's a matter of opinion.  My opinion was that Tarver closed his eyes and threw the punch, and Roy Jones had his chin there.
BT: Will you fight Jones similarly to how Tarver fought him?
GJ: No, because Tarver is a different fighter than I am.  I can't fight his fight, I have to fight my fight.
BT: Does coming in as the underdog help you or hurt you?
GJ: I'm always seen as the underdog…that's nothing new.  I'll be in familiar territory.  I'm going to walk in the arena knowing that there will be more Roy Jones fans than Glen Johnson fans.  I've fought overseas in other fighters' backyards, but that is familiar territory for me.  It doesn't matter what someone wishes or hopes for.  God's will is God's will.  I'm going in prepared to fight.  Whatever else happens is in God's hands. 
BT:  Jones recently stated that he will put you to sleep…
GJ: I don't know what that's about, I already have my girlfriend doing that.  When it comes to the ring, we'll see what happens.
BT:  What should type of fight we expect from you on September 25th?
GJ: People will see a fight that they've never seen before.  I'll be fighting a different fight than those who have fought Roy Jones before.  It's going to be impressive.  Make sure you don't miss it, it will be a beautiful fight!
BoxingTalk thanks Mr. Johnson for taking the time to speak with us.  We wish him continued success both in and out of the ring.
MEMBERS CLICK HERE FOR MORE OF THIS EXCLUSIVE INTERVIEW
Send questions and comments to: Fool4Rush@aol.com