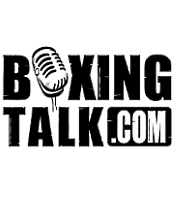 "I'm ready to take any fight against anybody!"
RC: Zahir, before we get into anything, why don't you give us your thoughts on your performance Saturday night?
"I just felt dominant. I didn't get a chance to watch the fight yet so it is hard to elaborate. Once I actually see it I will be able to get a better view of it, and I'll be able to see what everybody else saw. But I am pleased with my victory though."
RC: Morales, is one of the best fighters of our era, loosing twice only to Marco Antonio Barrera who is another great in his own right. Did you think going into the fight you'd be able to make what look like to many "easy work" of him?

ZR: I didn't anticipate anything to be easy. I don't think it was easy.
RC: Well you certainly made it look easy by almost shutting…

ZR: (Starts to laugh, cutting in) well we were playing for keeps right?
RC: What would you say was probably your most difficult time during the fight is any?

ZR: It wasn't even that I thought anything was difficult; it was just that he was a vet and he was always there. So I couldn't never once slip up and disrespect him or get careless because he was right there to catch me just in case I made a mistake at any given moment.
RC: One mistake you almost made during the fight is play into his taunting, what was going through your mind when he signaled for you to stand right in front of him and trade
?
ZR:  For a minute he almost took me out of my game…. I was like okay, let's go; I really wanted to see what he had. He was telling me to come on, so I was like okay let's go mano y mano then, lets go blow for blow, toe to toe. I was ready I wanted to do it. My corner was like "No, that is his game, don't even do it." I mean I stood there; I didn't run from the dude. I moved around, boxed, moved him at times, but I stood there and banged with him to see what he had. I felt I did a little bit of everything,
RC: Many including myself felt you looked much better at that weight, and your performance backed it up, but where do you plan on campaigning at now 130 or 135lbs?

ZR:  130lbs, for this fight I was 132.5 and I felt good.
RC: Zahir, where do you feel this win places you among the 130lb division?
ZR: I don't know, I wont say. I wont say how good I am; I will let the fans say how good I am. But, tell me who else beat Erik Morales…. he is considered a legend. Okay Barrera beat him, and how bad did Barrera beat him? Compare my victory to Barrera's victory and I will let the people tell me.
RC: In the past during previous discussions, you always mentioned to me that boxing owes you something. You were a member of the 1996 Olympic team that produced Antonia Tarver, Floyd Mayweather, Fernando Vargas and David Reid, do you at least now feel….
ZR: (Cutting in) I do feel somewhat vindicated because I mean a lot of people was telling me "Man this is your opportunity you got" like this was a gift for me, but in all actually they don't know this wasn't really a gift for me. I earned this, this is my just do, I have been in this game for a long time. I didn't just go into a gym and had twenty protective fights and someone was protecting me. I didn't just get twenty easy fights and then get a Morales fight, it didn't happen like that for me at all. I earned that right to fight that man, and then when I fought him I was supposed to be a tune up fight. They publicized the fight for Pacquiao and Morales. My name was in real small print, "and Raheem".
RC: Did you use that as fuel going into this fight, do you think that helped you focus more on doing what you went in there and did? And did it bother you that going into this fight many didn't give you a chance despite some feeling that your only loss as a professional was to a referee (Robert Gonzalez in the Juarez fight)?
ZR: Nah it didn't bother me at all. My whole thing is this man, no matter what happens and how it goes down, nobody, not the fans, not the promoters, not the managers, nobody can get in that ring with the fighter when it was all said and done. You know what I mean? No matter how much hooping and hollering, no matter how much they were building him up, or building me up, the fact remains is that no one can get in there with me and the other fighter.
RC: Although it is a mood point now, give us your opinion on the 115-113, which was the closest score by one of the judges (Other scores were 118-110 & 116-112), which indicates he saw it as a close fight and was one point away from scoring it a draw?

ZR:  I was fighting in California against Morales. Honestly though when they said it the microphone was messed up in the arena so I couldn't even hear the score, I didn't hear anything they said. I just knew they said I won.
RC: So where do you go from here. You have a lot of options open for big fights. You can participate in the Golden Boy-Top Rank grudge match and face Barrera and promote is as the only two men to beat Morales, you can face the winner of Corrales-Castillo, I mean where do you plan on going from here?
ZR: Ray I haven't even thought about any of that. I don't have any plans. Wherever the wind blows, wherever the money at, wherever the good fights are at, wherever I can be a marquee fighter.
RC: If you had your choice, what fight do you feel would be the best choice for Zahir Raheem?

ZR: I couldn't tell you, I don't even know. I mean before this Morales fight I had the opportunity to fight for a title and I was going to take that, but then they told me I could give that opportunity up to fight (Erik) Morales. So you never know this game is very unpredictable. Tomorrow I might get a call with a good look at something that I had no idea I was going to get.  So I am not setting my sites on anything saying ooh I want this fight because nothing is guaranteed until you sign a deal.
My whole thing is I am willing to take any fight against anybody. Now that I am in that mix, I am in that pool now. I am in that pool where I want to be and I don't have to fight no more tune-ups, I don't have to fight no more of those type of guys, I am in the upper echelon area of boxing and that is where I belong. That Rocky Juarez fight set me back, but it did a lot of good for me though because it set me up for this fight.
RC: Is there anything else you'd like to add to your fans out there in closing?

ZR: I just want to let all of my fans know that I love them; I want to thank them for their support. I am going to keep punching baby.  I look forward to speaking to them this week in the Boxingtalk chats.
CLICK HERE FOR THE FULL MUST READ INTERVIEW
Send questions and comments to: rayocampbelljr@hotmail.com