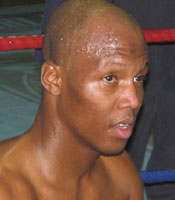 GL: What's good Zab?
"It's on for October 2. I'm going to get it on with Wayne Martell, I don't know much about him other than the fact that he's getting knocked out. He's a southpaw whose durable and he might have some pop, but ya boy's in the building....I'm home so I can show up and steal the show. I stole the show the last time I fought on the east coast and I'm going to steal the show at the Garden the same way, that's my M.O. right now."
GL: How important is it for you to come out on October 2 and look spectacular following your sub-par performance against Rafael Pineda?
Zab Judah: "I gotta. The world will be watching to see what I do and I want all of my peers to show up to this one to see what I do. Because I'm going to shine in spectacular fashion, ya boy is back!"
GL: After your performance against Pineda do you need to be more business like when you're in there?
ZJ: "Yeah, fa sho. In the Pineda fight, I just clowned around and that hurt my character and credibility even though people know I could do way better than that. Every time in the fight where I stepped it up I put Pineda down. It was a fight that happened, it wasn't exciting for me...now I'm not playing no more. I'm about to go on that young Felix Trinidad tear right now. You remember when Felix Trinidad was young and he was fucking people up? People need to remember that Trinidad was 26 years old when he started winning big fights, and that's the age I'm about to be, so it's about to be on and it's all starting at the Garden."
GL: Are your days at 140 over, have you fully settled into your welterweight frame?
ZJ: "Hell yeah, I'm as big as a motherfucker right now. Everybody is like, 'yo, you bulked up' all I've been doing is training harder than ever and I got myself on a weight condition program and it's about to be on."
GL: Martell isn't going to be viewed as a stiff-test, will it be difficult for you not to look past him and take him seriously?
ZJ: "It should be a great fight because my eyes are set on just looking spectacular. It didn't have to be Wayne Martell. It could have been Cory Spinks come October 2. It could have been Kostya Tszyu or anyone else, I'm coming into the ring to look spectacular on October 2."
GL: Can you give us your take on the Tszyu-Mitchell rematch?
ZJ: "Even though I don't like him, Sharmba Mitchell should come back and win the titles from Tszyu. He has been out for too long and he's older now. He does a lot of crying and a lot stuff is breaking down with him. Sharmba Mitchell, if he's smart will be able to become the undisputed champ of the world."
GL: Is the rematch with Spinks still tops on your things to do list?
ZJ: "Oh yeah! It could be a done deal. All Cory has to do is get by his fight on September 4, I'm going to take care of business in spectacular fashion on October 2 and then all Cory has to do is say when and that fight's a done deal."
GL: I spoke with Kevin Cunningham the other night and he made it clear that the fights Team Spinks wants more than the Judah remartch are Mayweather Jr., Tszyu and the Trinidad-Mayorga winner.He said you're an option but you're not going anywhere, how do you feel about that?
ZJ: "That's not hard to understand. What would you do if in the twelfth round you get dropped with one shot and hurts you, would you be anxious to get back in there with him again? Not at all. So it doesn't surprise me how they're acting, but eventually the fans and people like you are going to write about it and then it's going to get to the point where they're turning down the rematch, something they said would happen again at the post fight press conference. I think it's because they know that they're going to be in there with a hungrier, twice as vicious Zab Judah than they saw the first time around."
GL: Shane Mosley dropped by my crib recently and told me that you beat Spinks and rematch because you were figuring him out down the stretch.
ZJ: "For once we agree. For some reason I could not get started early on in that fight. Maybe Cory Spinks was bigger than I thought he was going to be, I was giving up eleven pounds on the night of the fight, but for some reason I could not get started in the first half of that fight. If that was a fifteen round fight, I'd be the undisputed welterweight champion of the world.
GL: As a good friend of Mike Tyson, can you tell us what you're thoughts were on his performance with Danny Williams?
ZJ: "Mike and I haven't discussed anything about boxing since his fight. Mike hurt his knee in the first round and it bothered him. I feel that his focus went to his knee and it distracted him from what he was there to do."
GL: Is it difficult for you to watch a good friend like Mike, one of your idols growing up...
ZJ: (cutting in) "Oh yeah. It was very difficult for me to sit there and watch Mike get knocked out by a guy like Danny Williams. I can't discredit the guy because I don't know, but just me knowing Mike and the rest of us who follow boxing, that fight shouldn't have went like that.
GL: What did you think about Kermit Cintron's fight with Teddy Reid?
ZJ: "I didn't watch that shit. Well, I saw a little bit of it. He's nothing. The kid is garbage, and Teddy Reid is garbage himself. Whenever he's ready I'm ready. I've got a bigger goal than Kermit Cintron and that's Cory Spinks. I promise him that after Cory Spinks he's getting the first shot at the undisputed titles. But the dude's a joke. I don't who he thinks I am. We've yet to bump into each other but I know one of these days we will, so it ain't a problem."
GL: If something with Spinks doesn't get done after October 2. Would you look to fight Cintron for that WBO strap?
ZJ: "HELL YEAH! I'll take his belt with no problem. He knows he can't beat me, but I respect what he's doing because when I was in his position I was calling everyone out too. When I was 10-0 I was calling out the world champions, so I know where he's coming from. His courageousness should be applauded but he's definitely choosing the wrong one, because I'll beat that little boy's ass. Fucking with me will ruin his whole career before it gets started. His new name would be Fernando Vargas Jr. Not to take anything away from Vargas because that's my boy...but this little kid isn't ready and if he keeps talking that bullshit I'm going to shut his mouth. Whenever I see him, keep your hands up."
GL: Can you tell us how a fight between two good friends of yours, Floyd Mayweather and Arturo Gatti plays out?
ZJ: "I think that Mayweather is too fast for him. Floyd is too sharp and has too much skill and style for Arturo Gatti. But Floyd needs to watch it because Gatti has good punching power. So Floyd would need to watch it when he tries to come in there with the 1-2-3 and pull out. Arturo can catch him, but if Floyd fights smart like I know he would, he'll beat Gatti by decision or maybe he'll cut him up and force them to stop the fight."
SEE WHAT ELSE ONE OF THE BEST WELTERWEIGHTS IN THE WORLD HAD TO SAY
Send questions and comments to: gleon@boxingtalk.net